The sunshine state of Florida attracts over 1.5 million British tourists annually. We love it there so much that 400,000 of us actually choose to move there each year! The state is home to exciting attractions like Walt Disney World and Miami beach, boasts a sub-tropical temperate and has a diverse population.
To show you what the gorgeous state's property market looks like, I've gathered 10 properties that are on the market right now for you to browse. Who knows, one of them could be your future home.
Whether you've been thinking about buying property in Florida for a while or you're just toying with the idea, I'm sure looking at these homes will have you itching to continue your own property search.
€194,000 – Studio apartment, The Terraces, Orlando
If you like the idea of living the holiday lifestyle year-round, this studio apartment in Orlando is a great find. The Terraces at The Grove Resort is located within central Orlando and is minutes away from Walt Disney World, so would be a good investment should you be interested in letting it out.
Complete with a king size bed, an ensuite bathroom with a walk-in shower, it'd be perfect for a single person or couple looking for a holiday home, if they plan to spend most of their time out and about.
View this property on Your Overseas Home
€221,919 – Three-bedroom house, Bartow, Orlando
Sitting on a generous plot of land, this charming Bartow house is made for entertaining. Priced at €221,919, you get a lot for your money with this property. Complete with three bedrooms, a spacious lounge and a kitchen that deserves its own audience, this home would be ideal for a family or a couple who plan to host guests.
View this property on Your Overseas Home
€225,000 – One-bedroom condo, Reunion resort, Orlando
Looking for peace, tranquillity, and a touch of luxury? This one-bedroom condo in Orlando will steal your heart. In Florida's Reunion resort (which offers three gold courses, a tennis centre and multiple pools) this home won't be on the market long. It's just a short walk away from the resort clubhouse so would suit those looking for a social lifestyle who enjoys golf or gentle physical activity.
View this property on Your Overseas Home
€234,622 – Two-bedroom house, Davenport, Polk county
Contrary to how it looks from the outside, this Florida home is super spacious. It's been nicely renovated for a modern feel and the city of Davenport is a charming place to call home. It has two bedrooms and one bathroom, plus, a large kitchen that any budding chef would jump to call their station.
View this property on Your Overseas Home
€240,000 – Two-bedroom townhouse, Davenport, Polk county
This Polk County townhouse is a true bargain, priced at €240,000. For that price, you get a two-storey townhouse with a large open-plan living area and beautiful décor. In fact, it's practically ready for its new residents – make sure to act fast if you're interested. This great property won't be on the market long.
View this property on Your Overseas Home
If you are interested, why not book a consultation with a member of our team for advice? Contact us here.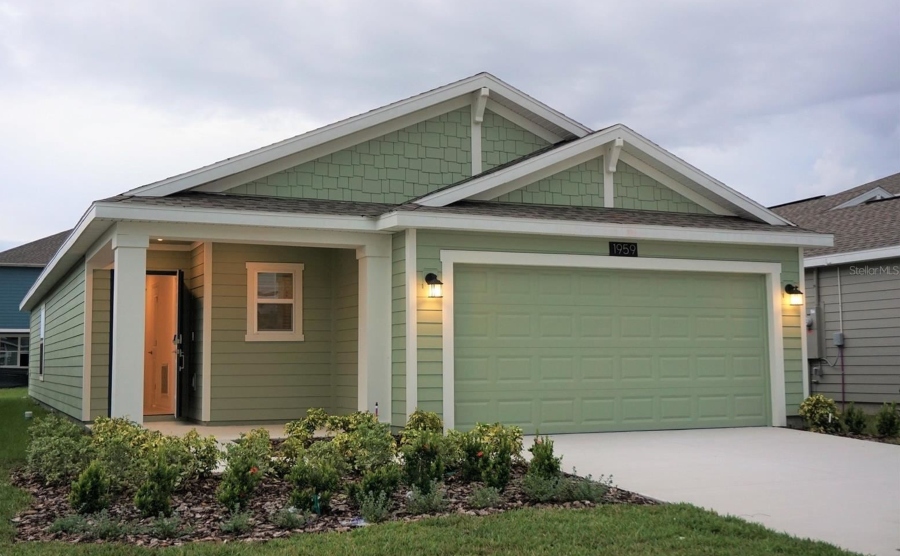 €305,000 – Three-bedroom house, Storey Creek, Kissimmee
This mint green home lies in the serene community of Storey Creek, Kissimmee. It has three bedrooms, an open floor plan, two bathrooms and a spacious kitchen. This neat home is perfect for a family as it's well located and isn't far from one of Kissimmee's favourite theme parks.
View this property on Your Overseas Home
€340,000 – Three-bedroom house, Terra Esmerelda, Kissimmee
If a pool is a non-negotiable feature for you, look no further. Discover a three-bedroom terraced house in the gated neighbourhood of Terra Esmerelda in Florida's Kissimmee. The property has 2 ½ bathrooms, new appliances, a family-friendly kitchen and spacious living area. It also benefits from a large outdoor area with a pool to the rear, with access to a shared playground.
View this property on Your Overseas Home
€355,000 – Three-bedroom villa, Davenport, Polk county
If you're after a luxurious villa but also want to enjoy the great outdoors, this Davenport home gives you the best of both worlds. This three-bedroom property is located within the gated community of Bass Lake. Sitting right on the lake, this home guarantees great views as you enjoy your morning coffee at your breakfast bar.
Living in this community, you'll be welcomed at the community clubhouse which has two pools, a fitness centre, boat dock and fishing pier. It's perfect for a small family or a sociable couple looking to settle down.
View this property on Your Overseas Home
€414,900 – Two-bedroom house, Davenport, Polk County
This gorgeous Davenport home is a typically classic Florida property. It lies in the desirable community of Del Webb, Orlando and has two bedrooms, two bathrooms, a den and a screen lanai with a firepit. This property would be perfect for a couple who like to entertain. The interior is beautifully finished, with granite countertops in the kitchen and new appliances.
View this property on Your Overseas Home
€764,990 – Four-bedroom house, Kissimmee, Osceola County
This modern three-storey home in the sought-after Margaritaville Resort is the epitome of luxury living. The resort is inspired by island living and it makes for a relaxing lifestyle with activities available for those who wish to participate. The property boasts four bedrooms, each with an ensuite, an open-plan living space and access to the resort's amenities.
If you think this home would suit you and your family, make sure to act fast. View this property on Your Overseas Home
If none of these properties jump out at you, not to worry! There are hundreds more to discover on our Property Portal. Why not start your search today?