We initially thought we would renovate the house and move on, but soon discovered there was no other place we'd rather be.
We loved finding an old abandoned stone house and giving it the love and attention needed to transform it into a lovely home for ourselves. It is so satisfying to reveal the beautiful stone hidden under layers of paint on ceilings and fireplaces and to restore all the character features. After all the years we spent renovating the house we can now sit back and look at what we have achieved and feel satisfied that our 300-year-old house could still be a home in another 300 years' time; and because we did the work ourselves it really feels like home.
We bought our 208-square-metre farmhouse with eight acres of land nine years ago, for little over €100,000. What could we have got for that money in Britain? Very little. Even today, you can still find houses in Italy for under €120,000.
We've been able to afford a property with land, with olive, almond, pine and fig trees, in a position not overlooked by any other properties.
Here are five reasons I love living in Italy:
1. No mortgage or council tax
After selling up in England we were able to buy a cheap property abroad with the proceeds. We started off buying a £52,000 village house in Greece, which we lived in, renovated and sold, then we moved on to a stone farmhouse in Croatia, where we did the same. Each time we did the work ourselves and made a profit. As lovely as each of these countries are, they didn't feel like the place we wanted to spend the rest of our lives. We had spotted on the internet an old masseria in Puglia. It looked a complete wreck, but we were just drawn to it. So, even though we had never visited Italy before, the day we sold the house in Croatia, we packed our bags and headed for Puglia.
We have been here ever since and love having no mortgage payments to worry about. A few years ago, the Italian government abolished the equivalent of council tax on main residences. So, we now only pay a tax for land and rubbish collection, which comes to less than €200 a year.
2. Cost of living
The cost of living is very good here. Supermarkets are well priced and our local weekly market sells everything from clothes and shoes to plants and kitchenware. We go there each week to buy a big tray of eggs and fresh local vegetables and fruit. They also sell meat, fish and cheese at competitive prices. Parking is free nearby and we are able to take a stroll around the market and go for a cappuccino and pastry in the café, which usually costs €1 each. For more information see my previous article "The Cost of Living in Italy".
3. The weather
We live in Puglia, so we are blessed with a good Mediterranean climate. I only recall two light showers between May and October this year. Even through the winter when we get the occasional rain storm it passes over pretty quickly. During this week in October we have had no rain and a high of 24°C, a great temperature for sitting out in the courtyard and getting jobs done on the land.
4. Space
Back in England neighbouring houses seemed so close and gardens so small. On the occasional Sunday when the weather was good enough to sit in the garden we could hear people's conversations and children screaming in neighbouring gardens. In Italy I love the amount of space we have. We can play music and watch open-air cinema in the courtyard and not worry about disturbing the neighbours.
We've been able to afford a property with land, with olive, almond, pine and fig trees, in a position not overlooked by any other properties. At least twice a day, usually after breakfast and lunch, we take a walk down the land, through the olive grove. First thing in the morning we open the courtyard gate and have an open view across the neighbouring horse meadow. Then in the evening we can watch the sunset behind the prickly pears. At night, we can literally see into space, as the sky sparkles with millions of stars.
If you are ready to buy a home in Italy, Property Guides will be at Your Overseas Home. It's a new style of overseas property show, where those serious about buying can get detailed information and introductions to trusted lawyers, agents and currency providers. Click here to apply for FREE tickets for events this November and throughout 2018.
5. Slow pace of life
We have noticed a strange phenomenon since living in Italy. While the weeks seem to fly by, the pace of life is very slow and relaxed. Nothing is done with any urgency. At first, expats can find this quite frustrating, having come from a country where everything is expected to be done instantly. But once you get into the flow you begin to realise that there is always tomorrow and it could actually do you good to just sit and relax sometimes and just watch the world go by.
Our original plan was to renovate the house and after five years sell it. As Brits we were programmed to always try and earn more money, so we can pay more bills. In Italy, however, we have been able to live very cheaply. Once we started thinking about the options of where else we could go, we realised that there really was no place we'd rather be. Italy is our home and every day we look at our house and beautiful surroundings and feel grateful.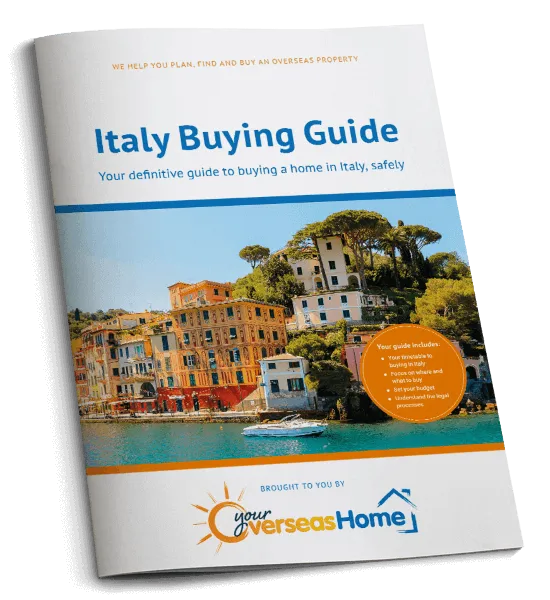 The process of buying property in Italy is significantly different from here in the UK. This is why we've created our completely free Italy Buying Guide, to provide those dreaming of a new life in Italy with all of the practical, legal, and financial information needed to help them realise that dream.
✔

  Ask the right questions
✔

  Avoid the legal pitfalls
Download your free guide to buying in Italy