When I visit family back in the UK, the cost of everything seems so expensive compared to where we live in Italy. I have listed some of our living costs here, so you can make your own comparisons.
With Italy's reputation for attracting the wealthy with its elegant cities, art, history, cuisine, wine and luxury brand names such as Gucci, Prada and Ferrari, I had presumed that Italy would be an expensive place to live, before I came to live here myself. Certainly, Italy does cater for those who can afford luxury, but outside of the fashionable hot spots most people are able to live very cheaply. By shopping where the local Italians shop, living where they live and going out where they do, the cost of living can actually be much cheaper than the UK.
By shopping where the local Italians shop, living where they live and going out where they do, the cost of living can actually be much cheaper than the UK.
Supermarket shop
Supermarket prices are usually clearly marked on the shelf. However, I am yet to find an Italian supermarket that displays prices on their website (other than promotional deals) or one that does deliveries. So, with pen and paper in hand I went around our local Eurospin supermarket, taking down the following prices for you to see. I then looked up similar items on the Tesco UK website, sticking to the lowest priced own brands. The majority of goods worked out cheaper in Italy and over a whole shop that soon adds up to a big saving.
Supermarket shop
Item
Amount
Price in euros
Conversion price

in £s

Tesco UK price

in £s

Loaf of bread
1
0.75
0.69
0.80
Medium eggs
12
1.20
1.11
1.75
Milk
1 litre
0.59
0.54
0.75 for 2 pints
Apples
1 kg
1.29
1.19
2.00
Bananas
1 kg
1.29
1.19
0.76
Tomatoes
1 kg
1.29
1.19
2.10
Frozen peas
1 kg
2.15
1.98
2.31
Cheese (Edam)
1 kg
5.48
5.05
7.26
Chicken (breast)
1 kg
6.99
6.44
6.16
Beef (Roasting)
1 kg
9.79
9.02
13.00
Fish (frozen)
1 kg
5.35
4.93
8.23
Spaghetti (dried)
1 kg
0.46
0.42
0.98
Potatoes
1kg
0.59
0.54
1.00
Tin sardines
120g
0.75
0.69
1.00
Cornflakes
1 kg
1.65
1.52
1.90
Chocolate bar
100g
0.39
0.36
0.45
Bottled water
2 litre
0.19
0.17
0.17
Instant coffee (Nescafe)
100g
3.79
3.49
3.25
Wine (cheapest bottle)
1 bottle
1.45
1.34
4.50
Prosecco (cheapest)
1 bottle
2.99
2.75
5.85
Bottle of lager
1 bottle 660ml
0.66
0.61
2.00
Toilet roll
4 rolls
1.89
1.74
1.79
Washing up liquid
1500ml bottle
0.59
0.54
0.50
Large tin of dog food
1250g
0.89
0.82
1.25
Source of prices: Eurospin Supermarket and Tesco UK – 1st September 2017.
Eurospin is a low-cost supermarket which has a thousand stores across Italy. It is a great place to buy all the basics. For fresh fruit and vegetables, I also recommend local weekly street markets or even from the guy who pulls up on the corner of the street, who sells off the back of his Piaggio. Italian bakeries are superb and do a good selection of breads, focaccia, biscuits and cakes, and you will also find family-run butchers, fishmongers and greengrocers. Italians expect good quality cold meats and cheeses, and even the smallest town supermarket will have an impressive deli counter that is always busy with customers.
If you are ready to buy in Italy, you'll have a few financial matters to sort out. For guidance and the most personal service, speak to Smart Currency Exchange.
Shop around
An Italian friend is worth their weight in gold, especially when it comes to looking for the best places to buy goods or find trades people. By taking an Italian friend with us to buy large items we have saved hundreds. Places like builders' yards and plumbing shops don't put price labels on things, they tend to look you up and down and say what they think they can get away with asking. You have to make it clear from the start that you are not made of money, that you will shop around, and will walk away if they don't give you the same price as other locals. For example, a wood burning stove we were told was €650, became €500 after our Italian friend gave them a call.
Home costs per month – based on a four-bed countryside house with two occupants in Puglia.
Average cost in Euros
Conversion to £s
Electricity
70.00 per month (Enel)
64.42
Internet
24.90 per month (LINKEM)
22.93
Gas bottle for cooker
19.00 (lasts 3 months)
17.49
Mobile phone tariff
10.00 per month (3)
9.21
Council tax
None on main residence
Land tax and rubbish collection (8 acre plot)
146.00 p/annum
134.44
TV licence
110 p/a

(added into electric bill)

101.20
Water
Free from artesian well

(drilling and installation cost us €4,500)

Heating and hot water
Free from solar panel in summer and wood burning stove in winter.

Solar panel cost us €1,200.

Wood burning stove that heats two water tanks for hot water and radiators cost us €1,200
Source: The writer's own property.
If you are planning to live in Italy all year-round, I would recommend looking at towns and villages maybe 30 minutes from the main tourist towns, and then looking in the countryside just a few minutes out. Here you will find the best value properties, with the lowest local taxes, and yet have the convenience of a town nearby with all the amenities you need at good prices. Country houses usually don't have rubbish collected from their door, instead you take your rubbish to a point with large bins. On the plus side, it means you pay less tax. It is also easier for a countryside property to be more self-sufficient. Our solar panel gives us free hot water and we get free water from our artesian well. Wood from our land is used in our log burner, which pumps hot water to radiators and taps in winter, so we have no heating costs. Even with the extra electricity used for water pumps our electricity bills are less than for an apartment in town.
The Italian government abolished council tax (Tasi) for all those who have a property used as a principal residence.
One of the biggest household expenses in the UK is Council Tax. If you come to live in Italy you will really notice the difference. The Italian government abolished council tax (Tasi) for all those who have a property used as a principal residence (except for those that fall into the category of luxury villas, mansions and castles).
Transport
Cost in euros

Per litre

Conversion to GB pounds
UK price
Petrol
1 litre
1.49
1.37
1.17
Diesel
1 litre
1.32
1.21
1.18
Car tax on a 2 litre diesel estate
Per annum
265.00
243.90
150.00
One-way train ticket
The town of Bari to Brindisi, Puglia (1 hour 13mins)
8.40
7.73
15.00

(Poole to Southampton, 1hr 3mins)

One-way train ticket

Leonardo Express

From Fiumencino airport into Rome (32 mins no stops)
14.00
12.88
16.60

(Stansted Express into London 45min 2 stops)
Italy has a good road and rail network, and buses and trains are reasonably priced. People don't tend to buy train passes, but do usually buy tickets in advance online, where you can sometimes find special offers. It is also possible to take internal flights around Italy with low cost airlines. Look out for offers on Ryanair.com. When I looked today (1st Sept) I saw a 1 hour 30 minute flight from Bari to Pisa for just €21.11 in October. So it is perfectly possible to live in a low-cost region and go for cheap trips to Tuscany, Venice and Rome.
Car insurance in Italy is more expensive than in the UK. Italians are not the safest drivers. Get plenty of quotes as they will vary a lot. For our estate car the lowest quote was €925 and the highest was €3,500 per year. Any no claims you have in Britain won't be taken into account in Italy.
Social
| | | |
| --- | --- | --- |
| | In euros | Conversion to £s |
| Three course set meal | 25.00 per head | 23.04 |
| Glass of wine | 3.00 | 2.76 |
| Bottle of beer | 2.50 33cl bottle | 2.30 |
| Cup of coffee | 1.00 | 0.92 |
| Cinema ticket | 8.00 | 7.37 |
| Gym membership | 48.00 per month | 44.22 |
For good food at the best prices, go back a couple of streets from the main piazza and look for the restaurants the locals are going to. You can buy just a main course if you wish for about €12. Pizzerias are always good value with prices starting at about €4.50. During the day most cafes do light snacks and make sandwiches to order and in the mornings you can get a coffee and a pastry for about €2. The cheapest place to buy a cold bottle of beer is at a fast food take-away. Often, they also have some seating and when you are enjoying an outdoor event in the summer it's a quick and easy place to get a cold drink. A 33cl bottle of Drehers from a take-away in our local town in Puglia costs just €1. Many towns put on free outdoor events, with music and tastings of local products.
Healthcare
Healthcare in Italy is free or low-cost for all residents. Visitors also get this free emergency care if they are in an accident, or fall sick while they are within the country. Your appointment with the GP is free. Referrals, X rays etc. you have to pay for. Although waiting times at doctors' surgeries can be long, if they suspect a serious health problem they can act quite quickly to refer you to the hospital for tests. You can opt for private care if you want less waiting time or even higher quality of service. When you apply for residency you will initially be requested to take out basic health insurance. For the best prices shop around local Italian agents and get recommendations from others in the area. Most parts of Italy have expat forums or Facebook pages where you can ask for recommendations.
Note: All price conversions from euros to GBP in the above tables were done on 1st September 2017 using the Smart Currency Convertor tool on https://www.smartcurrencyexchange.com/. Prices shown are a rough guide only, based on my local area in Puglia. Prices will vary in other parts of the country.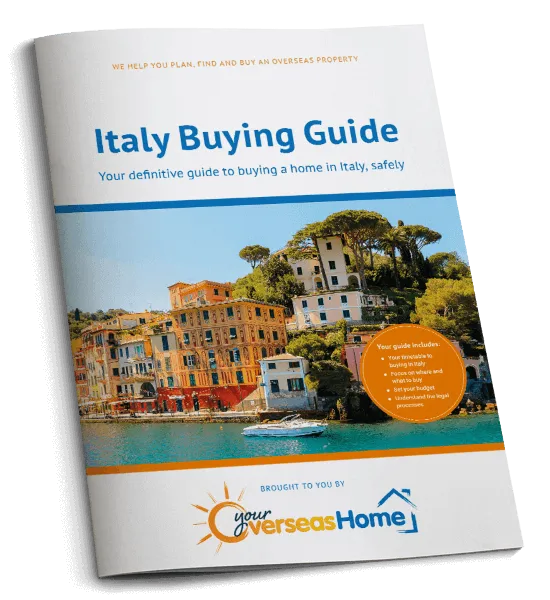 The process of buying property in Italy is significantly different from here in the UK. This is why we've created our completely free Italy Buying Guide, to provide those dreaming of a new life in Italy with all of the practical, legal, and financial information needed to help them realise that dream.
✔

  Ask the right questions
✔

  Avoid the legal pitfalls
Download your free guide to buying in Italy