The route of this world-famous road cycling race has just been announced, and we are all excited to see what towns and villages it will pass through in May 2020. The TV coverage will highlight some famous landmarks but also lesser known towns. You may even spot your dream home.    
Over 800 million viewers across 198 countries are expected to watch the coverage of the race. While cycling can be very enthralling to watch, it is also interesting to see the amazing landscape and villages it passes through. Enthusiastic roadside spectators will be planning their holidays around the locations that interest them most, discovering parts of Italy they haven't visited before. They may even be tempted to buy a home there.
If you're planning to come out to see properties soon, find out how to make the most of your time with the advice in our free Italian Viewing Trip Guide
 today.
The Giro d'Italia starts on Saturday 9th May 2020, but the first three days will take place in Hungary, before the teams fly to Sicily. May is such a beautiful month to be in Italy, the weather is generally sunny, but not yet too hot to do some walking and cycling. Everywhere is still green, and spring flowers decorate the fields. You can also get some great flight prices and the cost of accommodation is very reasonable, especially in the less touristy towns.
If you fancy cycling in Italy yourself, you will find many suggested cycle routes, and bike hire companies are popping up all across the country. Cycling is popular everywhere and teams of cyclists are a regular sight on the country roads. Italy is also the leading manufacturer of bicycles in Europe, and the cycling tourism sector is growing fast, creating business potential for anyone providing related services and holiday accommodation.
Through cycling and watching the Giro d'Italia you'll discover parts of Italy you may not have heard of before. Friendly Italian towns and villages surrounded by stunning scenery. The Giro d'Italia has 18 stages, in Italy this year, with various locations from Sicily up to Piedmont.  Let's start by looking at its route through the southern regions of Sicily, Calabria, Basilicata and Puglia.
Sicily
Stages 4,5 and 6 are going to be on Italy's largest island. Popular with tourists and house hunters, Sicily has something for everyone and properties that range from €50,000 village homes to millionaire villas on the coast. Along with the smaller islands that are scattered around it, Sicily offers treasured archaeological sites, historic architecture, protected reserves, sparkling seas, mountains, hills and volcanoes.  The route of the Giro d' Italia will travel past many of these spectacular sights.
Stage 4 – Starting at Monreale near Palermo the route climbs from the Valley of the Temples to the finish in Agrigento. The famous Valley of the Temples is home to the remains of seven Greek temples, the most complete being the Temple of Concordia. The site is surrounded by green olive groves, almond trees, citrus orchards and vineyards. The archeological area of Agrigento was one of the most important towns of Magna Graecia, and is now recognised by UNESCO World Heritage.
Get the best-value home for your budget by using the tips and tricks in your free Negotiation Guide
.
Stage 5 – The route runs from Enna through inland Sicily, to the foot of the majestic Mount Etna volcano, climbing from Linguaglossa to Piano Provenzana.
Stage 6 – Catania to Villafranca Tirrena. The final 40km will take the cyclists from Taormina on the the Ionian coast across to the Tyrrhenian coast through the mountains. They will pass the town of Milazzo before a coastal run along to Villafranca Tirrena. The landscape around the village of Taormina is breath-taking, making it a memorable holiday location, whereas Milazzo is a larger seaside town with a castle and port that runs ferries to Naples and the Aeolian islands.
Calabria
Calabria is a land of ancient settlements with splendid churches, monasteries, castles and palaces.  The region also boasts 800km of coastline with a big choice of gorgeous beaches and opportunities to try watersports. Inland too there are adventurous activities to tick off your bucket list, such as paragliding, orienteering, canyoneering and rafting along the Lao River. You can even go skiing at Lorica. Calabria is one of the cheapest regions for property, even for holiday apartments near the sea.
Stage 7 – Starting in Mileto, the Giro d'Italia takes a rather wavy route up the region, crossing from the Tyrrhenian coast at Pizzo to Roccelletta and Cortale on the Ionian coast. It then criss-crosses over the mountains up to Valico di Montescuro. Those who love nature, its scents and mysteries, will discover fresh air and scenery in Calabria's mountains with beautiful lakes and waterfalls.
Stage 8 –  Beginning in Castrovillari at the top of the Calabria region, the route heads straight to Villapiana on the Ionian coast. As it makes its way along the coast it passes through Trebisacce , Marina di Amendolara and Roseto Capo Spulico with its castle perched on a rock above the beach.
Basilicata
The coastal area of Basilicata is surrounded by nature, making it a haven for sun worshippers who enjoy blue flag beaches and great diving. Although cyclists will be racing along the flat coastal area the region is mostly covered by tree covered mountains, dotted with charming villages. The most famous is Matera, which is to feature in the next James Bond film. Having few foreign tourists, the region's property prices are cheap. This is mainly because the nearest airports are in neighbouring regions, such as Bari in Puglia, Naples in Campania, and Lamezia in Calabria. But, if you love to discover areas of Italy beyond the tourist hot spots, Basilicata is well worth exploring.
The coastal area of Basilicata is surrounded by nature, making it a haven for sun worshippers who enjoy blue flag beaches and great diving.
Stage 8 – Continuing on from Calabria this stage travels slightly inland from the coast of the Basilicata region past the Marina of Rocca Imperiale. Hopefully we'll get to see an aerial shot of Castello Svevo which is located at the top of the hillside town of the same name. Nova Siri, Policoro and Scanzano Jonico also have an inland village and a coastal Lido, with beaches backed by woodland.
Puglia
Puglia is the sunny  "heel of the Italian boot", a land of olive trees and vineyards and 800km of beautiful coastline. It is no wonder that so many northern Italians come here on holiday and foreigners are buying property here. There are so many friendly towns offering history and tradition, as well as the facilities needed for all year round living. There are two airports, Bari and Brindisi, and property prices to suite every budget.
Don't leave yourself exposed to losing thousands of pounds by sending your money abroad without planning in advance. Find out what you need to do in the Property Buyers' Guide to Currency. 
Stage 8 – Once through Basilicata the route continues through Taranto. This port town is developing quit a sporting reputation. It was recently announced that Taranto will host the Mediterranean games in 2026. From here the route cuts across an area called the Murge, which lies close to the Itria valley. This is a relatively flat area with many nice towns between Taranto and Brindisi, most of which have a castle, a historic centre and a proper working town with all the amenities you need for all year round living. I'll be waving on the cyclists as they pass through my home town of Francavilla Fontana, but they will also pass through San Giorgio Jonica, Carosino, Latiano and Mesagne. Both Francavilla Fontana and Mesagne have lovely historic centres and are an easy drive from the city of Brindisi and its airport. Since ancient times Brindisi was known as the "gateway to the east" and it became an important port, first for the Roman troops, and later for the merchants of Venice. Today it is a busy town and port, with ferries to Greece and Albania.
Stage 9 – This stage begins further up the Adriatic coast, above Bari airport, at the seaside town of Giovinazzo. This pretty town is right on the sea and has seen a healthy growth in the number of tourists in recent years. A flat run along the coast the cyclists will also pass Molfetta, Bisceglie, Trani, Barletta and Margherita di Savoia. Each of these seaside towns has it's own special charms. For example, Barletta has a bronze statue of the Colossus of Eraclio, a cathedral and Norman castle;  Trani has a fine cathedral, a Swabian castle and a pretty fishing port; Then there is Bisceglie, with its historic centre of narrow stone streets encircled by ancient walls, a castle and palazzo houses.
Stage 9 continues around the Gargano. This area is sometimes referred to as the spur of Italy's boot, as the mountainous promontory extends into the sea from the north-eastern part of the province of Foggia. The area is famous for the Gargano National Park, but it also has some lovely towns. Manfredonia with its waterfront castle and Vieste perched on the edge of white cliffs are the most well known. For summer holidays Mattinata has a long beach where you can also go by boat to caves and coves. The cyclists will also climb the hill of Monte Sant'Angelo. This amazing town has white washed houses spread across the hillside with a castle at the very top. The sanctuary of San Michele Arcangelo attracts many pilgrims from across the world.
Each of these four regions have excellent Mediterranean weather, great food and wonderful coastlines. Their landscapes range from plains near the sea to hills and mountains. By exploring the lesser known towns and villages in the countryside you'll discover some incredibly low property prices. Now is the time to get on your bike and go hunting for that dream home.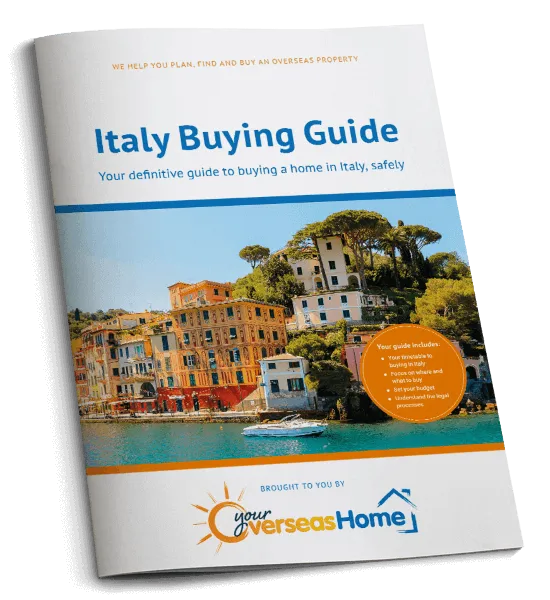 The process of buying property in Italy is significantly different from here in the UK. This is why we've created our completely free Italy Buying Guide, to provide those dreaming of a new life in Italy with all of the practical, legal, and financial information needed to help them realise that dream.
✔

  Ask the right questions
✔

  Avoid the legal pitfalls
Download your free guide to buying in Italy