Sicily's one of the most popular parts of Italy for expats. The island lifestyle – you're never far from the sea – and the relaxed pace are big pluses for many of us. The affordable property prices are a big draw, too. Many expats find they can get a much bigger property here in Sicily for less than back in the UK.
Why move to Sicily?
For anyone looking out at a grey, drizzly British sky, the hot summers and mild winters of Sicily win every time. The beauty of Sicily is unmistakable, whether that's the natural parks or its honey-coloured baroque architecture. As a former independent kingdom, Sicily possesses plenty of grand castles, palaces and cathedrals. German literary giant Goethe once wrote that 'to have seen Italy without having seen Sicily is to not have seen Italy at all, for Sicily is the clue to everything.'
German literary giant Goethe once wrote that 'to have seen Italy without having seen Sicily is to not have seen Italy at all, for Sicily is the clue to everything.'
More intangibly, the lifestyle is much slower and more relaxed than in the UK. For many looking to property in Sicily, one of the main reasons is escaping the rat race or retiring to peace and quiet – and that's easy to find in Sicily.
Is Sicily safe?
It's impossible to mention Sicily without questions about the famous Mafia. It's undeniable that there is still a certain level of crime in Catania and the wider regions, but the economic crisis means many criminal operations have moved abroad to Germany. Incidents rarely affect foreigners. Theft is statistically far more likely in Milan, Bologna and Florence than Sicily.
Where are the main areas to buy property in Sicily?
Sicily's divided into nine main divisions, each with its own character. Here's our breakdown of each Sicilian province and municipality.
Trapani
Trapani sits on the far west of Sicily. The city itself is a beautiful, ancient town, full of grand old buildings in the local honey-coloured stone. The nearby Zingaro reserve offers breathtaking views to hikers over the sea, while the two coastlines have plenty of beaches if you want to cool off.
This is one of the cheapest coastal regions for property in Sicily, at just €1,110/m2. The further south in the province you go, the cheaper it is. In Mazara, for example, you can find houses at just 1,030/m2.
Median house price: €1,110/m2
Palermo
Palermo is undeniably one of the most beautiful cities in southern Italy – and that's saying something. It was once capital of the Kingdom of Sicily and even, strangely, of the Holy Roman Empire under Frederick II and Conrad IV. The baroque architecture and grand avenues are testimony to its past. The province has a number of popular beaches, especially at Mondello.
Median house price: €1,350/m2
Agrigento
Agrigento, known as Girgenti in Sicilian, is particularly famous for its beaches. The ones around Torre Salsa, facing the Channel of Sicily, are designated as natural reserves for their environmental significance. The region's also known for its wine – around ¾ of Fiano vineyards are located here. Property's quite affordable. As you head towards Menfi in the west, however, prices do become much higher.
Median house price: €1,110/m2
Download your free Property Buyer's Guide to Currency by our trusted partner Smart Currency Exchange to find out how to protect yourself from losing money to exchange rate changes when buying abroad. 
Caltanissetta
Caltaniesstta, in the interior of Sicily, is often overlooked by locals and expats alike. It's a quiet, rural region, with a cooler climate. Snow in the winter isn't unusual. If you're moving for work, there aren't so many opportunities here. However, if you're buying a holiday property in Sicily, this could be a fantastic location.
Median house price: €870/m2
Enna
Enna, also located inland, has Sicily's highest provincial capital. It's a region with a lot of history, including one of the best preserved mosaics from Roman times in Piazza Armerina. There's also Sicily's largest castle, the Castello di Lombardia. Nature lovers will enjoy Lake Pergusa and the surrounding forest. The wildlife reserve here is home to thousands of rare birds.
Median house price: €980/m2
Messina
This is a fascinating region, with a notable native Greek-speaking minority. The confluence of cultures is evident in the architecture, such as the Church of the Santissima Annunziata dei Catalani's Byzantine elements.  Anyone buying property in Sicily for the warm climate should look here. It's particularly warm and sunny, with an average year-round temperature of 18C and almost 2,500 annual hours of sunshine.
This is one of the most expensive parts of Sicily, but you can find lower prices of around €1,280/m2 the closer you get to mainland Italy. Unspoilt towns like Piraino are much pricier, at around €3,680/m2.
Median house price: €1,520/m2
Catania
Catania's one of the most famous parts of Sicily – the city itself's old quarter is a UNESCO world heritage site. Some of the most famous Sicilian dishes like pasta alla norma and arancini come from here.  One of the most popular areas is Aci Castello, a coastal town overlooked by an imposing Norman castle. Further inland, prices are lower.
Median house price: €1,290/m2
If you're going to buy property in Italy, register for the next free Your Overseas Home show in Harrogate, Birmingham and Epsom. They're specifically designed to help serious buyers with advice from legal, financial and real estate professionals based in Italy.
Ragusa
Ragusa – confusingly also the Italian name of Dubrovnik – is part of the Val di Noto, a UNESCO World Heritage Site of seven cities. If you're thinking of buying property in Sicily, the main attractions here are the beautiful baroque architecture, sandy beaches and delicious seafood. The town of Chiaramonte Gulfi is nicknamed the 'Balcony of Sicily' for the panoramic views it offers over the Ipari Valley and out to the sea.
Median house price: €1,100/m2
Siracusa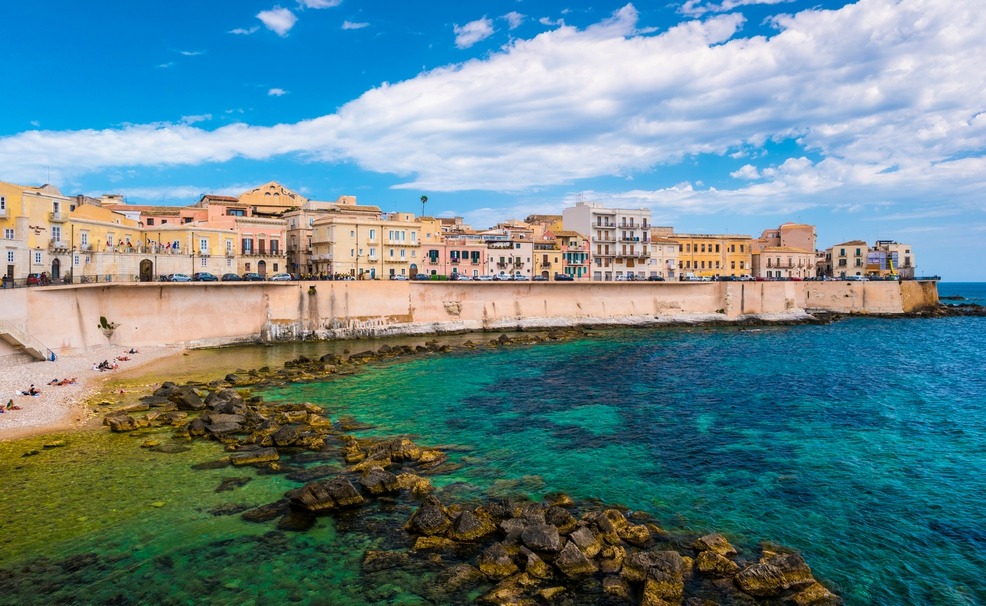 Siracusa, or Syracuse, once one of the great powers of the ancient Mediterranean, is today a medium-sized city of around 125,000 people. The surrounding province is home to the Nyblaean Mountains and lots of golden, sandy beaches.  The southernmost areas, especially around Pachino, are relatively expensive. However, towns like Priolo Gargallo, closer to Catania, are much more affordable to buy property in Sicily.
Median house price: €1,155/m2
Buying property in Sicily
Thinking of buying property in Sicily? The sooner you buy, the better – prices are rising, so it's important to get ahead of the curve. Keep up to date with Italy property guides for more news and download your free, comprehensive guide to buying in Italy below.