The Brexit deadline of 31st January is drawing closer and, with the Conservative Party leading in the polls, it looks increasingly likely that the current Withdrawal Agreement will be passed, and we'll enter the transition period. During this period, anyone who moves will have the same rights as before, but how do you move afterwards?
Thousands of Australians, Americans, even Chinese, Russians and Malaysians buy here every year, and the good news is that you will be able to, too, after Brexit. It might mean a little more paperwork, but there's no reason to put your dreams on hold. Here's what you need to do to buy in Greece after Brexit:
Consider your options for legal residency
The Greek government is extremely welcome of foreign investors, including those buying property. One of the top programmes is the Residency by Investment scheme, popularly called the 'golden visa'. It allows you to gain residency in Greece in return for buying a property at just €250,000. This also extends to your close family, and can be renewed at regular intervals.
Read more about making a success of your move with the Emigration Guide, free to download.
If you're just buying a holiday home here, you can easily just use a normal tourist visa – they allow you to stay for up to 90 days within a 180-day period, which is plenty of time to enjoy your home for up to three months at a time.
Finding a property
Your first step will be finding the right property. With so many stunning islands, from Corfu in the north west all the way to Rhodes in the south east, you have a huge choice. Each has its own character, access and attractions. Don't forget the mainland either, with the Peloponnese, Thessaloniki and Athens "Riviera" all popular choices too. All these locations are washed by the same warm, sun-drenched Mediterranean sea. In every location, too, you'll be welcomed by just about the friendliest people in Europe.
If you have further questions about buying in Greece, ring our free Resource Centre on +44(0)20 7898 0549 or email 

[email protected]

.
You have some help in finding the right home for you. Firstly, read our comprehensive guide to Greek locations. Don't forget to download our viewing trip guides too and print off some viewing trip worksheets. These will help you narrow your options and keep track of your progress.
Buying property in Greece
This isn't difficult, despite having one of the world's trickier bureaucracies to steer your way through. Here are the main five processes.
Get a good lawyer. You have to employ a lawyer when buying a Greek property worth more than around €30,000 (less in rural areas), but even if buying at below this, why take the risk?
Your lawyer prepares the preliminary sales agreement. This covers the price, what's included, how you are paying, completion date and any other essentials.
You will also need a notary. Yes, someone else to pay for, but they will make sure everything is carried out as the State expects, and that everything is witnessed and certified. The notary ensures all your documents are in order and facilitates the process.
Ensure your lawyer completes all the legal checks. A comprehensive list of legal checks when buying property in Greece is here. And remember, if you think the Greek government is slow, just wait until you get enmeshed in the judicial system! Do get it right first time.
The $64,000 question is, how long with this all take? Generally less than six to eight weeks – so you could easily be in your dream home sooner than you might think.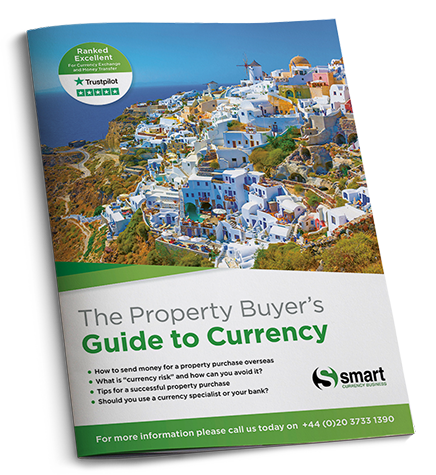 The Property Buyer's Guide to Currency will help you:
✔

  Understand the currency markets
✔

  Protect your property budget
✔

  Use a Currency Specialist
✔

  Learn from other overseas property buyers
Download the free Property Buyer's Guide to Currency