With hundreds of islands to choose from, Greece Property Guides is taking you on a tour of the best for property buys. This week, we look way out east to Kos, Lesbos and Rhodes.
Greece has several thousand islands, which add up to a coastline four times longer than either France or Spain. So you're spoiled for choice when it comes to beachfront properties. Well over 200 of the islands are inhabited, so here we highlight just three islands in the eastern Mediterranean for you to start your search.
Kos was the birthplace of Hippocrates, "father of medicine"
Kos
Being just a mile or two from the Turkish coast, Kos was the crossing point for thousands of migrants between 2015 and 2016. The traffic has slowed to a trickle from that direction again, and the tourists and British residents have returned. Most of all though, it's a very traditional Greek island. Around 30,000 people live permanently on Kos, so there is enough to do all year and properties can be rented out for a fortune in summer, if you want to go down that route. Do beware the Greek taxman, however, who is hot on the heels of foreign residents with tourist rentals, so all income must be declared.
Kos has mountains along its southern coast, but the north is flatter. That makes it a popular option for cycling, and retirement! The beaches are gloriously sandy and if all that cycling and swimming don't keep you healthy, you're in the right place – Kos was the birthplace of Hippocrates, "father of medicine". Like most Greek islands, the main town has the same name. There are also some attractive villages, including Kefalos at the far end of the island from Kos town (along a single road – everyone knows everyone on Kos) and Mastichari on the northern coast.
As usual in Mediterranean tourist areas, there is cheap property to be had (under €50,000) but it will be a little insalubrious. For anything "nice", you should budget for in excess of €100,000 for an apartment and double that for a villa. Do make sure that earthquake-proofing is in place – you'll probably know it has if it survived this summer's quake unscathed – and insurance.
Lesbos
Lesbos has three times more coastline than Kos (and three times more people, around 100,000). It's too large an island for any nearby adventurer or invader to ignore throughout history, so it has prehistoric, Neolithic, Roman and ancient Greek ruins. You won't want to miss the World of Ouzo Museum or the petrified forest.
Wherever you wish to live in Greece, knowing how to negotiate for your property should get you a little more house for your money! Download our guide, How to Negotiate Abroad.
The capital and largest city is Mytilene, on the south-east coast. You could start your property search there, in Eresos, which generally has plenty of attractive properties for sale at around €200,000. Kalloni and Mithymna are also good possibilities. Don't ignore the interior either. It's a mountainous island, with attractive country areas and lovely villages. The island isn't huge (around 70km wide) and there is a huge bay in the middle, so even if you buy inland you're never too far from a gorgeous sea view.
If you're thinking that Lesbos will offer a wild LGBT party scene, like Mykonos, you might be disappointed. It tends to attract a more mature and quieter sort of tourist and overseas resident.
Property in Lesbos is not generally expensive. You can buy renovation projects from little over €20,000, and nice village houses for under €100,000.
It isn't all inexpensive though. This impressive Lesbos property is on the market for €3.35million. It has five bedrooms, covers 500m2 of built area on a plot of 4,000m2 overlooking a bay.
Rhodes
Rhodes is a similar size to Lesbos, with a similar population, and the most far-flung of the Greek islands. It is also the sunniest spot in Greece, with well over 3,000 hours of sunshine per year (twice as much as most places in the UK). The centre of the island is mountainous, with Mount Attavyros stretching to over 1,200 metres. Below it are forests of pine and cypress, plus vineyards, orchards and olive groves. There is no shortage of bucolic beauty in its inland villages.
If you are ready to buy a home in Greece, you'll have a few financial matters to sort out, the biggest of which is likely to be currency. For step-by-step guidance on changing your money and paying for your property, download the Property Buyer's Guide to Currency.
Resorts and coastal villages include Faliraki, Lindos and Kiotari, where beachfront apartments go from €150,000. More expensive is Lindos, on the eastern coast, where you can watch the sun rise over the Mediterranean from your million-euro villa, like British designer Jasper Conran.
Properties start at between €50,000 and €100,000 in Rhodes, with two-bedroom beachfront apartments or small villas away from the front from €207,000. In Lindos you could pay considerably more, in excess of €500,000 for a top-quality villa, although some are available for under €300,000.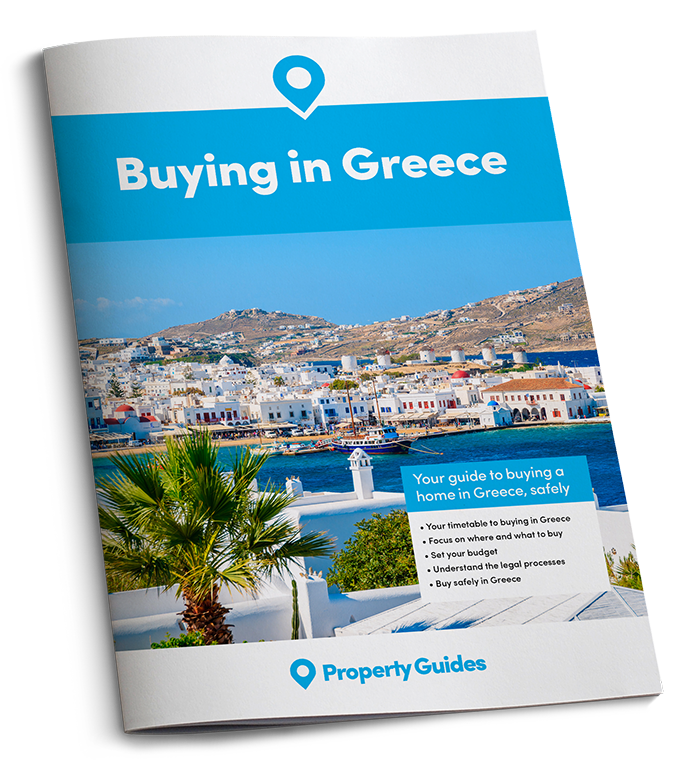 The Greece Buying Guide takes you through each stage of the property buying process.The guide will help you to:
✔

  Ask the right questions
✔

  Avoid the legal pitfalls