The Beckhams love it, you can get there easily all year, the homes are cheap and it has the best olives in the world, arguably. The Peloponnese is nearly perfect, if only it was easier to spell…
The Greek islands – such as Mykonos, Rhodes, Corfu and Crete – are wonderful, but they can be hard to reach off season and packed with tourists in summer. The Peloponnese is a mainland option, easy to reach from Athens in an hour or two by road, yet with the same gorgeous coastline, friendly people and affordable property. Here are ten things you might like to know about it.
The Beckhams stayed at Ermioni in the eastern Peloponnese last year and instagrammed their way through the trip
1. Island or peninsula?
This area the size of Wales was a peninsula until the Corinth Canal was dug 120 year ago, separating it from the mainland. So it's an island. But there are bridges, so not really….
2. Property market
Property here is far cheaper than in the more fashionable islands. In Korfos, in the north of the region, for example, you can find a beautiful four-bedroom property for as little as €220,000; whilst in Mani, in the south, you can find a three-bedroom home for only €115,000. There are more expensive options of course, including the new luxury resorts Amanzoe at Porto Heli or Costa Navarino on the far west coast.
This is still a great time to try and get a property bargain in Greece, but prices could start to rise at any time. Knowing how to negotiate effectively could get you a much better house for your money. Read our guide: How to Negotiate Abroad.
If you do decide to purchase in Peloponnese, or indeed anywhere else in Greece, it's important to be aware of the taxes you will need to pay as part of your purchase. For example, currently there is a single property tax which must be paid on all properties, as well as an additional tax based on the cost of a property above €300,000. This is 0.1% for this price going up to 1% on properties costing more than €1,000,000.
3. The best beach in Greece?
The beaches of the Peloponnese are generally quiet, peaceful and secluded, even, if you're up early, in the summer months. What's more, Voidokilia beach in the southwest is regularly voted one of the best beaches in Greece – and yet it is still known for its tranquility and privacy.
4. Arcadia
According to the dictionary, Arcadia is "an image or idea of life in the countryside that is believed to be perfect". It is also a central region of the Peloponnese, which inspired the name and the concept.
5. A list fans
The Beckhams stayed at Ermioni in the eastern Peloponnese last year and instagrammed their way through the trip. Slightly less glamorously, Radio 4's John Humphrys owns a house there. Patrick Leigh Fermor, heroic World War Two commando and author, lived here in the 1950s and wrote Mani: Travels In The Southern Peloponnese. Royalty are fans too, with the Queen of the Netherlands and ex-King Constantine of Greece owning homes along its 1,200-kilometre coastline.
6. Swim in February
The general climate of Peloponnese is warm subtropical. In the summer, highs average around 32°C, while in the winter the weather is mild, and usually around 13°C on average. Beach season here runs from May to October, but in some warmer years you may experience suitable temperatures as early as mid-April and as late as mid-November.
Even in the coldest month, February, the sea temperature is 15°C, that's not far off the sea temperature in Eastbourne, in August. Go on, jump in, impress the locals with your British pluck!
7. Best olives in the world?
The Greek diet is generally renowned as healthy, tasty and Mediterranean, and in the Peloponnese you can get hold of deliciously fresh, high quality food for a relatively low price. The Peloponnese is particularly well known for its citrus fruits, tomatoes and zucchini, as well as wine, cheese and fish – what more could you want for a delicious and healthy meal? It is most famous of all for its Kalamata olives, however. Bigger, plumper and darker than most olives, they are packed with powerful polyphenols which may protect you against disease.
8. Birthplace of the Olympics
The Peloponnese may have more archaeological sites than anywhere else in the world. One of the most famous is Olympia – the ancient site of the original Olympic Games. Here you will find the important sites of Sparta, Mycenae, Corinth and Epidaurus (the shrine of Asklepios, the Greek God of medicine).
9. Seriously friendly people
Greek people are known for their friendliness, and this is always important when you are starting a new life someone completely remote from your old life. The culture and attitude of those around you is likely to have a profound effect on how you settle in and how you feel about the area in general. The friendliness of the locals should go some way to reassure you.
10. Easy to reach, all year
The proximity of Peloponnese to Athens ensures that it is easy to reach from the rest of Europe, all year. Athens airport has flights through the winter – unlike most Greek islands – and is just two to three hours' drive from much of the peninsula. There are also two further airports, in Kalamata and Patra, with flights in summer.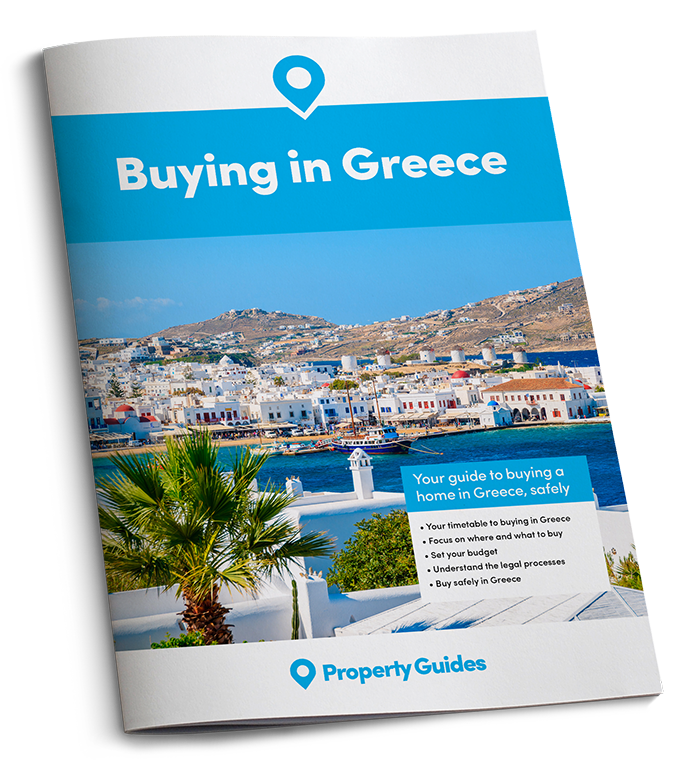 The Greece Buying Guide takes you through each stage of the property buying process.The guide will help you to:
✔

  Ask the right questions
✔

  Avoid the legal pitfalls