The French have a reputation for being serious about love and romance, but is this reputation deserved?  And what is life really like for singles (or as the French call them, 'celibataires') in France? Many people who move to France are couples nearing retirement who dream of a life in the sun, with delicious French food and wines to sample and stunning landscapes to discover. 
But how is moving to France as a single? How is life for the unattached in France, and those seeking 'amour' in the country that includes Paris, the famous city of love?
And if you're one of the 30% of British buyers who, according to BNP Paribas International, have accelerated their house-hunting search now that the Brexit deadline is looming, should moving to France as a single hold any fears?
How many singles are there in France?
If you're single and thinking of moving to France, then rest assured, you'll be in good company. Out of France's 67 million inhabitants, around 14 million are single, and according to French newspaper, Le Figaro, one in three women in France are single, and that figure drops to one in two in Paris, and more men than women are unattached.
When it comes to age groups, singles are fairly evenly distributed, with 18 to 34 year-olds forming the largest group, with 50 to 64 year-olds not far behind.  In fact, singles are one of the fasted growing demographics in France, with the number of singles nearly trebling in the past thirty years or so.
So, if you're thinking of moving to France as a single, you'll be in good company.
How do French singles meet each other?
If you decide to take the plunge, and move across the channel as a single, what are the chances of finding love, and how should you go about it?
While it's easier to meet like-minded others in the major cities like Paris, Lyon and Bordeaux, whether at work or through your network of friends, it's most likely that, like 90% of French celibataires, you'll use one of the many dating sites to find romance, especially if you choose to live in a quieter town or rural areas.
The most popular dating site in France is Meetic. Enjoying a good reputation, and claiming 8 million users, the site not only helps singles hook-up, it also organises regular soirées, speed dating and even holidays for singles. Other popular sites include Elite Rencontre, that uses questionnaires to help users narrow down their search, and eDarling, that claims to help you find your 'grand amour'!
While contacts on these sites are mainly conducted in French, those French people who do speak English are very keen to practice their conversation. Don't let any lack of confidence in the French language deter you from jumping in!
French people who do speak English are very keen to practice their conversation. Don't let any lack of confidence in the French language deter you from jumping in!
Social networking sites like Facebook are also a good way to meet like-minded people in France. As well as the many groups that have sprung up for those with particular interests like renovating, gardening or surfing, there are also groups like Singles Together in France (SIFT) that, while not a dating group, offers encouragement and support to those setting up home or living in France on their own.
Getting involved in your local area is also a great way to meet other singles. Even the smallest hamlet will have a town hall where you can find out what's on.  There are likely to be many local groups who get together to enjoy walks, celebrate annual events like Bastille Day, and organise events like car boot sales (vide greniers).
What is it like to date in France?
French people take the finer things in life like good food, wine and romance very, very seriously. If you're a lady looking for love, expect to be taken on romantic outings, candlelit dinners and treated to flowers and gifts. Men expect to pay for everything (or will at least suggest that they do), and you can expect regular compliments.
And if you're a British man seeking your French lady-love, you may need to drop a little of your traditional reserve. French men are quite direct in their flirtatious approaches, and so it's a good idea to be unambiguously keen if someone catches your eye.
And ladies – there's no need to be shy.  Equality between the sexes is de rigueur in France when it comes to dating. What's more, according to Sandra (68) who moved to France 10 years ago, whereas English guys seem to look for younger women, across the channel they appreciate women in all their life stages and she is frequently asked out by significantly younger men, so be adventurous!
Things can move quite fast here in France.  Don't be surprised if, after only a few meetings or text exchanges, you are given a pet name by your Henri or Brigitte. Favourites include ma belle, mon ange or mon petit chou (literally, my little cabbage)!  Feel free to return the complement, and preferably in English – the British accent is considered incredibly sexy by men and women alike.
A word about safety. While it's right to be cautious when meeting someone for the first time, France is a very safe place to live, and women can expect to be able to go about their business without being harassed. Take the usual precautions, meet in a public place, and don't give away too much personal information on first acquaintance. Take your time, and go slowly until you feel your date is trustworthy.
What should I wear on my first date?
That's a tricky question, but it's best to be discreet. French men are generally well groomed, and love the latest fashions. Expect neatly trimmed facial hair, smart clothes, fashionable shoes and a spritz of Hermès after-shave!
For ladies, it's best not to expose too much flesh – less is definitely more when it comes to sexy dressing. Choose something classic and elegant, perhaps with an artfully draped scarf, and go easy on the make-up. While grooming is important here, there's less pressure to adopt the latest fashions in clothes and cosmetics. A hint of blusher, some lipstick and mascara will do just fine.
What are popular dating venues?
In the larger cities, cultural outings are a favoured way to get to know each other, with cinema trips, a walk in the park or a visit to a nice restaurant popular choices.
In rural areas, it's more usual to organise a coffee or lunch date – some restaurants even organise soirées for the unattached.  Most larger towns and villages have a weekly market, and a visit to browse the tempting array of local produce is a great way to spend your first date.
If you're cooking at home, then plan something simple with well sourced natural ingredients. The French have very traditional palettes, and don't be shocked (or offended) if you receive comments on your skills in the kitchen.
The French and sex
According to Susan (not her real name), (50), who has lived as an expat in a number of countries, the French have a very relaxed attitude to sex, and gay, bisexual and alternative lifestyles are common, even in rural areas.
Sex is considered a natural part of life, and the French take a matter-of-fact approach. Her advice to British singles is to relax, set their own boundaries, and to take any invitations (or indeed declarations of love) with a pinch of salt.
She has found love on Tinder after kissing a few frogs, and has found the internet much the best way to meet local men.  She chose Tinder as she was able to create a profile in English, although searches were limited to her geographic area.
What happens if I meet 'the one'?
Heather Jane Litherland-Jones (50) met Gaël, l'homme de sa vie (the love of her life) via the dating site Elite Rencontres while on holiday in Lyon. Within months of their meeting in France, the handsome doctor flew to England to meet her, having never visited the UK before.
She describes his romantic approach as very traditional, gentlemanly and respectful, with a lot of wooing, flowers and gifts. Now happily ensconced in Toulouse, they have entered into a PAC (a French civil partnership), and enjoy comparing the amusing differences between the two cultures. As she says, the French and English are the very best of enemies!
If you are ready to purchase in France call our friendly France Resource Team for advice on 020 7898 0549 or email

[email protected]

.
If you decide to marry, expect to have two ceremonies – one religious and one civil. And when you set up house together, you'll be spoiled for choice in terms of the range of properties available.
Finding somewhere to live in France as a single, and the cost of living
If you are moving to France as a single, then you probably won't be seeking a grand 'maison de maïtre' in which to set up home! You'll find a wide range of compact dwellings on the market, from bijou apartments in town, stone longères with pretty gardens, and neat, modern estate houses with the latest eco-friendly heating systems.
Houses and apartments are priced by the square metre, and a formula is used by estate agents and 'notaires' (lawyers who administer property sales) to indicate the rough size of the home, T1 being a studio, T2 being a one bedroom and so on.
As a guide, a reasonably sized studio would be around 25 square metres, and a medium sized two-bedroom home around 100 square metres.  In Paris, the average cost per square metre is currently around €9,000, but in the provinces this can fall to as low as €1,000.
A final word about the dreaded taxes, it's true to say that the French pay a relatively high proportion of their income in impôts and social charges. As a result, health and social care is excellent, and the standard of living is second to none.
Choosing quality of life over the rat-race is an excellent option at any age, and being single is no barrier to achieving a happy and healthy future across the channel in La Belle France!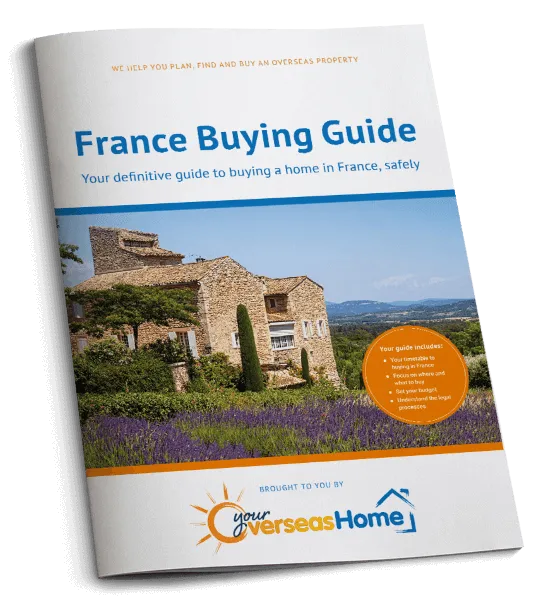 Buying a property in France is extremely exciting, but it can be nerve-wracking: in what ways is the process different to the UK, how do you cope with the language difference, what fees should you expect and just who is the notaire? That's why we've put together our France Buying Guide, to help you through the process, step by step.
Written by experts, it covers every stage of buying, from viewing to contracts and fees. Get your copy of the French Property Guide by simply filling in the form below.
✔

  Ask the right questions
✔

  Avoid the legal pitfalls
Download your free guide to buying in France