Almost 60% of us Brits moving to France want to live in the countryside – but, if you're getting close to nature in France, what sort of animals are you likely to encounter? To celebrate International Wildlife Day, we're taking a look at some of the new neighbours you might find hanging out in the countryside, from lynxes and fire salamanders to the humble red squirrel!
Thinking of buying a home in France? Find out how to get the most house for your euro with the tips in our free guide, How to Negotiate Abroad.
Lynx
Europe's third largest predator after the brown bear and wolf, this big cat is known for its spotted greyish red pelt, black tipped ears and regal white ruff around the face. With a penchant for hooved animals like deer and smaller mammals like hare and rabbits, the Eurasian Lynx has climbed its way back from the brink of extinction in the 1930s to a population of around 500, mostly in the wooded, mountainous (and often affordable!) areas of Eastern France such as the Vosges, Jura and the Northern Alps.
Lynx are nocturnal and have a secretive nature, they love dense forest to hunt and raise their young. They are efficient climbers, hiding in rocks and trees to stalk and even ambush their prey. If you're lucky enough to have a ski-retreat in France, you may find Lynx prints in the snow – their large, webbed paws make them a fast and efficient predator even in the winter months.
Most likely to be seen: Vosges
Country home prices here from: €68,000

Marmot
Another mountain-dwelling resident of France, and yet not as shy as the Lynx, is the charming marmot. A member of the squirrel family, this furry creature with powerful front legs for burrowing loses two thirds of its body weight during its long winter hibernation between October and April. A sociable animal, family groups of Marmot built complex networks of burrows in which they breed and find refuge from their many predators.
Marmots in France are to be found in the Alps and Pyrenees, and their preferred habitat is open pastureland; being mainly vegetarian, they munch on grasses nearly every waking hour in order to build up stores of fat to see them through the winter months. Their squat, brownish red forms can often be spotted by walkers, popping up on their hind legs on hearing the slightest sound, and with a distinctive sharp whistle to warn others of potential danger.
Most likely to be seen: Pyrénées
Country home prices here from: €80,000
Genet
The Saracens brought these cute little cat-like mammals to France with them in medieval times as rat catchers. They used to be domesticated (and still can be), although domestic cats eventually did them out of a job and genets returned to the wild in western and southern France. Genets live in the woods, resting in the day in a thicket or a hollow tree and hunting mainly at dusk and dawn. They're good swimmers, and will happily eat a frog, as well as the more usual mice and squirrels.
Given that they grow to two feet long, not including the tail, you may well see one if you buy a country home as far north as the Vendee. They're more common along the French side of the Pyrenees, however, in the Languedoc-Roussillon-Midi-Pyrenees. These are also the more affordable parts of France to buy a country home.
Most likely to be seen: Languedoc-Roussillon-Midi-Pyrénées
Country home prices here from: €70,000
Make sure your home is covered against any eventuality – get a no-obligation quote from our property insurance partner today.
Red squirrel
With their tufty ears and rich red/brown coats, the impish red squirrel can be found throughout France, making its home in parks and gardens as well as more remote woodland areas. With sharp, curved claws and double-jointed ankles, these furry creatures are efficient climbers, nesting in trees and even buildings; if you have a holiday home in France, you may return to find a squirrel's dray behind your closed shutters!
Red squirrels are omnivores, enjoying snails and insects as well as nuts that they mark with a special scent and tuck away to snack on when food is scarce. With keen senses of smell, sight, hearing and touch, and nimble on their feet, the red squirrel has few natural predators, with pine marten and goshawk being the only creatures capable of catching up with these beautiful animals.
Most likely to be seen: Brittany
Country home prices here from: €60,000

Wild boar
If you're keen to move to France because you love the extensive walking trails, you'll already know that you don't have to ramble far in woodland before you come across evidence of wild boar. In their search for fruit, seeds, grasses and bulbs, these cousins of our domesticated pig root around on the forest floor with their powerful snouts, causing widespread disruption to the soil as evidence of their piggy presence.
Widespread throughout France, wild boar are huge creatures with tough bristles, and the largest specimens can weigh up to 200kg. Male boar are solitary creatures, but females and their broods live in family groups, hunting for food and wallowing in deep trenches that they line with twigs and grasses. While widely hunted for their meat, they are feared and admired as prey, as they have extremely sharp tusks and are very clever – pigs are the fourth most intelligent animal in the world.
Most likely to be seen: Languedoc-Roussillon-Midi-Pyrénées
Country home prices here from: €70,000
Find out how to structure your property purchase, including for inheritance, with our firm of trusted solicitors.
Wolves
Wolves were eliminated in France in the 1930s, but in the 1990s a breeding pair crossed the border from Italy and since then the wolf population has spread from the Alps into the Massif Central and the Jura and Vosges mountain ranges. Wolves travel in packs and over long distances, with only the dominant pair breeding, with the cubs raised by the remainder of the group. Feasting mainly on deer and wild boar, but with a taste for sheep and other animals when wild food sources are rare, wolves are a protected species.
If you're on the hunt for a smallholding in an area of France where wolves are present, you may consider a protection dog as a humane and efficient way to keep wolves at bay. Few animals have a call as evocative as the wolf, with their distinctive howl used to communicate and mark out territorial boundaries.
Most likely to be seen: Alpes-Maritimes
Country home prices here from: €100,000
Montpellier snake
If the Mediterranean coast is the area of France to which you'd love to relocate, then you may come across the stunning Montpellier snake.  Fond of dry, hot areas, and native only to France, these lithe, grey/green creatures can be found sunning themselves on rocks and stone walls, with olive groves, vineyards, river valley and forests being favoured locations.
With a length of up two metres, and a fearsome appearance with large, clear rimmed eyes, this venomous reptile eats small mammals, injecting poison into its prey with fangs at the back of its mouth. Despite its ferocious reputation, the Montpellier snake is not considered to be a danger to humans, and some have been said to have been taken from the wild and used by snake charmers!
Most likely to be seen: Languedoc-Roussillon-Midi-Pyrénées
Country home prices here from: €70,000

Cranes
Cranes have inhabited the earth for 55 million years, and these elegant grey birds featured in cave paintings, as well as in Greek mythology. Capable of over 90 gestures and sounds, they are noisy fliers – if you are lucky enough to witness a flock passing overhead in a characteristic V-formation, you will hear them before you see them, with their trumpeting cries carried on the wind.
Cranes breed in Scandinavia, Russia and the Baltic region, before migrating south to France, Spain and the Middle East to overwinter. Like many of those who make their home in France, cranes can be found in the affordable Pyrenees, Champagne-Ardenne, Poitou-Charente and Landes of Gascogne areas, and many over-wintering sites have been enhanced to encourage these stately birds, with feeding and viewing sites provided for bird-watching enthusiasts.
Most likely to be seen: Champagne-Ardenne
Country home prices here from: €75,000
Bee-eaters
Like Cranes, the beautiful and agile bee-eater bird mates for life! Once comparatively rare in France and confined to the Mediterranean area, these colourful summer visitors can now be found in western, eastern and central areas and as far afield as Brittany and the Loire valley – they've even been sighted close to the capital city!
Nesting close to water, the male courts the female by offering tasty morsels like crickets, bees, wasps and hornets, and even the occasional lizard. With stunning turquoise, brown and yellow plumage and distinctive call, similar to the sound of an old-fashioned British telephone, these birds are about the size of a thrush, and can munch up to 250 insects every day, making them far less popular with bee keepers than bird watchers.
Most likely to be seen: Languedoc-Roussillon-Midi-Pyrénées
Country home prices here from: €70,000
Fire salamander
The fire salamander can be found throughout France, and while its markings can vary, these impressive animals are brilliant black with spots or stripes of bright yellow or orange. A secretive woodland creature, they are largely nocturnal, although after rainfall they come out in large numbers during the day in search of food.
As their bright colour might suggest, salamanders kill their prey with poison – their glands secrete a toxin that is also used in medicine to treat skin infections. Long-lived creatures, one specimen achieved a lifespan of fifty years in captivity.
Most likely to be seen: Pyrénées
Country home prices here from: €80,000
If you're thinking of buying in France, do check out our France property portal – you can often get much more for your money than in the UK. Download your free buying guide below and, if you do have further questions, call our friendly Resource Team on +44(0(20 7898 0549 or email [email protected].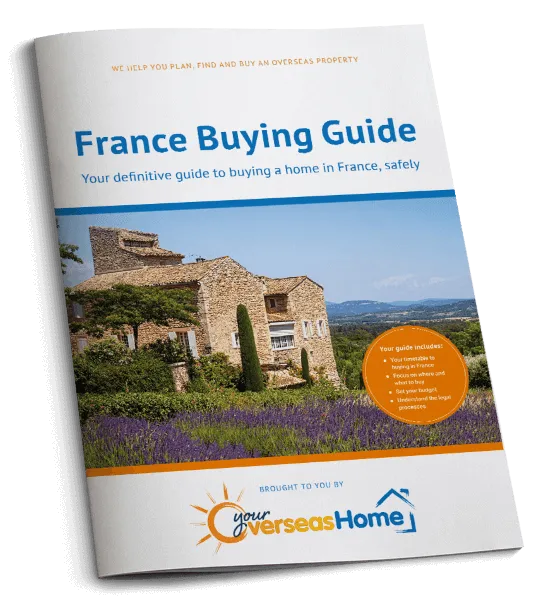 Buying a property in France is extremely exciting, but it can be nerve-wracking: in what ways is the process different to the UK, how do you cope with the language difference, what fees should you expect and just who is the notaire? That's why we've put together our France Buying Guide, to help you through the process, step by step.
Written by experts, it covers every stage of buying, from viewing to contracts and fees. Get your copy of the French Property Guide by simply filling in the form below.
✔

  Ask the right questions
✔

  Avoid the legal pitfalls
Download your free guide to buying in France