Have you ever thought about packing your bags and embarking on a new life in the city of love and having your own Paris apartment? That's exactly what happens in Netflix's most talked-about new series, 'Emily in Paris.' If you haven't watched it yet, you've probably heard of it, mainly because of the large response from French television critics and viewers.
An American from Chicago, Emily moves to Paris to work at a French marketing firm. She's drafted in to offer an 'American perspective' on their campaigns, much to the despair of her French colleagues. The series plays up to every French cliché and stereotype imaginable, so it's no surprise the French say it gives an unrealistic idea of what it's actually like to live in Paris!
If you're going to buy within the next six months, make sure you get your tickets to Your Overseas Home next Saturday. It's all online but with the same great info from lawyers and estate agents in France.
After watching the series from start to finish, we decided to jump on the bandwagon, de-bunk the stereotypes and assess whether we can all live the same Parisian life as Emily.
Finding love in Paris
Paris may seem like a great place to move to as a single person – for Emily, it certainly is! Her love interests appear thick and fast, with men from every corner of Paris throwing themselves at her constantly. The series certainly gives an unrealistic impression of how easy it is to find love in Paris. Whilst it could be said that the French are more outwardly flirtatious than other nationalities, we perhaps shouldn't expect to find love as easily as Emily does under the Eiffel Tower!
Aside from romantic love, Emily makes friends with fellow expat, Mindy. Mindy helps Emily navigate her new life in Paris and explains a few French customs and traditions. Like any capital city, Paris is a melting pot of people from everywhere, so you're sure to meet friends from all walks of life who will be willing to show you the ropes.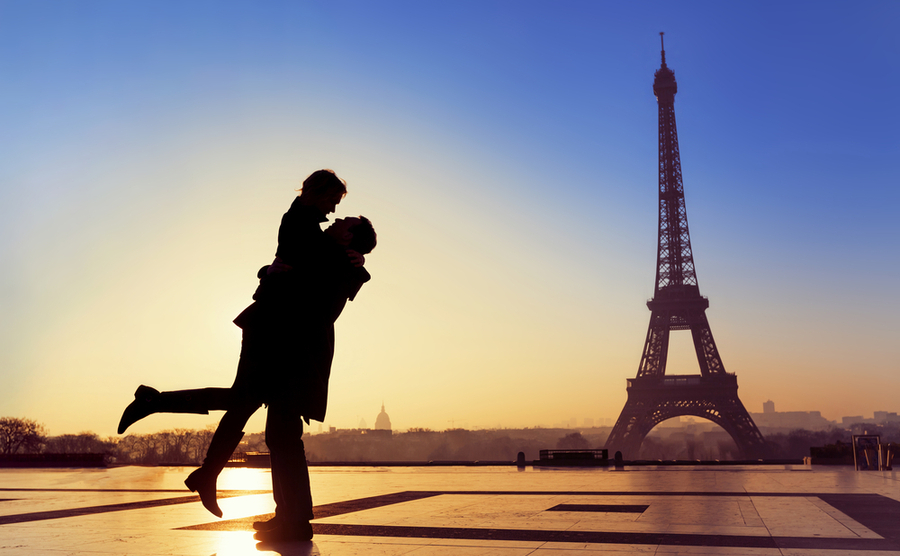 Working in Paris
At the beginning of the series, Emily doesn't get a great reception from her new work colleagues, Sylvie, Luc and Julien. They give her a rude nickname, ignore her suggestions and take an instant dislike to her. Although the French have a more direct approach than say, the Americans or British, the depiction of Emily's colleagues blows this concept out of proportion. It certainly creates an unrealistically bleak vision for anyone from abroad who's hoping to live and work in Paris.
Despite this, a subplot develops which is a little closer to the truth. Luc and Julien eventually take Emily under their wing whilst maintaining their ruthless honesty and straight-talking attitude. They prove themselves to be loyal friends that Emily can rely on.
Speaking French in Paris
Emily moves to Paris without speaking a word of French and boldly starts her new job before taking a single language class. She soon learns that if you're moving to France, you don't have to be word perfect, but you should probably attempt to speak the language a little. This is an element of the series that does reflect life in Paris, and France, accurately. As Emily says, "a little 'bonjour' goes a long way!"
Finding a property in Paris
There has been a lot of talk about how Emily can afford a lovely apartment and lavish lifestyle in Paris on a marketing executives' salary. Moving straight into a spacious property in a good location, Emily attends fancy dinners, drinks champagne and wears designer outfits. She's living an idyllic Parisian life, which all seems a little over the top from someone who's climbing the career ladder.
Why not spread the cost and buy with family? Read our guide,

Buying with Family

.
However, there may be an element of truth to this. Whilst living in Paris is certainly not cheap, locals have recently responded to the shift in home working and many are heading to the countryside. This means that Paris is, perhaps, more affordable than it has been in a long time. Paris will also host the 2024 Olympics, which could result in a London-2012 type renaissance for the city over the next 3 years. It's definitely a great time to look for your very own Parisian bolthole!
Although 'Emily in Paris' certainly shouldn't be seen as a realistic depiction of life in the French capital, Emily's French friend, Camille, sums up the city pretty well. She says, "Paris seems like a big city, but it's really just a small town." Once you move there, you'll soon navigate your way through Parisian life and get to grips with how this wonderful city works.