We interviewed Chloe Williams from our partner, Beaux Villages, on buying in South West France. Chloe has lived in both France and Spain for over 20 years and she's worked in international real estate for a long time, building up a wealth of expert knowledge. As someone who has made that move over to Europe, she's got real first-hand experience.
In this interview, Chloe covers why Brits are still buying in France, the buying process and living and working in France.
Don't spend any money on your move abroad until you've read The Currency Guide to Emigration, free to download.
So, why buy in France?
It's a big question! There are several reasons why you should buy in France
Great real estate, great prices
Firstly, the real estate is fantastic and the value for money is exceptional.
For example, I recently saw a four bedroomed house, which was beautifully renovated and included two cottages, which needed a bit of renovation. There were ten bedrooms in all. The property had an indoor pool, plenty of outbuildings and barns and was close to a town with all the shops. It was on the market at €180,000, which I think is about £160,000, so fantastic value for money!
So, one of the reasons people buy in France is because you've got beautiful real estate at very good prices.
Pretty surroundings and a great lifestyle
What else do people look for? France is known for its pretty villages and many have charming markets, boulangeries, plenty of outdoor activities.
For example, Eymet in the Dordogne is a beautiful village and people love it. It's got a very nice market and people throng there during the market days, and you get all local produce. It's absolutely beautiful.
My local agency is in Aubeterre sur Dronne. Aubeterre is one of the 125 prettiest villages in France – France is known for its pretty villages, so to get in the top 125 you have got to be something special and, trust me, Aubeterre sur Dronne is something really special!
Obviously, people also love the climate and the outdoor way of life in France. In Aubeterre there are also great outdoor activities, and it has a beach in the summertime for the kids, which is fully looked after and managed. There are lots of things to do, from canoeing to tennis.
Buying a property in France
Sort out your currency
So, you're thinking – I like those properties, I like those places, what am I going to do about buying a property in France? Well, you're going to plan your viewing trip and after that, the first thing you are going to think about is – how am I going to buy this property?
That's where Smart Currency Exchange can really help you. You need to know your local currency, sterling, and how many euros you're going to get. The first thing we would say is to have a chat with my colleagues who work at Smart Currency and have a chat with them about how you're going to budget to buy your property.
Smart Currency will help you through all stages of the buying process with the transfer of your money. They will make sure that you have the right amount of money in the right account so that you can pay for the property on the day you're due to get the property. Using a currency company to do that is an absolute must in our eyes.
Virtual viewings
The next thing is we all know we're in a pandemic and that viewing property is difficult. With this in mind, we can offer lots of opportunities for you, including virtual viewings and videos before you make a physical visit. In fact, it's revolutionised the way that we do things!
We now even advise people who are here in France to do a virtual viewing before visiting the property. It saves you a lot of time, saves you driving and it's a really good way to make the list that you want to view smaller. As a result, you really only go and view the ones that are going to be the best choice for you.
Negotiation margin
At the moment, negotiations are much, much tighter. We are very busy currently, so we will advise you about a margin for negotiation. We are the people who know the properties, know the vendor and know their situation, so talk to us about negotiation margin.
The fine details
It may not be very glamorous but it's very important to understand the diagnostics, such as things like septic tank reports. We can talk to you about all those things, as well as the taxes on a property, what it's going to cost you to live there. We will help you all the way through the process, from working with our colleagues at Smart setting up the budgets, through to what is it actually going to cost to live somewhere.
If you are ready to buy in France within the next few months, call our friendly France Resource Team on 020 7898 0549 or email

[email protected]

.
What happens after making an offer?
So if we've done our job well, by the time you've visited a property and made an offer, we will help you with the negotiation to make sure you are paying a fair price for the property. Then once we do that, we have various ways that we're going to help you through the process.
At Beaux Villages, we're very proud of our bilingual paralegal service. So we have a team of paralegals whose job it is to help you through all the steps of the process, from confirming what the offer is with the letter of intention to purchase, through to the Compromis de Vente, which is the initial contract which is drawn up.
After that, when you sign the initial contract, you have a period of reflection. That is built into the process because in France, as opposed to Spain, your purchase comes under the Consumer Code. So, buying a property isn't just a case of a private contract between two parties. The French Government likes to know that the customer is being properly looked after and isn't being forced by an unscrupulous agent to make you buy a property that you didn't really want to buy. All the way through, there are various stages where there is a period of reflection before you move on to the next stage.
The French Government likes to know that the customer is being properly looked after.
How long does the legal process take?
Once that period of reflection is done, the Notaire, who is the Government legal representative who will be drawing up the contacts, starts the legal conveyancing. This is like due diligence to check the property is legal, check that all of the right inspections have been done, that if work is being done on the property that the proper permits have been achieved. It really does protect you all the way through. If the property is correct and it's fully legal, then we go to the final stage which is the Acte de Vente.
It can take three to four months to get the process through. Although it can be frustrating because you've seen the perfect property and you want to move in the next week, it is all designed to protect the buyer, and it is all designed to make sure that you are being looked after all the way through. As I said, we have a dedicated, full-time, bilingual paralegal team who will help you through that.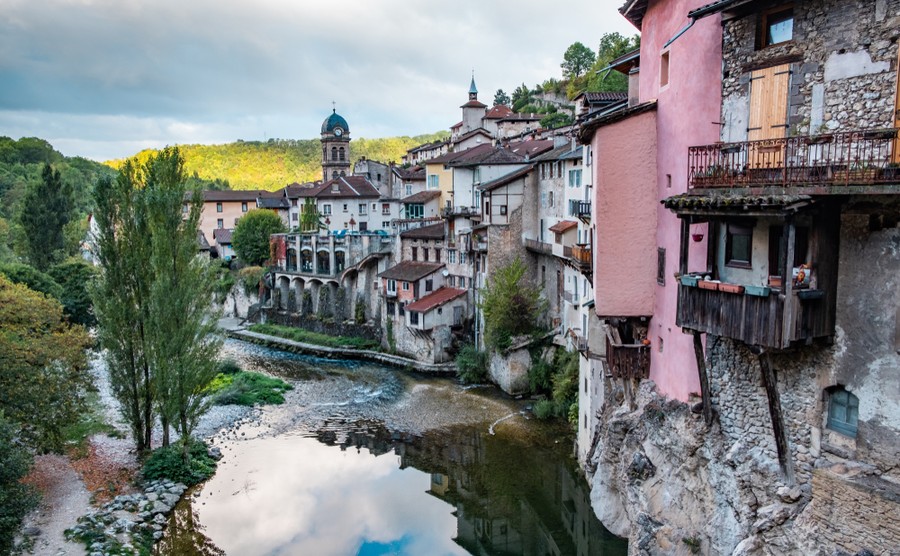 Living and working in France
You've bought your property, you're really happy and now you're thinking about what you're going to be doing for living and working in France. I'm going to say a caveat – it's still not 100% clear exactly how it's all going to work. A lot of the information is on government websites, so I would recommend you check those out as well because things are changing. But, as we understand it at the moment, there are a couple of things that you need to be aware of.
You can stay in France, or any EU country, for 90 days out of 180 without being registered as a resident. Over that period, you would need to apply for residency and that could be either on a self-employed or an employed basis, where you would need a minimum income in France, which is €1,500.
It's advisable to get health cover for the first three months and then you can apply for the French health cover. UK pensioners who are moving over can immediately apply for health cover, which is actually better than it was before Brexit, so that's a plus.
You can apply for residency if you're going to be studying or you've got vocational training, or there is a catch-all which they say is 'other purposes'. It's not completely clear what they mean by that.
A long-term visa is also an option and all you need to show is that you have the means to be self-sufficient. So, it may not be an income, but it may be an amount of money in your bank account that will cover the living costs that you have. We haven't got clarity yet from the French Government about exactly what that means, so we are looking at this all the time.
What are buyers doing at the moment?
What are buyers doing at the moment, how are things, are people buying? UK and European clients are buying in France like never before. Enquiry numbers for Beaux Villages in January this month are well above the levels for January last year. It's been a very fast start to the year in terms of enquiries.
Many French buyers are relocating to areas within 40 to 45 minutes of towns and transport hubs. Property that is located within easy distance of somewhere with a transport hub is very sought after, but even the sought-after properties, I think, are reasonably priced.
Lots of European buyers are moving to countryside areas and working from home. I know that is something that we are seeing in lots of countries. I read about it in the UK as well and Europeans are doing that too.
Prices are stable, or I would even say they are increasing – we are having people who are buying from virtual viewings, and people are buying at the price that is being asked. So, there is a demand. Many buyers book to view, say, six properties, and by the time they arrive four are sold. So do come to France prepared to buy sooner rather than later.
What might property buyers expect to pay in the equivalent of stamp duty or any legal fees, things like that; is there a sort of estimate that you can give us?
There are fees which are payable to the notary, the Notary Public, who draws up the contracts for the conveyancing. As a rule of thumb, I normally say 7% to 8% of the price that you're being asked to pay for the property, you can expect to pay in legal fees, stamp duty equivalent, as you say. But there is a very useful Government website, which has a ready reckoner because it does change. The percentage changes depending on the property that you are looking at.
A lot of our buyers we do know are generally purchasing with cash, but how easy would it be for a UK buyer to secure a mortgage to purchase a French property, is that doable?
Absolutely it is, yes. In fact, we were contacted by one of our major suppliers of mortgages, a company called BNP Paribas, who were giving us information about their mortgage offers and what the situation is with them at the moment, and they are happy to offer mortgages. They mentioned to us that they are looking at being more flexible with mortgages where you earn an income from the property.
If somebody wanted to buy the property as a holiday home and use it themselves and their family, but then also rent it out to other holidaymakers, is there a strong market for rental opportunity as well?
Yes, very strong. I was actually talking to a vendor today who has got six cottages on his property and it looks like we've got a buyer for him, which is great, but one of the things he mentioned to me is that he's fully booked this summer. The demand is very high. I think people are thinking that it will be easier to travel. But he gets rental from all over Europe. There are people from Germany and the Netherlands and Belgium and Northern France, who all want to come down to the Dordogne. They love the Dordogne as much as the British market do. So, yes, it's still very busy.