Those of us who enjoy browsing property websites, either because we're moving house, or just dreaming of a new life abroad, have often come across the term "architect-designed' home. This phrase conjures images of swooping ceilings and imaginatively designed kitchen and bathrooms, but what does this term really mean?
Do you need to use an architect to build your own home in France?
In reality, most house designs have involved the input of an architect at some stage, if just to prepare a general look and layout for a builder to work to, even for larger estates. But if you're planning to move to France, and rather than renovate would love to create your 'forever home', do you need to find an architect in France in order to hold your hand through the building process?
If you've found a plot and are planning to build a mid-size house in France, you will need, by law, to engage the services of an architect because the planning documents for buildings larger than 150sqm of floor space need to be produced by a qualified architecture professional. The term 'floor space' broadly means the enclosed space within the footprint of the house, excluding wall thicknesses, and where the ceiling height is 1.8m or less.
But even if your dream home is more compact, there are other reasons why you might consider hiring an architect in France to help you through the planning process. Firstly, while many of us would love to dream up our very own 'grand design', in reality a well laid-out house created by a professional is likely to be more efficient in terms of use of space and construction, materials resulting in a lower build cost overall and a more pleasant living experience.
If you need help with buying in France, make sure to get your tickets to Your Overseas Home. It's designed specifically for serious buyers, so you can get detailed information from lawyers, agents and currency providers.
Secondly, having someone to hold your hand and deal with the complexity of planning (and idiosyncrasies of local officials) can save you time and reduce stress, leaving you free to enjoy the excitement of the housebuilding project itself, such as choosing the interior décor, picking out tiles and other finishes, and planning your perfect outside space to kick back and relax.
Where do you go to find an architect in France?
There are plenty of online resources to help you find an architect in France, however word-of-mouth and recommendations count for a lot when carrying out this kind of research.
Architects that work regularly in your area will have excellent local knowledge and can give you up-to-date advice on the requirements of the communes and types of designs that meet the needs of the climate in your area, as well as preferred local materials, colours and other specifications.
Look for qualified professionals who are specialists in the kind of project you have in mind, for example eco-homes or traditional builds. The French equivalent of the Royal Institution of British Architecture (RIBA) is the French Ordres des Architectes, and their website is a good starting point to understand the work they do; you can also consult their site www.architetes-pour-tous.fr to find an architect in your region.
If your French is reasonable, you can get free information from the planning department of your local département via a national website (the Conseil d'Architecture 'd'Urbanisme et de l'Environnement (CAUE) that provides advice on urban design, architecture and planning regulations, and also from the maisons de l'architecture, a trade association representing architects in most regions of France.
How difficult it is to get planning permission?
While mayors in France generally wield a great deal of influence over local affairs, your local council will not always have the final say in deciding what kind of house you will be allowed to build, particularly in rural areas.
While there will usually be a local plan in place (the PLU), covering zoning for residential, agricultural and commercial plots, and containing detailed specifications for colours of paintwork and types of stone to be used for example, often the planning and highways department of your local préfecture will handle planning applications, especially in rural areas. The civil servants of the prefecture will have the final say on whether your project will be rubber-stamped for approval, and this depends on whether your project meets local building standards and design requirements.
Whilst you can liaise with the local mairie to submit your plans and discuss any objections, they will pass on documents to the préfecture for approval. Even if your mairie handles planning applications itself, they will still be influenced by the advice of the préfecture, and the experienced planning officials that guide building decisions. And if your new build falls within a historic district, or is a listed building, then the planning department will also involve the specialised architects for historic buildings that will provide guidance on building design and materials.
As in the UK, it isn't, at least in theory, a complicated process to obtain planning permission, and the forms to complete have been standardised across France. In reality, any application inevitably involves a dialogue between you and planning officials, and success will depend on whether your project complies with building regulations and other local factors.
Who handles planning applications? Is it your architect, or do you need a separate professional?
How you handle your planning application is up to you. You can process it yourself, or ask your architect to do this for you, although if your building is more than 150sqm, the plans must have been professionally prepared. If you submit the application yourself, you must consult the CAUE on the architectural components of the project.
What you might need to budget to build a home in France
As we've seen, building plots in France vary in cost, depending on the region and whether planning consent has already been given. So, if you've already got a brilliant plot, done your designs and are ready to go, what can you expect to pay to build your dream house in France?
Find out more about managing your money and making safe transfers in our partner Smart Currency Exchange's guide, The Property Buyer's Guide to Currency.
In terms of architects' fees, you should budget at least 3% of the total build cost for preparation of plans and submission of planning consent, and a further 5-10% for overseeing construction.
How much your new home will cost to construct will depend on the specification of course, including the types of materials used. As a general idea, you should budget around €1,500 per square metre, and you'll need to add more for fit-out costs such as kitchens, bathrooms and landscaping. VAT is payable at the rate of 20% on all new builds.
If you'd like to include a swimming pool, then an in-ground pool of average size is likely to add around €50,000 to the cost, depending on the site and quality of the pool. Kit pools to a standardised design are cheaper, although you'll still need to dig the site and install the pipework.
Above-ground pools are another option, from plastic versions to wood-framed luxury models, and these will set you back anything from €500 to €10,000. If your swimming pool is a permanent addition, this will add to the value of your home, but you will also pay additional local taxes for improving the property.
How can I make savings when building my home in France?
The best way to ensure that your costs to build a custom-designed home in France stay within tolerable margins is to employ competent professionals like builders and architects, and keep a close eye on the build as it progresses. Don't expect to hand over control of the project without any involvement, or you will risk incurring escalation of costs. Your architect will also help supervise the builder and minimise any misunderstandings that could lead to expensive mistakes.
You could also choose to build a pre-designed home from a building firm or developer that might offer substantial savings over a bespoke design. However, your choice in terms of the look of the building and materials used will be limited.
Make sure that your build is completely legal with advice from our trusted solicitors.
Another option for those looking to build a bespoke home in France is to choose a builder or developer that specialises in constructing homes to a set design, with options that allow a degree of customisation. These types of builders will often have plots ready for building, including electricity and water supplies and service roads, so the price you pay will be 'all-in', with certain permissions already granted by the local authorities. This is a great choice if you would like a new home without the hassle of engaging your own architect and builder, without the stress that comes with designing and constructing a new home from scratch.
Another, increasingly popular option, is to purchase a 'kit-home' from a supplier that specialises in houses such as eco-homes and timber-framed properties. Sometimes these come with the option to hire the company to construct the house on-site in France, although you will still need to purchase and prepare the site, do all the ground works yourself, obtain permissions and arrange for services such as water, electricity and sewerage. The advantage of these types of homes is that you often obtain stunning, cutting edge designs for a lower price than starting from scratch, and can specify the internal fit-out yourself, although you will still need to be careful to ensure that your site is suitable and the work will need to be supervised either by yourself or by a competent architect or builder.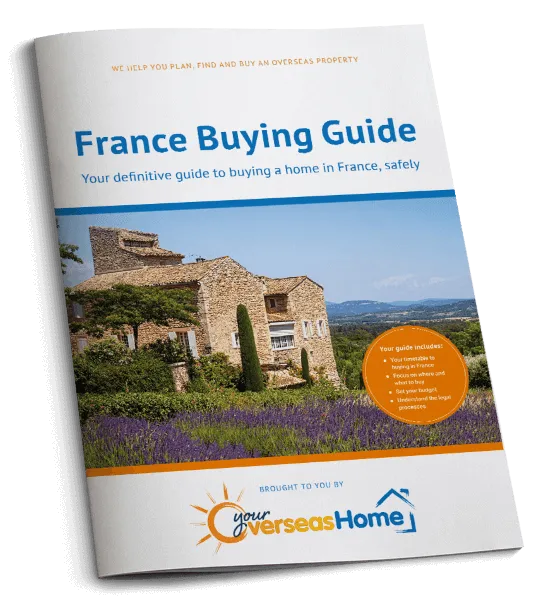 Buying a property in France is extremely exciting, but it can be nerve-wracking: in what ways is the process different to the UK, how do you cope with the language difference, what fees should you expect and just who is the notaire? That's why we've put together our France Buying Guide, to help you through the process, step by step.
Written by experts, it covers every stage of buying, from viewing to contracts and fees. Get your copy of the French Property Guide by simply filling in the form below.
✔

  Ask the right questions
✔

  Avoid the legal pitfalls
Download your free guide to buying in France