Where is the best place to buy property in Western France?
Western France's winning combination of affordable homes in beautiful, historic villages, its sunny weather – sunnier than many areas further south – and the scenic, quiet countryside have made it a favourite among British buyers for decades. From the Pays-de-la-Loire to Poitou-Charentes, anyone looking to purchase property is spoilt for choice!
What is life like in Western France?
Enchanting West France is now more accessible than ever – with budget airlines having opened up routes to smaller airports, it's a mecca for property hunters.  Boasting an excellent climate, rural character, extensive coastline and attractive villages, West France was the most popular choice for UK property buyers in 2017. There are many communities of British expats who moved to the area seeking affordable renovation properties in which to retire or visit for holidays, so if you're looking for English-speaking companionship, or a bar to watch your favourite TV shows, there are plenty of opportunities to socialise. The most popular areas for house-hunters in West France are Poitou-Charentes and Pays-de-la-Loire.
Poitou-Charentes
British expats love this charming area for its attractive countryside, stunning coastline and truly French ambiance. The mild climate of West France is also a big draw, with long, warm summers. House prices typically increase westwards as you approach the Atlantic, although the region is undoubtedly cheaper than the Dordogne.
There are many renovation properties to be found in Deux-Sèvres.
The Charente is a magnet for foreign house buyers. The area bordering on the Dordogne is undeniably the most attractive, especially for holidaymakers, with lush hills and valleys and lovely, stone-built properties ripe for restoration. Deux-Sèvres is also worth a look, with cheap properties in rural locations with renovation potential.
| | | |
| --- | --- | --- |
| Department | Two-bedroomed apartment (60m2) | Three-bedroomed house (120m2) |
| Charente | €63,600 | €106,000 |
| Charente-Maritime | €178,300 | €217,200 |
| Deux-Sèvres | €70,200 | €118,800 |
| Vienne | €90,600 | €141,600 |
Based on the latest data from the Notaires de France
You'll find 300 miles of coastline and undeniably beautiful wooded valleys dotted with vineyards. These provide for the most part the grapes for the famous Cognac. There are additionally miles of canals, wetlands and walking trails, so they generally attract canoeists, hikers, cyclists and walkers. Île de Ré (across an inlet from La Rochelle) offers properties with, by and large, excellent rental potential.
Lovers of fine wines will appreciate Cognac, for which the region is famous, while the Île de Ré (across an inlet from La Rochelle) in Charente-Maritime is a chic holiday destination – popular with Parisians – and offers excellent rental potential with its lively, authentic feel, cosy restaurants and interesting boutiques full of local treasures. La Rochelle itself, with its cross-cross of narrow streets in the Old Town area, is delightful to visit.
Getting there
Air France flies from Gatwick to Nantes, while Ryanair also flies to Tour, La Rochelle, Angoulême and Poitiers from Stansted. British Airways additionally flies to Nantes from Heathrow. Furthermore, EasyJet, Ryanair, Aer Arann, Jet2 and Flybe all fly to La Rochelle.
Pays-De-La-Loire
This is a popular area for property in West France, due to the lush landscape, winding Loire River and pleasant coastline. Around 20% of all properties in the region are second homes, mainly dotted along the coast. Nantes is the regional capital, and it's a young and vibrant city with ample employment. The famous La Mans racetrack is a big draw in the region, with lovers of vintage cars and motorsports making an annual pilgrimage to the famous Le Mans 24 hour race in June.
There is a great rental market, thanks to a high volume of tourists in the summer
The landscape of forests, small towns and villages that cloak the Loire's river lends itself particularly well to holiday letting. There is a great rental market for property in West France, due to a high volume of tourists in the summer. The wealth of employment opportunities in Nantes makes the city perfect for those seeking employment, and the property market is booming. Moreover, it has a pleasantly temperate climate and is only 50km from the coast.
The Vendée, with its 90 miles of sandy coastline is a popular destination for families and lovers of water sports like sailing and windsurfing. Its distinctive architecture (all whitewashed traditional cottages) and seafood-orientated cuisine make it an attractive area to visit, and the resort of Les Sables d'Olonne is a major yachting centre where Dame Ellen MacArthur once made her home.
| | | |
| --- | --- | --- |
| Department | Two-bedroomed apartment (60m2) | Three-bedroomed house (120m2) |
| Loire-Atlantique | €70,800 | €255,600 |
| Maine-et-Loire | €103,200 | €166,800 |
| Mayenne | €74,400 | €133,200 |
| Sarthe | €73,800 | €152,400 |
| Vendee | €149,400 | €202,800 |
Based on the latest data from the Notaires de France
Getting there
Air France and Flybe fly from Gatwick to Nantes. Flybe also flies from Southampton to Angers. Ryanair flies to Tours, La Rochelle and Poitiers from Stansted. It also flies from Bournemouth, Dublin, East Midlands, Liverpool and Shannon to Nantes. Additionally, British Airways flies to Nantes from Heathrow, and Aer Arann flies from Cork to Nantes.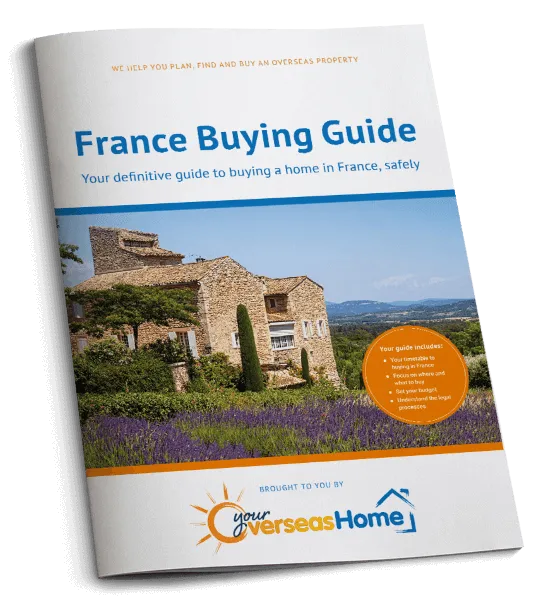 Buying a property in France is extremely exciting, but it can be nerve-wracking: in what ways is the process different to the UK, how do you cope with the language difference, what fees should you expect and just who is the notaire? That's why we've put together our France Buying Guide, to help you through the process, step by step.
Written by experts, it covers every stage of buying, from viewing to contracts and fees. Get your copy of the French Property Guide by simply filling in the form below.
✔

  Ask the right questions
✔

  Avoid the legal pitfalls
Download your free guide to buying in France