Buying a home in Eastern France
Eastern France is easy to reach from not just the UK, but from Belgium, Germany and Switzerland too. But there's a lot more to this pretty part of France than mere convenience. There's plenty to see and do, with well-preserved towns and villages and beautiful, lush scenery. No wonder the food is so sublime in this gastronomic hub. There's work to be found in its thriving towns and cities.
Among the most popular regions for property are Champagne-Ardenne, Alsace-Lorraine and Franche-Comté. Let's take a look.
Champagne-Ardenne
Boasting gently rolling, chalky hills planted with acres of vines in which are nestled pretty villages, the region of Champagne-Ardenne is a magnet for tourists. Tourists flock to the 'Champagne Triangle' of Reims, Epernay and Chalons-en-Champagne every year to taste the fizzy wine for which the area is famous.
This region is also a popular commuter area. The 150-ish kilometre drive from either Reims or Troyes to Paris is possible in around two hours on a good day. But Reims, the regional capital with a population of just under 200,000, has good train links to Paris in around an hour.
There is much more to this region than 'bubbly'. For example, 16 of France's kings were crowned in the impressive Cathedral of Reims,, and history buffs will have plenty to explore, whatever their period of interest. Equally, lovers of nature will appreciate its great forests and picturesque 16th Century towns.
Buying property here, in general, should be a sound investment. with the market for rental properties and second homes extremely buoyant. Épernay, the real centre of champagne production and home to Moet et Chandon, is popular for buy-to-let property in Eastern France thanks to its picturesque qualities and historic connections. Property prices are a little higher than you might expect for a principally rural area.
Property prices in Champagne-Ardenne
| | | |
| --- | --- | --- |
| Department | Two-bedroom apartment (60m2) | Three-bedroom house (120m2) |
| Aube | €75,000 | €147,600 |
| Ardennes | €57,000 | €117,600 |
| Haute-Marne | €53,400 | €97,200 |
| Marne | €111,600 | €189,600 |
Getting there
The major airport serving this region is Paris Charles de Gaulle, just to the east of the city and 120 kilometres from Reims. There's also Charleroi airport, just over the border in Belgium. Rail and coach transport connections take you from these airports to major towns in the area.
TGV trains serve Reims in an hour from Paris, meaning you can get there from London in little over three hours. You can also reach the area from Lille-Europe, one of Eurostar's major destinations. Indeed one of the benefits of this region is its connectivity to the rest of Europe via TGV.
The drive from Calais to Reims takes around three hours.
Alsace-Lorraine and Franche-Comté
These two regions are both liveable and investable. They're certainly popular with those looking for a buy-to-let investment property. The capital, Strasbourg, has a multi-national population, thanks to the presence of the European parliament, and Mulhouse is a major centre for manufacturing and engineering. Alsace, once a German province, has a distinctive Germanic culture and language (Alsatian or Allemanic). You can taste it in the food too, with delicacies like Choucroute and Strasbourg sausage being local versions of famous German dishes.
Alsace
The picturesque foothills of Alsace are popular with walkers and cyclists, who come to visit the charming villages and stunning medieval towns, with their half-timbered, pastel-painted houses adorned with vibrant window boxes. Another major attraction is the sweet and floral Gewürtztraminer wine for which the area is renowned.
If you're looking for property in Eastern France, then this area could be a good option for you. Firstly, the prices are competitive and yet, secondly, it's a buzzing region with a lot going on.
Properties here are competitively priced, making it an affordable location for property in Northeast France.
| | | |
| --- | --- | --- |
| Department | Two-bedroom apartment (60m2) | Three-bedroom house (120m2) |
| Bas-Rhin | €133,800 | €212,400 |
| Haut-Rhin | €94,200 | €218,400 |
Franche-Comté
Franche-Comté is a land of forests and pastures, with wide open spaces, mountains and rushing waters. The notable towns here include Lons-le-Saunier, Besançon and Belfort. It is a major wine-trading centre, and also famous for production of the creamy, nutty Comté cheese. It has a large car production industry, and the constant influx of workers gives it great buy-to-let investment potential.
The Jura Mountains of Franche-Comté are popular with holiday-makers, with their location north of the Alps making them a magnet for hikers, mountain bikers and skiers.
| | | |
| --- | --- | --- |
| Department | Two-bedroom apartment (60m2) | Three-bedroom house (120m2) |
| Haute-Saône | €54,000 | €121,200 |
| Doubs | €71,400 | €136,00 |
| Jura | €75,000 | €140,400 |
Getting there
Charleroi (Brussels), Paris Charles de Gaulle and Geneva airports are served by most major airlines, and TGV train services in the region run from Paris Gare d L'Est, and Lille-Flanders – you can also transfer from the London Eurostar service at Lille-Europe.
The regions are connected easily to the rest of France by road, with major autoroutes from Reims, Metz, the Channel ports and Paris.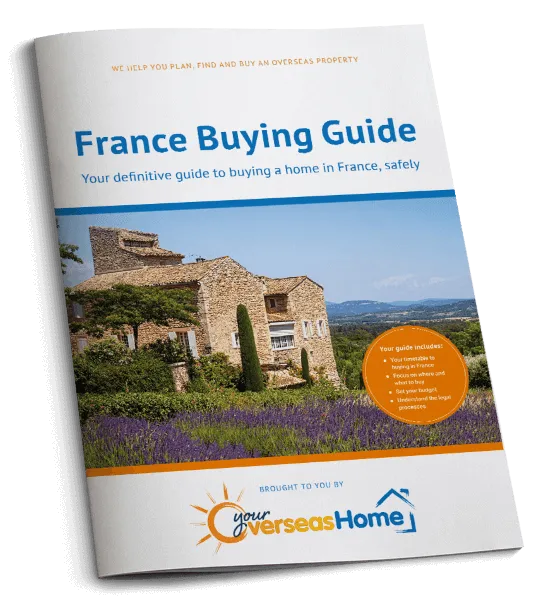 Buying a property in France is extremely exciting, but it can be nerve-wracking: in what ways is the process different to the UK, how do you cope with the language difference, what fees should you expect and just who is the notaire? That's why we've put together our France Buying Guide, to help you through the process, step by step.
Written by experts, it covers every stage of buying, from viewing to contracts and fees. Get your copy of the French Property Guide by simply filling in the form below.
✔

  Ask the right questions
✔

  Avoid the legal pitfalls
Download your free guide to buying in France