As the fourth heatwave hits Italy, with temperature reaching 40 degrees in some areas, more Italians are taking the train to find fresher air by the sea and in the mountains.
Italian train company Trenitalia has reported a 6% increase in train reservations compared to this time last year and approximately 3.5 million train passengers have already set off on their holidays or weekend breaks over the past few days. Across the summer they are expecting 26 million travellers on Trenitalia's national trains. As city workers leave Rome, Florence, Venice and Naples in search of sea breezes along the coast, they are passing other holiday makers travelling in to see the sights of these glorious "Art Cities". A significant amount of people are also expected to head to the tourist resorts of the Riviera Romagnola, the cooler air of the mountains in Trentino Alto Adige and the beautiful coastline of the Puglia region.
In Italy, there is a good network of trains with great ticket prices
Many foreign tourists use international night trains to travel to Italy from Paris, Salzberg, Munich and Vienna. Thello night trains offer a great service from Paris to Milan and Venice, as well as Marseille to Milan. When I looked at the deals for the beginning of September from Paris to Milan, a couple could travel for €70 in a 6-person couchette with births, bedding kits and shared toilet facilities, or treat themselves to a premium cabin for €190. The premium cabins are like a traveling B&B with welcome drink, private shower and toilet, bedding and towels, and breakfast included. Offers are limited so it's worth being flexible on your dates. You can get on at 19.45pm and be in Milan by 6am. If you're travelling from the UK you could even enjoy time in Paris before continuing your journey to Italy.
In Italy, there is a good network of trains with great ticket prices and some lovely scenic routes. Italy's train network is operated by Trenitalia, which was formed by the Italian Government. You can find times and prices on the Trenitalia website. As an example of how good the prices are, a 1-hour journey from Bari, Puglia to the popular holiday destination of Ostuni costs just €5.60. You can buy tickets online or in person at booths and multi-lingual machines (called biglietto veloce) in stations. As regional train tickets aren't dated for a specific train, you must 'time-stamp' them in a convalida machine on the platform before boarding the train. You can be fined for getting on a regional train in Italy without validating your ticket, and you should check the departure (partenza) and arrival (arrive) station names on the ticket, as well as the dates it is valid for. On high speed trains like the Frecce trains, where a reservation is required, tickets don't normally require validation since they specify the train's exact date and time on the ticket.
There are faster intercity trains with less stops, which connect major cities and also high-speed trains with air-conditioning, luggage racks, power sockets and refreshments. The Ferrari of trains is the Frecciarossa 1000, which can reach a speed of 300km/h. You can see the Frecciarossa flying along between Turin, Milan, Venice, Bologna, Florence, Rome, Naples and Salerno.
Italy has some great train journeys with breath-taking views and charming old trains.
For those flying into Italy by plane, a train station is often just a bus ride away. At Fiumicino "Leonardo da Vinci" airport near Rome you can get a non-stop train into the city. There are also connections between Pisa airport and Pisa's central train station.
Italy has some great train journeys with breath-taking views and charming old trains. For mountains, lakes and scenery try the "Bernina Express" between Tirano and St. Moritz in Switzerland, or the 110 years old narrow-gauge of the Renon, near Bolzano. You can travel back in time on a steam locomotive on the "Trenonatura" between Siena and Val d'Orcia, passing small villages and fields of sunflowers. Even on the islands of Sardinia and Sicily you can enjoy a train journey. You can travel through the central forests of Sardinia on the "Trenino Verde" and on Sicily the Circumetnea Line between Catania e Riposto, which goes right alongside Mount Etna. The Liguria region boasts two beautiful train routes, one is the "Cinque Terre" line between Levanto and La Spezia, stopping at all five villages with views of the sea. The other is the Ferrovia Genova Casella which runs from Genoa to the mountain villages.
With great prices and stunning scenery, it's no wonder that many people choose to start their summer break with a relaxing train journey.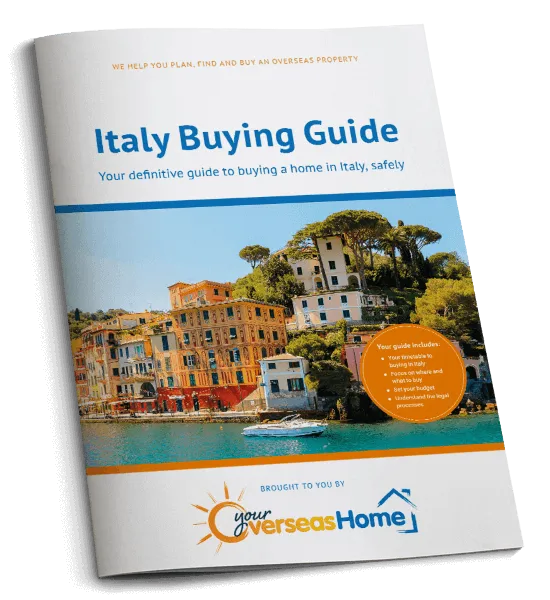 The process of buying property in Italy is significantly different from here in the UK. This is why we've created our completely free Italy Buying Guide, to provide those dreaming of a new life in Italy with all of the practical, legal, and financial information needed to help them realise that dream.
✔

  Ask the right questions
✔

  Avoid the legal pitfalls
Download your free guide to buying in Italy