The combination of great value properties, rising tourist numbers and tax incentives for those relocating have made this a great year to buy property in Italy. Whether, renting out your holiday home, working in Italy or retiring, Italy offers the culture, climate, scenery and lifestyle that your whole family will enjoy.  
Stable property prices
In 2019 the average property prices in Italy remained stable and in some areas they are still falling slightly. Average decreases are generally due to Italian property owners putting second homes in the countryside or in remote villages up for sale. Often these homes have been inherited and require updating and are just costing the owners money in second home tax, so they advertise them at a price to sell. Obviously, if you have a number of €50,000 homes for sale in an area it brings down the average price in that region. However, you'll frequently find a million-euro home just down the road.
Take advantage of the affordability of the Italian property market and start your home hunt today with our expert partner estate agents.
The latest real estate market survey, conducted by the Bank of Italy, states that 56% of estate agents report price stability, on the other hand, the percentage of agencies reporting a downward trend is on the rise (now at 34%). This might be part of a seasonal trend, indicating that the winter months could be a great time to snap up a bargain. In my own experience of buying in February, the owner was desperate to sell because he needed the money for his daughter's spring wedding and to contribute towards the newlyweds flat in town.
More and more people buying
From June to September 2019, data published by the Italian revenue agency demonstrated a 5% rise in house sales in Italy. The highest growth rates were recorded in Northern regions. In the North West the rise was 6.9% and in the Northeast 5.7%. Of the major cities Rome and Milan continue to lead the way, with Genoa also doing very well. Only Florence recorded a decrease in sales. Non-urban properties are also attracting more purchasers, particularly foreign buyers looking for cheap countryside retreats. It will gradually become more difficult to find a property that is both affordable and in a good location.
Speak to your Independent Financial Advisor for impartial advice on buying property in Italy
.
Back and forth on Italian politics
It can be difficult keeping up with who is in government in Italy. For the first half of the year we had a government made up of the "Five Star Movement" and the "League" with a university law professor, called Giuseppe Conte as Prime Minister. Then, in August Deputy Prime Minister Salvini (The League) announced a motion of no confidence against Conte. Political analysts claim it was because Salvini had his own ambitions to become Prime Minister. Conte did resign, but after President Sergio Mattarella consulted with the parliamentary groups it was decided not to hold an election. Instead Conte was tasked to form a new government and the 5 Star Movement (M5S) formed an unexpected alliance with the Democratic Party (PD). So, it was Salvini who lost his position as Deputy Prime Minister.
Salvini is considered to hold strong views about illegal immigration and was part of the populist wave. He does have a big following, but in reaction to this a non-political group has popped up. If you have seen news images of large crowds packed like sardines into city Piazzas, these are people peacefully demonstrating their opposition to Salvini. What started as a group of friends organising "6 thousand sardines against Salvini" in Bologna in November, has quickly spread to many other city piazzas, with the most important event planned in Rome on December 14th.
Speak to our recommended Independent Financial Advisor for impartial guidance and advice on managing the financial aspect of your move
.
Tax incentives for overseas buyers and workers
Many people are drawn to Italy by the history, the culture, the scenery, the architecture, the great food and wine. In 2019 a selection of tax incentives have made relocating to Italy even more attractive, leaving more money in your pocket to thoroughly enjoy your relaxation time. The 'Decree of Growth', also known as the 'lavoratori impatriati' regime, is aimed at workers relocating to Italy. It reduces the income tax payable to just the first 30% of the worker's employment income for the first five years, meaning that 70% is untaxed. Additionally, if they buy a house or if they have a dependent child, the regime can be extended for a further five years and income tax will be paid on the first 50%. But if there are three or more dependent children the exemption could stay at 90% for the following five years.
Expat retirees are being welcomed to certain villages in the southern regions with an offer of a 7% flat-tax rate on their pensions and foreign income.
The government has also been trying to attract high earners, such as sports personalities, by allowing recent residents to pay a fixed annual tax of 100,000 on their foreign-sourced income. As the government are trying to encourage people to relocate to villages in southern regions and on the islands, you may find even greater tax incentives there. For example, expat retirees are being welcomed to villages in the southern regions with an offer of a 7% flat-tax rate on their pensions and foreign income. When you decide to relocate to Italy it can be financially beneficial to seek professional advice, to check what incentives are available at the time you intend to move, and to investigate whether you meet the application criteria.
Tourist revenue reaches an all-time high
Italy has always had great visitor appeal and tourist figures just keep growing. In July and August 2019 tourist revenue reports reached an all-time high. Favourite regions for holidays, according to data on overnight stays, include Puglia, Emilia Romagna, Tuscany, Trentino Alto Adige, Calabria and Veneto. The Italian lakes are another big attraction as well as the art cities of Milan, Naples, Florence, Rome and Venice. Matera in Basilicata was also thrown into the limelight in 2019, as the European Capital of Culture. Following filming of James Bond there this summer they expect a further boost after "No time to die" is released in cinemas in April 2020. The Sassi cave dwellings of Matera are a World Heritage site and attract day visitors from Puglia. Italy has more UNESCO World Heritage sites than any other country and they are a big attraction for tourists. In 2019 the vine growing landscape of the Prosecco wine production area, was added to the list, bringing Italy's total to 55.
Hotels and B&Bs are most popular with Italian tourists and there has been an increase in the hotel real estate market of 9% this year. This has been partly due to the news that Italy is to host the 2026 Winter Olympics. Since 2009, foreign tourism has increased by about 35%, with more and more Australian, Japanese and US visitors making the trip as well as the Europeans. Despite not being in the EU, the Americans and Australians are also buying property in Italy, and making a living here. Now is a great time to invest in a property that gives you an income from to tourism.
Ready to put in an offer? Don't miss the advice from industry insiders in our free Negotiation Guide
 on keeping the upper hand.
Expats on Brexit
Many British citizens that are resident in Italy, feel forgotten by the British Government. Along with EU nationals living in the UK we have been used as a bargaining tool in negotiations. This has been particularly worrying for retirees who are concerned about their healthcare and pensions. It's also been frustrating for those UK citizens that have been denied a vote in the UK, due to the 15-year rule. Even those who can vote, have had to try to arrange a proxy vote, as the time scale cuts it very fine for a postal one. Thankfully, the EU and the Italian Government have been more reassuring, and I for one, am glad I got out of the UK and believe Italy is the best place to live. The British in Italy Group have been doing an admirable job campaigning to protect our rights and the British Citizens in Italy facebook page has been a useful place to get advice. There are a few things British citizens have been recommended to do, in order to smooth the transition to becoming a non-EU citizen living in Italy. These are documents we should have as residents in Italy anyway, but due to freedom of movement and the relaxed attitude of some local councils in Italy, many expats haven't bothered with some of these until recently. Those who have relocated to Italy have been working their way through the list of: Tax code (Codice Fiscale); Italian bank account; temporary health insurance; residency identity card; permission to reside in an EU country (attestazione di soggiorno iscrizione anagrafica, if resident less than five years, or attestazione di soggiorno permanente, if resident for over five years); exchange UK driving licence for an Italian one and applying for an Italian health card (tessera sanitaria). Whilst the UK is part of the EU these have all been pretty straight forward to obtain. After Brexit, new arrivals may need to jump through a few more hurdles, but no more than the Americans do today.
Italy is a great place to live. Once you move here, you'll wonder why you didn't relocate years ago. Even families are buying property here, and enjoying quality family time in a safe and healthy environment.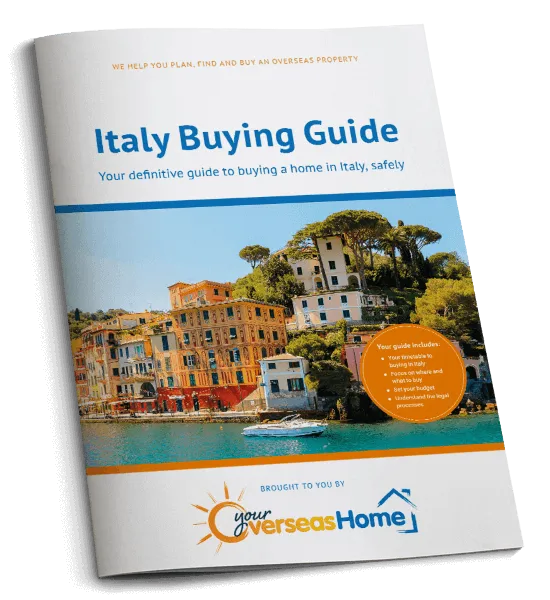 The process of buying property in Italy is significantly different from here in the UK. This is why we've created our completely free Italy Buying Guide, to provide those dreaming of a new life in Italy with all of the practical, legal, and financial information needed to help them realise that dream.
✔

  Ask the right questions
✔

  Avoid the legal pitfalls
Download your free guide to buying in Italy