Italy has 55 UNESCO World Heritage Sites, more than any other country. This recognition and the high visitor numbers each site attracts, demonstrate how highly regarded Italy's culture, archaeology, environment and landscape are in the world. What's amazing is that you can actually live near many of these sites.
What is a UNESCO site?
A World Heritage Site is a landmark or area which is selected by the United Nations Educational, Scientific and Cultural Organization (UNESCO) as having historical, cultural, scientific, or natural significance such as Mount Etna and the Dolomites. They are all legally protected by international treaties. In Italy they include amazing sites of historic and architectural interest, including the Savoy residences in Turin and the Pile dwellings in the Alps.
Can I buy property in a UNESCO site?
If you're going to buy property in Italy, register for the next free Your Overseas Home show in Epsom on 9th November. They're specifically designed to help serious buyers with advice from legal, financial and real estate professionals based in Italy, without the need to spend your time and money flying out.
You may not be allowed to buy a property in Pompeii or Herculaneum, but there are many other locations of historical interest on the list where you can buy property close to the most prestigious sites. Fine cities with outstanding historic centres. Some of the most famous cities on the UNESCO list include Rome, Florence, Venice, Genoa, Naples and Siena, all of which are popular with tourists and property buyers. But, there are other towns and cities that have also made this prestigious list that are well worth consideration when looking for a property. Here are some of our favourites:
City of Verona, Veneto
In the 1st Century BC Verona was a Roman municipality and to this day you can still see many remains from this period. Among the most important is the amphitheatre, called the Arena, which still contributes to the cultural life of the city by hosting magnificent theatrical and musical performances. Other Roman remains include the stone city gateways named Porta Borsari and Porta Leoni, and the elegant Arco dei Gavi.
The Ponte Pietre bridge reaches across the Adige river and the Roman theatre fans out on its bank. At the heart of Verona are two lovely piazzas. Piazza delle Erbe, with its fresh fruit and vegetable market, and the Piazza dei Signori, with its historic Palazzo houses. The historic city of Verona today contains elements from 2,000 years of history: the Roman period, Romanesque, Middle Ages and Renaissance, all protected by the old city walls. No wonder that this beautiful city attracted 4.9 million visitors in 2018.
Property in Verona
One-bedroom apartments in the historic centre start at €170,000, two-bedroom from €270,000. Verona is near Lake Garda where you'll find lovely holiday apartments from €200,000, particularly around Peschiera Del Garda.
San Gimignano, Tuscany
The hill town of San Gimignano is set in beautiful Tuscan scenery in the Val d'Elsa near Siena. In the 1300s it served as an important relay point for pilgrims travelling to or from Rome on the Via Francigena. The town was built with around 72 tower-houses, that stood as symbols of the wealth and power of the great families who lived there. It was like a Medieval "Keeping-Up-With-the-Joneses" with families wanting to have the tallest tower. One of the surviving towers is a staggering 54 metres high.
Only fourteen towers have survived, but San Gimignano has retained its feudal atmosphere and appearance with the towers rising high above squares and palaces, wells and fountains. The town has many examples of Romanesque and Gothic architecture and is also known for it's masterpieces of 14th and 15th century Italian art. Encircled by a wall, San Gimignano sits like a crown on the top of a hill, that can be seen for miles around, even from the vineyards that produce one of Italy's finest white wines, Vernaccia.
Thinking of doubling your purchasing power and buying a holiday home with family or friends? Explore how joint ownership works in our guide, Buying Abroad with Family.
Property in San Gimignano
There are beautiful two-bedroom apartment in San Gimignano, from €160,000. Four-bedroom town houses go for €490,000. There are some lovely farm houses for sale in the area, and if you can't afford a whole house some have been made into separate apartments, costing from €145,000. Perfect for holidays.
Historic Centre of the City of Pienza, Tuscany
Pienza is situated in the heart of the Val D'Orcia's near Siena. The first Renaissance town-planning concepts were put into practice here after Pope Pius II decided, in 1459, to transform the look of his birthplace. This new vision of urban space was created by Bernardo di Matteo Gambardelli, an apprentice of the famous architect Leon Battista Albertia. It incorporated a superb square known as Piazza Pio II with fine buildings around it: Palazzo Piccolomini with its beautiful loggia courtyard, Palazzo Borgia and the cathedral with its Renaissance exterior and an interior in the late Gothic style. Today it continues to show off to the world its refined and sophisticated Renaissance urban plan and its well organised 15th-Century piazzas and palazzi.
Property in Pienza
In the historic centre of Pienza, a two-bedroom apartment costs from €210,000, four-bedroom villa around €570,000. In the countryside you'll find charming stone houses from €300,000.
Historic Centre of Urbino
Urbino lies in the gently rolling hills of the region of Marche, a city rich in history and art. The town blossomed in the 15th century, attracting illustrious artists and scholars from all over Italy and beyond. Raffaello did his first commissioned works in Urbino. Art has also been created in the small workshops of goldsmiths, cabinet-makers and potters in Urbino since the 1500s. The town also boasts a famous Academy of Fine Arts, and is known as the "Capital of Books" due to its Institute for Book Decoration and Illustration. Urbino is also host to one of the oldest universities, founded in 1506, which attracts many students. Nestled behind city wall Urbino has preserved its Renaissance appearance and earned its place on the UNESCO World Heritage List in 1998.
Property in Urbino
Prices in the Urbino property market are towards the upper end, with a two-bedroom prestigious apartment in a historic building with frescoes around €480,000, three-bedroom €650,000.
Alberobello, Puglia
The Trulli of Alberobello, are cone shaped dwellings built with limestone rocks collected from neighbouring fields. The stone is chipped to fit tightly together when laid without mortar, to form a cone shaped roof. They are common in the entire Itria Valley as rural shelters for livestock or agricultural equipment, but many have now been converted into homes. In Alberobello it is possible to see a large concentration of trulli in the historical centre. There are more than 1,500 well preserved trulli in Alberobello, some of which are used as gift shops to cater for the large flow of day visitors.
UNESCO World Heritage considers them a significant example of spontaneous architecture inserted in an urban landscape and of great historical value. It is thought that the trulli were first constructed in the Fourteenth century using a dry stone technique in order to avoid paying taxes. As loose stone is supposedly easy to dismantle, it was considered not a permanent structure. However, the clever techniques used to build them, actually make them very stable buildings. The construction of the trulli is entrusted to master trulli builders, or trullari, who have passed this art down from generation to generation for centuries. They are still working today, building new trulli and restoring old ones.
You will still be able to buy in Italy after Brexit, even if there isn't a deal. Discover more in our Guide to Italy After Brexit
.
Property in Alberobello
You can still find single coned trullo in the surrounding countryside that need renovating for around €40,000, but it's worth spending more and getting the size you need for modern living from the start. A popular choice is a Trullo with a square building on the side (Lamia) making it easier to fit kitchens and furniture. Ready to move in, this could cost you from €140,000. A nicely renovated 3 bed trulli can cost upward of €300,000.
Late Baroque Towns of the Val di Noto, Sicily
Located in south-eastern Sicily there are eight towns; Caltagirone, Militello Val di Catania, Catania, Modica, Noto, Palazzolo, Ragusa and Scicli, which were all rebuilt after an earthquake in 1693. They represent a considerable collective undertaking, successfully carried out at a high level of architectural and artistic achievement. Keeping within the late Baroque style of the day, they also demonstrate distinctive innovations in town planning and urban building. Ragusa has two town centres; one re-constructed in the baroque style and the other retaining its original Medieval look.
Similarly, Palazzolo and Modica also have two urban centres. Catania is now one of the pearls of the late Baroque, with its splendid Piazza del Duomo, home to Palazzo degli Elefanti and the Amenano Fountain. Another gem, is the city of Noto which is divided into two levels. An impressive composition of streets and baroque buildings are displayed beautifully across the hillside. Nobel palaces such as Palazzo Ducezio and religious buildings such as the Cathedral of San Nicolò.
Property in Sicily
In Modica and Ragusa, it's possible to find a one-bedroom house for €50,000. In Noto a two-bedroom house in the historic centre can cost just €160,000.
Fine historic buildings are not limited to just the World Heritage sites in Italy. There are many towns and villages where you can see beautiful piazzas, palazzi and churches. It is everyone's responsibility to ensure they are protected, and restored when necessary. Historic buildings deserve to be lived in and enjoyed by future generations. Purchasing an old property and restoring it back to its former glory could be one of the most satisfying things you have ever done.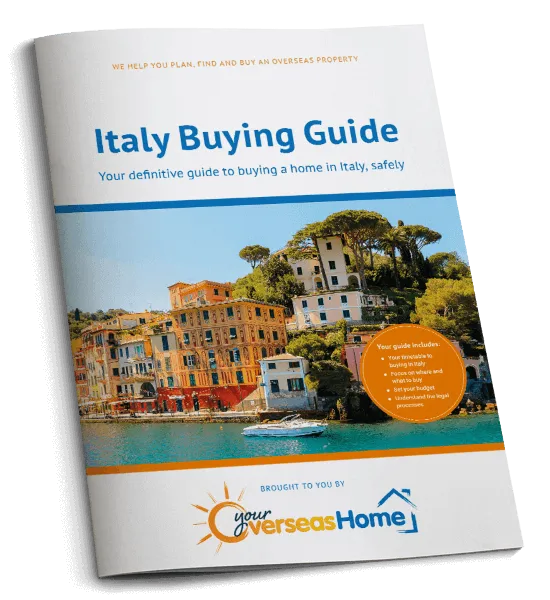 The process of buying property in Italy is significantly different from here in the UK. This is why we've created our completely free Italy Buying Guide, to provide those dreaming of a new life in Italy with all of the practical, legal, and financial information needed to help them realise that dream.
✔

  Ask the right questions
✔

  Avoid the legal pitfalls
Download your free guide to buying in Italy