Maintaining your finances in Greece after you move
You need to give as much consideration to maintaining your finances in Greece after you move as before. It's the key to a long and happy time in the country, stress- and worry-free. So, what are the right steps to follow to ensure everything goes smoothly?
Tax planning
Your income in Greece will be taxable in Greece if you live there for 183 days or more. You'll also need to pay it into a local bank account (you'll have an account anyway if you have bought a property). Any rental income if you're letting out a property will be included with the rest of your income.
The rule for now is that British pensions paid in Greece rise in line with pensions paid in the UK
Claiming your pension in Greece
Many of us choose to retire to Greece because its warmth and light are beneficial to health. Our pensions go considerably further than in the UK and some other countries, too. But how much will your pension be worth in the future?
The good news is that while this will be part of the Brexit negotiations, the rule for the time being is that British pensions paid in Greece rise in line with pensions paid in the UK. The British government pledged to maintain until at least 2020 a "triple lock". This raises pensions each year by whichever is higher: inflation, average earnings or 2.5%. You will, however, not be entitled to the winter fuel payment if you live in Greece.
If you receive a pension, knowing how much they will get each money is essential maintaining your finances in Greece. If your pension is being paid into a UK bank account, the safest way to draw this money out is to set up a Regular Payments Plan with Smart Currency Exchange. This is a no-fee service and all you will need to do is set up a standing order that automatically sends your funds at a pre-agreed exchange rate at pre-agreed intervals.
Paying into your pension from Greece
Just because you're working in Greece doesn't mean you want to fall behind with your pension payments. You have three options:
1. Leave your pension in the UK pension plan. When you are 55 you can ask for an early payment and receive 25 percent of the value as a lump sum.
2. Transfer your UK pension to an overseas pensions as part of a Qualifying Recognised Overseas Pension Scheme (QROPS).
3. Pay into your UK pension scheme from abroad. There is no limit to how much you can pay, although you may miss out of tax relief.
Greece is a country where a UK pension goes a long way, especially if you use Smart Currency Exchange
Living Costs
The cost of living in Greece is around a fifth less than in the UK. Some costs, such as accommodation, are much cheaper while others, such as cars and petrol, are more or less the same. While looking for a property, you can pay as little as €20 per night for a budget hotel and under €300 per month for an apartment. Given that the average salary is less than €600 per month, Greece is a country where a UK pension goes a long way. If you use a currency specialist to protect your money from changing exchange rates, it can go even further!
To gain the full advantage of the price differences it helps to live like a Greek. That means buying local fruit, vegetables and meat from the market, avoiding tourist restaurants and making good use of the local buses (car and petrol prices are no cheaper than the UK). In your new life in Greece, many of the good things in life are free: the beach, the beauty of the countryside and the friendliness of the people.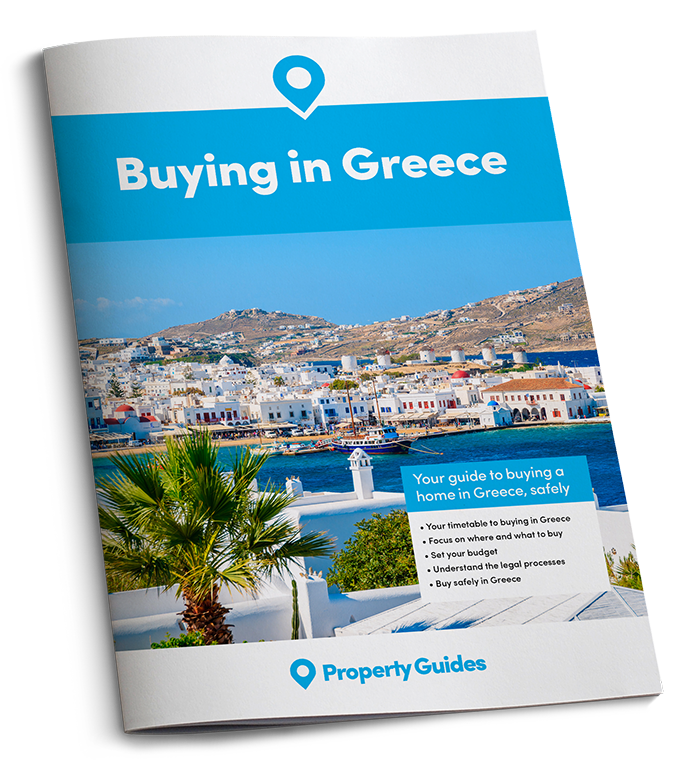 The Greece Buying Guide takes you through each stage of the property buying process.The guide will help you to:
✔

  Ask the right questions
✔

  Avoid the legal pitfalls