Financial considerations before you move to Greece
We outline all of the essential financial matters to get in order before you make the move to Greece.
There are numerous financial matters involved in an overseas move that you'll need to consider before you go. The Greece Property Guide are on hand to offer invaluable advice about how to get your financial affairs in order, and how to ensure that you can afford the move that you dream of. Here are the key financial considerations to take into account…
Tax planning
Before buying a property, consider how you will structure the purchase, especially if buying with a partner or with inheritance complicated by extended families. Tax is constantly under review in Greece at the current time, but not all taxes are rising. In many cases the government is offering major incentives for early and honest payment of tax in an effort to discourage people from the national sport of tax evasion. For example, if you are self-employed and accept card payments instead of cash you could be entitled to a tax discount of €2,000. All businesses in the hospitality industry have to accept card payments.
Tax advisers are there to save you money with their experience and expertise; don't begrudge their fee
For your everyday tax affairs, especially concerning income from the UK and if your situation is at all complicated, it is wise to speak to a financial and tax adviser as soon as you decide to move to Greece. Remember, such advisers are there to save you money in the long run, so it can be worth paying for their long years of experience and expertise. The Resource Centre can put you in touch with a reputable firm. [IFA link] There are a number of tax efficient schemes even for those moving abroad, such as a Self-Invested Personal Pension (SIPP) or Qualifying Recognised Overseas Pension Scheme (QROPS), that could save you money.
You will need to:
• Inform the HMRC if you are leaving the UK permanently or for at least one tax year. You will need to fill in a form P85 or self-assessment tax return. The good news is, you might get a tax refund.
• Work out your residence status. You will be a UK resident if you stay in the UK for 183 days or more of the year or your only home is in the UK and you live there for at least 30 days of the year.
• Work out what is the best way to receive income from abroad, such as pensions, investment income and rental income.
Your heirs have a right to inherit even if you'd rather they didn't!
Inheritance
Before signing any paperwork on a property purchase, speak to a lawyer. How you structure the purchase and whose name is on the agreements can have long-term consequences. Like in many parts of the world, Greece has a system of enforced heirship, that means your heirs automatically have a right to inherit your property even if you would rather write them out of your will. This applies to property in Greece even if you are not Greek, although in practice if there is no dispute the authorities are highly unlikely to intervene.
Greece does have inheritance tax and like all taxes in Greece, they continue to be subject to frequent changes and increases. Greece imposes inheritance tax on the worldwide assets of a person who is a Greek resident. There are also gift taxes.
Financing your property
Some UK lenders will finance a property in Greece, including the HSBC, but most will only do so for existing clients and with your home in the UK as collateral. It is legal for a UK citizen to get a mortgage from a Greek bank, usual terms being a maximum of 30 years, ending before your 75th birthday and with a maximum 80 percent of the value. Foreign banks tend to assess your ability to pay against more than just your salary; they will expect you to include account statements, pay slips, tax returns, all credit and store cards. You won't be able to account for rental income for the loan repayment either and your outgoings will need to be within 30 to 35 percent of your income.
Shortage of finance has helped keep property prices low, falling by at least a third
Mortgages, however, like any lending in Greece, has been hard to find since the start of the debt crisis. That shortage of finance has helped to keep property prices low in Greece, they have fallen by at least a third and often much more, enabling many overseas buyers of Greek property to pay in cash.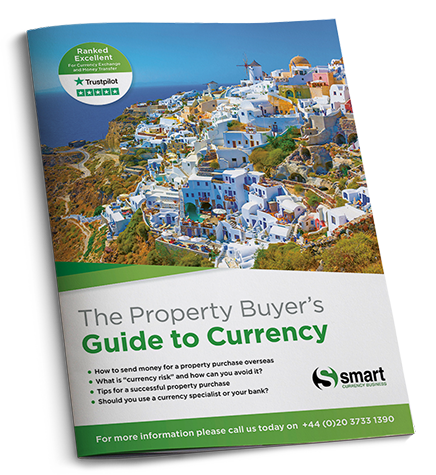 The Property Buyer's Guide to Currency will help you:
✔

  Understand the currency markets
✔

  Protect your property budget
✔

  Use a Currency Specialist
✔

  Learn from other overseas property buyers
Download the Property Buyer's Guide to Currency