As summer comes to an anticlimactic, grey and drizzly finish in the UK, there's still a beacon of good news on the horizon. We're coming up to one of the peak buying seasons in Cyprus – so many of us will finally be realising our dreams of starting a new life overseas. If you're buying a home in Cyprus in autumn this year, it's crucial to be up-to-date on the situation on the ground. It can be difficult to make sense of everything from collating different media sources, which is why we've put together this list. Keep reading for your round-up of the top ten things to know if you're buying in Cyprus.
1. Property sales are climbing
The Cypriot property market is small, but it doesn't do things by halves. Compared to August last year, property sales are up by a massive 14%. Land Registry statistics show that people placed over 650 contracts in August this year. The cities are proving especially popular. Famagusta has seen a 48% increase in sales over the past eight months. In Nicosia, it's 34%; in Limassol, 24% and Paphos, 15%. Expats are still feeling the pull of this sunny island, too. In August, 50% of contracts deposited were with EU citizens.
2. Property prices are rising
If you're buying a home in Cyprus in autumn, it's good to be a fast as you can to get the best deal. Property prices have risen 3.8% year-on-year, according to the Cyprus Statistical Service. For the same period last year, it was a 2.4% increase – so the trend's definitely going upwards.
This means two things if you're moving to Cyprus. Firstly, buy as soon as possible for the lowest price. Secondly, you can be relatively confident of getting a good return on your property – which could be a boon with uncertainty in the UK around Brexit.
3. New home construction is increasing
Cyprus is also seeing a boom in construction – great news if you're looking to build instead of buying in Cyprus in autumn. Over the last year, new home permits have risen by almost 33%. The majority of them were in Limassol and Nicosia, suggesting these could be good areas to get swift planning permission. Back in 2017, land development skyrocketed island-wide. Paphos saw a 40% increase, while Limassol saw growth of almost 60%.
4. You may be entitled to reduced VAT
The Tax Department has a generous VAT reduction of 5% for property buyers, assuming you meet the criteria. This could be a crucial factor to thing about with your budget if you're buying a home in Cyprus in autumn.
The main criteria are to be above 18 years old and to intend to use the property as your main, principal residence. For most people, the Tax Office will apply the reduction to the first 200m2 of the property's buildable areas. If you have more than four children, you'll get a further 15m2 added to the 200m2 per child. After seven children, there are no reductions.
With prices rising, you'll want to make sure you get the best possible deal. Brush up on your tactics by downloading our free guide, How to Negotiate Abroad.
5. You can get grants for green energy enhancements
The 'I save, I upgrade' scheme, run jointly by the Cypriot government and the EU, is offering grants for green energy upgrades. As long as your home is already built (and had planning permission before 2007), you can get a grant of 15% of the cost for energy updates, to a total of €15,000.
The costs covered can cover the following:
Use of an accredited expert
Insulation
New doors and windows
Shading systems
Solar hot water systems
Solar/geothermal systems for cooling and heating
Split a/c units
Heat pumps
Heating boiler replacement
As soon as the fund of €8 million is used up, that's it. It's first come, first served – so get in there early. It's all part of a new initiative to make sure all homes in Cyprus are 'near zero energy'.
6. You'll benefit from the largest properties in Europe
If it's space you're after, you're in the right place. Surprisingly for a small island, Cypriot property is, on average, the largest in Europe.
The average new-build home in the UK is, according to Which?, 67.8m2. Although the figures aren't divided by construction date for Cyprus, there is still a huge difference. The average over here is 142m2. That's over double what you could get in the UK – often for less money. So, if you're buying a home in Cyprus in autumn, think big!
7. You need to license communal facilities
Buying in properties with shared facilities is a fantastic option for holiday homes. It gives you half the maintenance – or potentially a manager to look after them. It also gives you access to things like pools, which your budget may not stretch to.
However, do note that if you have a pool and two or more families use it, it needs to have a licence. Not only that, but as an officially 'public' pool, it would require a lifeguard. Some people do try and get away with ignoring the legislation, but it's risky. The laws are largely condemned as antiquated and campaigners have tried to have them changed for over a decade, but progress is slow.
8. You can only rent your property out in certain conditions
You may be thinking of buying a home in Cyprus in autumn but not moving in until later. If so, renting's a great way to make sure it earns its keep. However, there are different rules on whom you can rent to, depending on whether you're a resident or not. Check them out in our article on Cypriot renting regulations.
9. Transport to Cyprus is easier than ever
Cyprus has always been well served by British airlines and is only four hours away by plane. The two main airports are Larnaca and Paphos. Both have regular flights from airports in London, Edinburgh, Glasgow, Birmingham and more.
There are also new flight routes opening all the time, both from the UK and the Continent. Starting from 28 October 2018, EasyJet will fly twice a week from Bristol to Larnaca year-round. Low-cost carrier Level also began flights to Vienna last month.
10. Cyprus has updated its tax regulations for British expats
If you're buying a home in Cyprus in autumn for retirement, do double-check your finances. The British and Cypriot governments have finally updated the old 1974 Double Taxation Convention.
Under the old agreement, everyone was taxed in Cyprus on pension income. In the new model, there are a few differences. If you get a state or private pension or an annuity, you'll pay tax in Cyprus. However, if HMG (the UK government) pays your pension, you'll now be taxed by HMRC.
For some, this means you'll pay more tax, generally if you have a high income source already taxed in the UK. For others, moving part of their income to UK taxation will put both their Cypriot and UK income under the thresholds. In other words, they'll end up paying less tax.
Get started on buying a home in Cyprus in autumn
If you're buying in Cyprus in autumn, make sure you start the process as soon as possible. Download your free Buying Guide below to find out what you need to do. And, if you have any questions, do give our Cyprus specialists in the Resource Centre a ring on 020 7898 0549 or send an email to [email protected].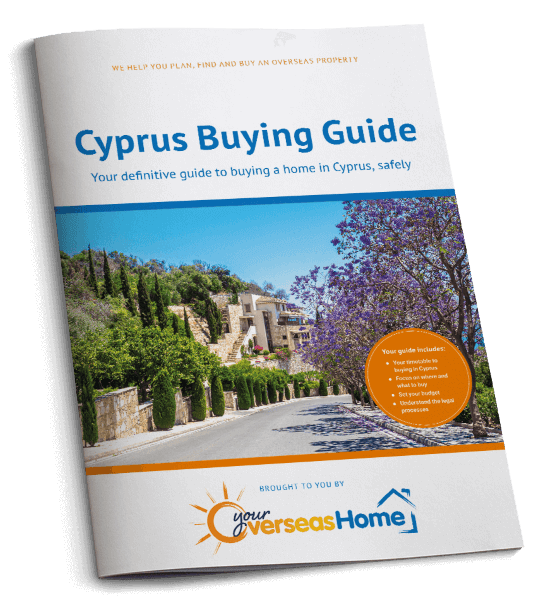 You can get all the advice you need to buy a house in Cyprus from our online guide, but you can also download it in PDF format — ideal for printing or reading offline. Simply complete the form on the right to access your copy.
✔

  Ask the right questions
✔

  Avoid the legal pitfalls
Download your free guide to buying in Cyprus