Travel and transport – getting around in Portugal
Portugal has a strong transport infrastructure, with robust roads and rail and air connections. This makes it really easy to get around the country, no matter which mode of transport you choose.
Driving in Portugal
Unless you're happy to rely on public transport, you're going to need a car in Portugal. Motoring is one of those things that can be a bit of a minefield in a new country, but we are here to help.
Driving regulations
Portugal drives on the right side of the road. Third Party insurance is compulsory, and those wishing to drive a car must possess a valid national/international driving licence, log book or rental contract if applicable and adequate car insurance. Failure to produce any of the above on request will result in an on-the-spot cash fine.
The legal age for driving in Portugal is 18, and seatbelts must be worn in every seat – this is the responsibility of the driver.
The legal age for driving in Portugal is 18, and seatbelts must be worn in every seat – this is the responsibility of the driver. You will need to carry the following items in your car at all times:
• A reflective danger jacket
• A reflective warning triangle
• Spare bulbs
• A spare wheel
• Child seats, if appropriate
• Driving licenses – EU driving licenses are accepted in Portugal and do not need to be exchanged while they remain valid. You must register with your regional or district Department of Motor Vehicles (IMTT) office within 60 days or establishing residency with required documentation (proof of residency, a completed copy of IMTT Modelo, a photocopy of their driving license and proof of identity). You will receive a slip of paper which must be presented with the driving license when required.
• Road tax
• Vehicle registration documents
Legality of your driving licence
First, the most important thing to sort out, whether you are driving a hire car or your own, is the legality of your driving license. If you come to Portugal as a tourist, your UK license is perfectly valid. The point when a UK license becomes technically invalid is when you no longer live at the address printed on your photo card. As the UK DVLA will not issue a license to a foreign address, that means that once you live permanently in Portugal, you must to take action.
You have two options. The easiest is to visit your local IMTT office (the Portuguese equivalent of the DVLA) and register your UK license in Portugal. This gives you a supplementary piece of paper than makes your license valid in the country, even if you do not live at the UK address stated.
The alternative is to swap your license for a Portuguese license. This is relatively straightforward but does require you to get a medical certificate and to send your UK license in for exchange. You are given a piece of paper to show the Portuguese police while you wait, but it is wise to time this well, as you will have problems driving in other countries with just this piece of paper.
Cars in Portugal
In Portugal, cars are surprisingly expensive – anything up to 40% more than you would expect in the UK. This comes as a shock to many people when they find it's not possible to pick up a decent "runner" for a couple of thousand euros. On the bright side, the Portuguese climate is conducive to cars lasting longer due to less rust.
The Portuguese climate is conducive to cars lasting longer due to less rust.
Some expats will decide to bring their UK cars with them, and while some manage to work easily through the matriculation process, many people find themselves bound in Portuguese red tape.
In theory, you should be able to bring one car per person "tax free," provided you have owned it in another member state for at least a year. If this all goes to plan, you can end up with a legal Portuguese car (albeit with the steering wheel on the wrong side) for a bill of hundreds rather than thousands. Suffice to say, it doesn't always go well – you are advised to seek out a recommended matriculation agent for advice.
If you haven't owned the car in another member state, you can expect a matriculation bill of many thousands of Euros.
Tax, insurance and other specifics
Car tax, as in many EU countries, is based on emissions, so can range from about €60 per year right up to around €800 for a gas-guzzler.
Insurance is straightforward to arrange, but it's good to be aware of a few key differences to the UK. Firstly, fully comprehensive insurance is usually only offered for cars less than ten years old. For older cars, third party is all that's available.
Secondly, many Portuguese car insurance policies insure the car itself, rather than specific people driving it. In many cases, if the car is insured, you can let anyone (with a licence) drive it – but be sure to check the terms of your policy in detail!
Many Portuguese car insurance policies insure the car itself, rather than specific people driving it.
Finally, breakdown cover is usually included in a car insurance policy in Portugal, rather than arranged separately via the AA or RAC as it is in the UK. If you plan to travel into Spain or beyond, you need to ensure your policy covers border-exit.
Once your car is over four years old, it must periodically pass an IPO (MOT) test. These then take place every two years until the car is seven years old, and every year subsequently.
Hiring a car
Organising a car can be daunting in a new country. The most important thing is to take your time – you can always hire a car until you find the perfect vehicle. In all major towns and airports there are a number of car hire companies. Proof of identity and a valid current Driving License is required. Please note: you are advised to book at least a few days ahead in high season.
Public Transport
For those who can't or don't wish to drive around Portugal, there is also a strong rail and public transport network. Numerous types of trains and buses connect the major cities and towns, and are a relatively cheap way of travelling.
Trains
The Portuguese railway system is State owned. If you can match your itinerary to a regional service, travelling with Caminhos de Ferro Portugueses (CP; phone 808 208 208 or 213 185 990, outside Portugal) is cheaper than by bus, although the trains do tend to be slower than long-distance buses.
There are three main types of long-distance train services: regional trains (marked R on timetables), which stop everywhere, reasonably fast interregional (IR) trains, and express trains, called rápido or intercidade (IC). Alfa Pendular is a deluxe, marginally faster and pricier express service on the Lisbon – Coimbra – Porto main line. International services are marked IN on timetables.
Trains are much cheaper than in the UK, and there are further discounts for children under 12, and senior citizens.
There is an InterRail One-Country Rail Pass available for three, four, six or eight days in one month within Portugal. This pass offers significant rebates, for instance to travellers under 26 years, children etc. Discounts are offered on Eurostar and some ferry routes. Available from Rail Europe (tel: 0844 848 4064 in the UK).
Trains are much cheaper than in the UK, and there are further discounts for children under 12, and senior citizens – 50%, group travel (10 or more people) 20%, return tickets 10% and youth travel (Cartao Jovem or Euro 26 cardholders) 30%. Family rail cards and rover tickets are also available. Tourist tickets (Bilhetes turísticos) are valid for seven, 14 or 21 consecutive days and available from main railway stations.
The train service is more reliable than its British counterparts, but trains are less common so it is important to plan ahead.
Metro
Metro systems are in operation in Lisbon and Porto. In Lisbon there are four lines: purple for Linha da Gaivota, yellow for Linha do Girraso, green for Linha da Caravela, and orange for Linha do Oriente. Tickets are inexpensive and are purchased before entering the station barriers. The Porto network consists of 6 lines: Line A (blue line), Line B (red line), C (green line), D (yellow line), E (violet line) and Line F (orange line). The system uses the 'Andante' ticketing system, and these are bought at machines in stations, and can also be topped up at Multibanco ATM terminals. Both systems are open from 0600 to 0100.
Buses
Companhia Carris de Ferro de Lisboa (Carris) buses provide an efficient way of getting around Lisbon. A number of small private bus operators run a network of services across the country, and among the largest of these are Rede Expressos (phone 707 223 344), Rodonorte and the Algarve line Eva (phone 289 899 760).
Bus services are of three general types: expressos are comfortable, fast buses between major cities, rápidas are quick regional buses, and carreiras (marked CR) are regular. Some companies also offer a fast deluxe category called alta qualidade.
Buses provide an efficient way of getting around Lisbon.
Even in summer, you'll have little problem booking an expresso ticket for the same or next day. By contrast, the local bus services are very irregular on weekends, especially in summer when school is out.
Under-26 cardholders receive a discount of around 20%, at least on the long-distance services. Senior travellers can get up to 50% off. Most bus-station ticket desks will give you a computer print-out of fares and all services.
Coaches
There is the national coach network, run by Rodoviária Nacional (RN), and competing private operators who run quick non-stop services on the more popular routes, often to destinations not covered by trains. The RN tends to be slower but its prices are lower. Many private operators offer more facilities on longer journeys such as toilets, video, air-conditioning etc.
Taxis
Taxis in urban areas charge according to the meter. Outside these urban areas the charge is per kilometre, and includes the cost of the return trip. Luggage over 30 kilos is charged at a fixed rate. All taxis drivers will have printed rates in two languages.
Air travel
Flights within mainland Portugal are relatively expensive. PGA Portugália Airlines(218 425 559) and TAP Air Portugal(707 205 700) both have multiple daily Lisbon to Porto and Lisbon to Faro flights all year round, taking less than one hour. For the Azores and Madeira, flights leave from Lisbon. There are internal flights between the islands of the Azores, and between Funchal and Porto Santo.
Trams
Tramways have become rare in Europe, but there are still five working trams (eléctricos) left in Lisbon. Built in the early 19th-century, they are a distinctive yellow colour, and run on thick iron rails set into the city's steep, cobbled streets. Tickets can be purchased from the tram driver. However, you can save money with a Viva Viagem travel pass, which allows unlimited travel on trams, the metro, buses and elevadores for 24 hours from the time of purchase. These passes are available from metro and train stations and from some newsagents and cafés in Lisbon. You can also take special tours of Lisbon in historic restored tramcars. Carristur runs tours every 20 minutes between 10pm and 7pm June – September and every 30 minutes October – May.
Lisbon's elevadores, or funiculars, all lead to fine viewpoints over the city. Some were built as early as 1902, by a student of Gustave Eiffel (who built the Eiffel Tower), and they can be a lot of fun!
Something a bit different…
And of course there is the zany, unusual 'transport' option that only Portugal can provide. Lisbon's elevadores, or funiculars, all lead to fine viewpoints over the city. Some were built as early as 1902, by a student of Gustave Eiffel (who built the Eiffel Tower), and they can be a lot of fun! For instance, right in the centre of Lisbon's Baixa district sits a giant steel elevator that takes people from the Rua do Ouro up to the Convento do Carmo 45 metres up, home to a café and some great views over the city. Other well-known elvadores include:
• Elevador da Glória, in Restauradores Square, just around the corner from the tourist office in Palácio Foz. This takes you up to the Miradouro de São Pedro de Alcântara, a wonderful look-out point with a statue-lined terrace and plenty of photo opportunities.
• Elevador da Bica takes you up from Rua da Moeda behind Lisbon's central market (Ribeira) to the trendy Bairro Alto, through narrow and interesting streets. A short walk will take you to the Miradouro de Santa Catarina.
• The Elevador da Lavra runs from Largo da Anunciada up to the Travessa do Torel. Here you will find Jardim de Torel, renowned for its views of the city.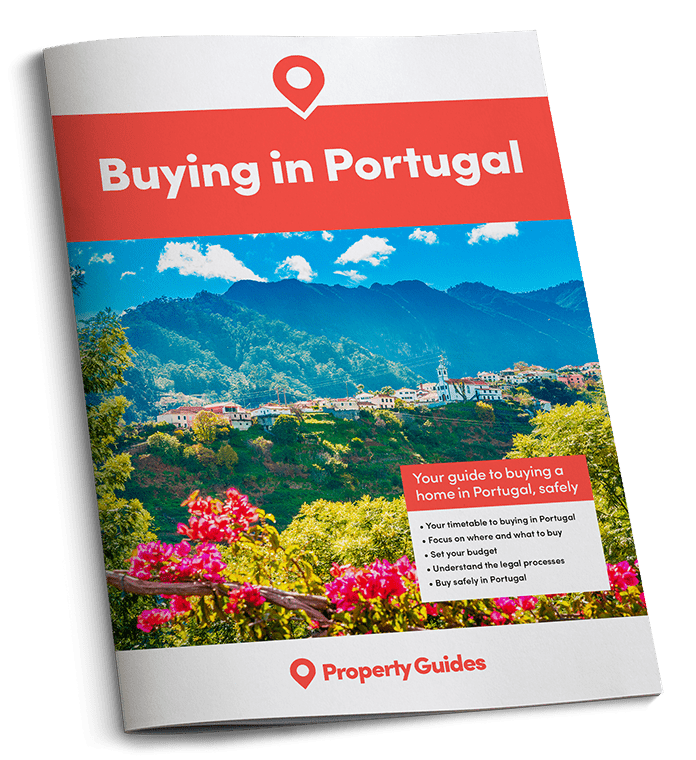 The Portugal Buying Guide is designed to support you through each stage of buying property in Portugal, providing relevant, up-to-date information and tips from Portugal property experts and expats who have been through the process themselves. The guide helps you to:
✔

  Ask the right questions
✔

  Avoid the legal pitfalls
Download your free guide to buying abroad