How to take your pets with you to Portugal
One of the most frequent questions we're asked is 'can I take my pet with me when I move to Portugal'? – and the answer is an emphatic yes, even after Brexit! Portugal is a great country for pets, where they'll enjoy the open space, sunshine and clean air. Here's what you need to know about bringing a pet with you when you move.
How are pets treated in Portugal?
It's a dog's life in Portugal (even for other pets!). Beyond the tendency to spoil pets rotten, they've even got legal protection! Since 2017, domestic animals aren't just 'things', but legally have status as sensitive living beings – which goes some way to show the attitude of the locals. It's even illegal to refuse a clean, rabies-free animal entry onto public transport. Cafés and restaurants are generally happy for well behaved dogs to sit in outside areas, although you're unlikely to find the equivalent of a dog-friendly pub here.
In the summer, dogs can run around to their hearts' content on nearly all non-lifeguarded beaches, and on all beaches in the winter. Peniche in Central Portugal even has its very own dog beach.
How do I bring my pet to Portugal post-Brexit?
Pet passports issued in Great Britain (England, Scotland and Wales) are no longer accepted in the EU. Instead, your pet will need:
a microchip
a valid rabies vaccination
an animal health certificate, or a valid pet passport that's accepted in the country you're travelling to (pet passports issued in Northern Ireland, other EU countries and several other countries are still accepted in the EU).
tapeworm treatment for dogs if you're travelling directly to Finland, Ireland, Northern Ireland, Norway or Malta
These rules apply to dogs (including assistance dogs), cats and ferrets.
Obtaining an animal health certificate
Your pet will need a new animal health certificate every time you take it into the EU. If you have multiple pets, the good news is that you can add up to five pets to an animal health certificate.
You can obtain an animal health certificate from your vet. Note, it must be signed by an 'official veterinarian' (OV) no more than 10 days before your pet enters the EU.
Your animal health certificate will then be valid for 10 days for entry into the EU and Northern Ireland. Once in the EU, it will be valid for four months for onward travel within the EU and four months for re-entry into Great Britain.
What should I keep in mind about owning a pet in Portugal?
1. Be prepared for the costs
Veterinary bills are quite high in Portugal, higher than those in the UK, for example, so this can take some getting used to, and you will need to budget accordingly. However, all pet owners know what looking after your extended animal family doesn't come cheap. Some expats we know often joke that they spend more on their pets than on themselves, but it's worth it!
The main veterinary hospitals in expat areas are the Hospital Veterinário do Algarve, in Faro, and the Hospital Veterinário de São Bento in Lisbon.
2. There are stray animals in rural areas
If you buy a Portuguese property in a rural location, you will soon get to know the local strays – both cats and dogs, although there are more stray cats. While tempting to adopt them, take them to a local vet to find out if they are microchipped and are actually somebody's pet before taking them home. Stray animals are rarely neutered or vaccinated, so they often have health problems, which you will need to consider before adopting them.
3. Beware poison!
Sadly, there are still occurrences of old fashioned residents in a number of European countries poisoning stray animals, and Portugal is unfortunately one of them. Be vigilant about any meat or food left out in areas popular with strays, in case it is poisoned, and if you find anything suspicious, share it with local expats and vets, if possible.
4. Be vigilant of natural dangers
Natural threats to your pets, such as snakes and ticks, can be found in Portugal, so make sure you are vigilant and seek guidance from the local vet if you have any concerns.
5. Make sure to license your pet
In Portugal, pets need a license once they're three to six months old, so if you have a young pet – or you've brought over an older one and you're not sure if they're registered – do check with your town hall on how your municipality registers them. You normally need to review each year, currently for around €20.
Finding a pet in Portugal
If you don't have a pet, or you're looking to add to the family, there are lots of animal charities and adoption groups to find the perfect furry friend in Portugal. Seek tips from other expats and look online at Facebook and expat forums for tips for local animal charities and how you can ensure the pet that you adopt is well cared for before you give them a home.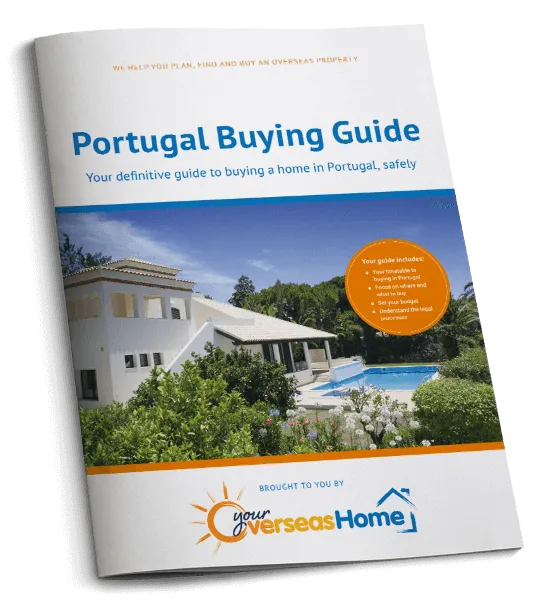 The Portugal Buying Guide is designed to support you through each stage of buying property in Portugal, providing relevant, up-to-date information and tips from Portugal property experts and expats who have been through the process themselves. It helps you to:
✔

  Ask the right questions
✔

  Avoid the legal pitfalls
Download your free guide to buying abroad