Farmhouses with vineyards, mountain chalets, city apartments, villas by the lake, castles and palaces… welcome to Piedmont. This corner of Italy is just a day's drive from the Channel ports, but a world away from chilly England.
In Italy if you're looking for mountains, rolling hills and lush rural scenery you're spoilt for choice. Tuscany has always been the popular choice, but there are many other stunning locations that tick all the boxes at more affordable property prices. The region of Piedmont is certainly worth putting top of your wish list.
The name Piedmont comes from the medieval Latin Pedemontium, "foot of the mountains", which in this case is the impressive Italian Alps.
Piedmont is spelled Piemonte in Italian and is pronounced "Pee-a-MONT-aye". Piemonte is conveniently located, bordering the small Valle d'Aosta region to the northwest, Lombardy and Emilia-Romagna to the east and the Liguria region to the south. It also borders France to the west and Switzerland to the northeast.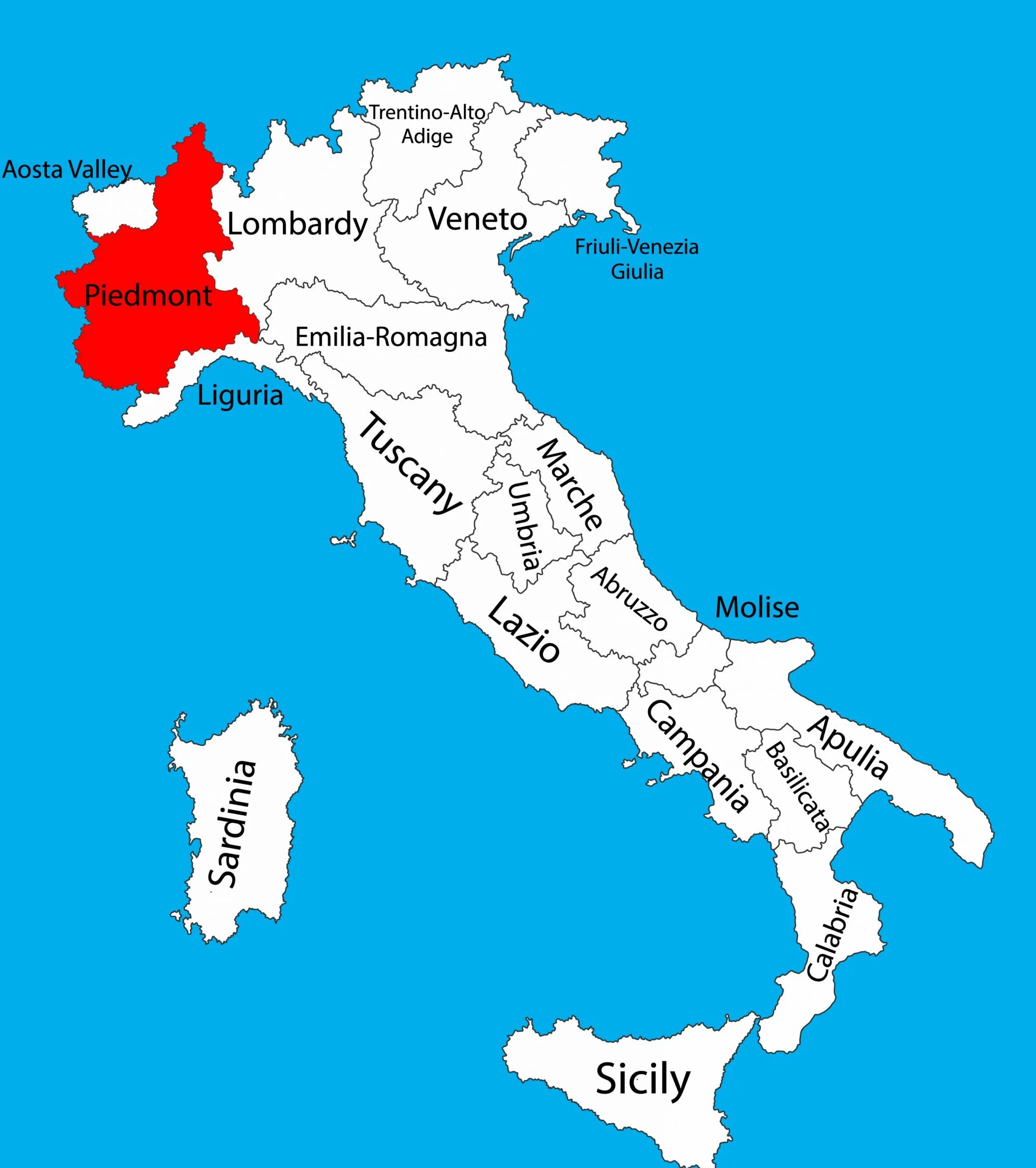 The name Piemonte comes from the medieval Latin Pedemontium, "foot of the mountains". The mountains in question are the impressive Italian Alps. Piedmont is surrounded by mountains on three sides, but on the lowlands the fertile land produces cereal, maize, fruit and milk. There are grapes too, of course, for the region's prestigious wines including Barolo and Barbaresco from the Langhe near Alba, and the Moscato d'Asti and Asti Spumante from the vineyards around the town of Asti.
It is these rolling hills and vineyards that attract most house buyers, bewitched by the breath-taking scenery. For lake lovers there is also Lake Orta and the western side of Lake Maggiore.
Piedmont's landscape
The landscape varies from the lush plains to the snow-capped peaks of Monte Rosa and the Gran Paradiso National Park. Other beautiful nature reserves include the Rocchetta Tanaro Natural Park, Andona, Botto and Grande Valleys. The unique WWF Oasis of Forteto della Luja is very special too.
Did you know that Piedmont also has rice paddies? Italy is the largest rice producer in Europe, and Lombardy and Piedmont are Italy's rice bowl. Another beautiful place to own a home is near the sparkling waters of Lakes Orta and Maggiore. When you dine on fish here you'll know that the fish, and the rice, didn't travel far too get on your plate.
Great food
The lakeside restaurants of Lake Maggiore are known for their perch, which is served as fillets or in a risotto. Other popular fish dishes include trout, carp, pike and whitefish.
The region is world famous for its white truffles. These attract thousands of tourists each year to the autumn festivals, the most famous of which is held in Alba. There is a lot of cattle in the region, as well as sheep and goats. Their milk produces some great cheese, such as the Robiola from the Langhe Hills. The region is also well known for its hazelnuts which are used in various sweet products and the famous Gianduja chocolate.
UNESCO vineyards
Piedmont is home to some of the world's most respected and award-winning wines. The most widely grown grape is of the Nebbiolo variety which is used to produce the famous Barolo wine. It isn't only the wine that will appeal: the vineyards of Langhe-Roero and Monferrato have been recognised by UNESCO for World Heritage status. The landscape around the castle of Cavour, and its long history of grape growing and wine production are a source of pride locally. Vine pollen has been found in the area from the 5th century BC, when Piedmont was a place of trade between the Celts and Etruscans.
Piedmont's palaces
Another UNESCO listing is "The Savoy residences" in appreciation of their great historical, artistic and environmental value. These outstanding palaces, castles and parks were used as official residences and hunting lodges by the royal family. The most important building is the Royal Palace, official residence of the Savoys. In the centre of Turin you'll find Palazzo Carignano and Palazzo Madama and in Turin's largest park is Castello del Valentino. Around the outskirts are Borgo Castello, the Royal Palace of Venaria, the Royal Castles of Moncalieri, Rivoli and Aglié, and the Hunting Lodge of Stupinigi. In addition there are still more to discover in the province of Cuneo. This UNESCO video gives a taste of their luxurious architecture and grand scale. Inspired? Take a look at what a few million will buy you on Rightmove!
If you enjoy watching football you have come to the right region.
Sport
Turin's mountains, host of the 2006 Winter Olympics, provide a spectacular setting for skiing and other winter sports. Via Lattea and Sestriere are renowned for their state-of-the-art facilities. The Valle di Susa extends over 1,500 km of ski runs and trails, set in a stunning natural landscape. They offer illuminated slopes for night skiing and long off-trail routes. Throughout the year you can enjoy trekking, horse riding and cycling.
If you enjoy watching football you have come to the right region, as Turin's most notable clubs include Juventus and Torino. It's not too far to travel to watch either of Milan's football giants either. Good local teams also play volleyball, basketball, ice hockey and roller hockey. So, get your skates on.
Why not split the cost and double the fun of holiday home-ownership in Italy by buying with family members? Read our new guide, Buying Abroad with Family. 
Rental potential
If you want to buy a property which will give you an income, Piedmont's healthy tourist market offers numerous possibilities. Many tourists visiting the region are looking for self-catering accommodation and some wise investors have already started buying large farmhouses and dividing them into holiday lets. A two-bedroom country house could earn you over £100 per night, so it is worth considering. The region attracts visitors both in the summer months and for winter skiing. Popular areas include the countryside around Asti and Alba and near Lake Maggiore, but many visitors also like to spend a few days in Turin.
Piedmont property market
Prices are very good at the moment, especially if you want to buy in the wine-producing Langhe hills. There is a good availability of farmhouses, including character properties needing renovation. Property prices are still very competitive when you compare country houses here with those in the UK and Tuscany. You can still find detached properties under €200,000 in the provinces of Asti and Cuneo, and there are a number of large farmhouses for around €250,000. Such as this three-bedroom farmhouse complete with a beautiful barn fronted by stone arches, for just €230,000.
Some of the remote villages have seen a depopulation over the years and are trying to attract new residents and visitors. The mountain village of Ostana only has about 41 people living there year-round and was in the news when they celebrated the first birth in the village for 28 years! Life in a small mountain village isn't for everyone, but if you want to get away from it all and be part of a small community you can live very cheaply.
Property prices are still very competitive when you compare country houses here with those in the UK and Tuscany.
There are some lovely houses near Lake Maggiore and Lake Orta in the Novana province. A well-presented two-bedroom apartment close to the lake costs in the region of €280,000. If you venture into the hills you can enjoy the breath-taking views and discover villages with ancient traditions and folklore.
The ski resorts offer chalets that look straight off a chocolate box. There are beautiful wooden chalets in the mountains of Limone Piemonte that are close to the ski slopes and even have access to a spa.
Towns of Piedmont
The regional capital is Turin, known as Torino in Italian. Famous for football and Fiat cars, the city forms one corner of an industrial triangle with Milan and Genoa. Turin is good for shops, craft workshops and the largest antique market in Europe, called Balon. There are also many large shopping malls in the region. Piedmont museums are too numerous to list here, but among the most popular are ones specialising in the Egyptians, cinema, football, military, Martini, automobiles, chocolate and even chimney sweeps. The region is less marketed to foreign tourists than some other parts of Italy, so you can enjoy the Baroque architecture, shopping and museums without the large tourist crowds seen in Florence and Venice.
The area has many famous towns such as Asti and Barolo, which are world famous for their wines. While the sophisticated town of Alba is home to the annual white truffle festival. Towns with Medieval origins include Canelli, Nizza Monferrato and San Damiano d'Asti. Up in the hills are small Medieval villages, like Moncalvo, Roccaverano and Costigliole. Charming small towns and villages include Diano d'Alba, Monforte d'Alba, Barbaresco, Neive, Serralunga d"Alba, Grinzane Cavour, La Morra and Sinio.
Education
Piedmont has an excellent state education system. These include some of Italy's top universities, such as the University of Turin, the Polytechnic University of Turin and the University of Eastern Piedmont. There are also a number of International schools including Vittoria International, World International School of Torino, IST and the British International School.
Good transport links
By plane: Piemonte is a great location for anyone needing good transport links. Budget airlines fly into Genoa, Turin and Milan from major international airports. Ryanair provides daily flights from Stansted to Turin and when we looked today (5/3/208) we found return flights for as little as £35 in April.
By train: Rail services are excellent, including a fast train from Turin to Paris in less than 6 hours. If you want to work or shop in Milan the train from Turin can take less than an hour, with the journey costing as little as €12.45 if you buy your ticket in advance from Trenitalia.
By car: You can easily drive a car, or van full of belongings, down to your Piedmont home. Once you get to Calais it's about ten hours to Turin. The roads in the area are good and if you live in Asti, for example, you can drive to Barolo, Alba or Turin in less than 45 minutes. You can also reach Milan in less than two hours and the pretty coast of Liguria in an hour and a quarter.
If you are ready to buy in Italy within the next few months, call our friendly Italy Resource Team on 020 7898 0549 or email [email protected].