Some people buying property are moving to Italy as a single person, others unexpectedly become single further down the line. Could you live alone in Italy? How easy is it to  fit in, make friends and learn the culture? And go on, what about finding romance in il bel paese? I spoke to fellow expat Valerie about her experiences.
Italy has long been considered a romantic destination full of beautiful and stylish people that live life with passion. Numerous novels, plays and films paint a picture of an Italy where a person can easily fall in love.
If you're planning a move to Italy, read our free Emigration Guide
 today.
Romantic gondola rides, Juliet balconies, al fresco dining by candlelight, and walks along the beach all help set the scene. In reality, many people have found love in Italy, but it does take time. You first need to find a place where you feel happy. Moving to Italy as a single person, your first loves are likely to be the Italian food, the wine, the sun, the community atmosphere and discovering the beauty in your new surroundings.
Making the move alone
Whether single or a couple the first few years in a new place can have its ups and downs, especially if you need to deal with trades people to get work done on your home. This is made more difficult when you don't speak the same language. It takes a strong person to deal with that alone, and it can feel isolating. To keep your sanity, I would recommend buying a property that needs no renovation, so that you can concentrate on settling in. Even if you are determined to immerse yourself into a Italian community, it is still reassuring to have some English speaking friends nearby, that you can call on for recommendations and to have a good chat with.
Choose an estate agent carefully. Italian estate agents get more involved with the whole buying process than their British counterparts, as they earn a commission from both the seller and buyer. A good one will speak English, have local knowledge and hold your hand every step of the way. They may even help you open a bank account, acquire a tax code, get utilities connected and introduce you to other expats. They can be a useful contact for many years after you move in.
Buying a home on your own can be a little daunting, so why not let our team help you? Great estate agents, experienced lawyer and cost-efficient, safe currency exchange. 
Let your Golden Three help you with your property purchase.
Just be aware that you can find ones who are more salesy and pushy than others. That's one of the reasons we run our free Italy property hunter service – Diana has spoken to thousands of agents up and down Italy and will be able to put you in touch with several trustworthy, English-speaking ones who have suitable properties and a proven track record of helping.
Meeting people
Italians enjoy the company of family and friends, and all ages can be seen dining, walking and greeting each other in the streets and piazzas. In the morning people meet for a quick chat and a coffee in a cafe, (a great place to make new acquaintances). The staff and locals soon recognise regular customers and will greet you like an old friend. Cafés and central piazzas are the real heart of any Italian community.
In the early evening "la passeggiata" is the evening stroll, where you will see people just walking and stopping to chat with everyone they know. They will kiss friends and family on either cheek, and straight men are comfortable walking arm in arm with a male friend. But this touchy-feely behaviour is restricted mainly to close friends and family. So, don't think you can grab the first Italian you meet and give them a big kiss. Knowing you are British they are more likely to shake your hand. When you do make an Italian friend it is more of a kiss in the air beside the face, than a smacker on the cheek.
In Italy it's not considered impolite to stare, and men will look any new person up and down and maybe voice their appreciation if they think you are beautiful. "Ciao, Bella, come stai?" Don't read too much into these compliments, they are just being friendly.
Dating an Italian
If you're moving to Italy as a single person, you'll probably soon find yourself jumping into the dating scene. When going on a date, it is perfectly normal to turn up late. It's just something you have to get accustomed to. However, if you are invited to join the family for lunch, his/her Mamma is likely to appreciate you arriving on time, and bringing wine or dessert. Men are expected to put a lot of effort into wooing an Italian lady, and most men expect to pay for their girlfriend's dinner.
In the early evening "la passeggiata" is the evening stroll, where you will see people just walking and stopping to chat with everyone they know.
How you dress is very important and even the least well-off Italian will make an effort to look stylish. Women generally dress fashionably elegant and don't wear skimpy or low-cut clothes, unless they are on Mediaset TV or on the beach. Many Italian men are very mothered, which can be difficult for girlfriends and wives. A British man who can look after himself, may win some points with the Italian ladies on this count. But, how good do you look in slim cut trousers?
Where to buy if you're moving to Italy as a single person?
Where you buy will depend on whether you are looking for peace and privacy or want to be right in the centre of a community, where you can get to know people. Italians are not generally quiet and reserved, so you may find town centre living rather noisy when they start having conversations from balcony to balcony. In the countryside you will find people to be very neighbourly and generous with advice and produce from their land.
Be aware that although you may be fit and healthy today and able to drive, accidents and illnesses can happen that will make getting about more difficult. In some rural areas and seaside towns you may find that your neighbours are only there in July and August, so make sure you view out of the summer season.
How to know that you're paying a fair price: check out our free Negotiation Guide
.
An apartment in an Italian town offers great opportunities to meet people and have everything you need within walking distance. Like this apartment in the popular Puglian town of Lecce priced at just €140,000. Lecce is known for its universities and beautiful historic centre. Due to its ornate baroque architecture, it is commonly nicknamed "The Florence of the South". For beach lovers who enjoy a busy tourist location, take a look at this sea view apartment near Pescara for just €180,000.
Case study: Valerie's experience living in Brindisi
I spoke to Valerie Rice (aged 44) about what it's like being a single woman in Italy.
Where are you from?
I was born in Blackburn and moved down south to Swindon when I was 15. Since then I moved to Cambridgeshire and the States (4 years in Atlanta Georgia).
Why did you decide to move to Italy?
Long story short…. I always thought I was destined to live abroad and after 4 or 5 years searching in Greece (Crete to be precise) and not finding that dream home, I decided to look elsewhere… Italy.
Why Italy over any other country?
I love the Mediterranean food, wine and culture, and of course the warm weather!
Why did you choose the Brindisi province of Apulia?
I wanted somewhere hot but that was, back then, considered, 'off the beaten track'. I wanted to be submerged into a new culture and all it had to offer… Not Blackpool in the sun.
Did you move here as a single person?
No, I was happily married. Life could not have gotten any better. I was on cloud nine. Realising my dream with my amazing husband. Sadly, we grew apart, and after many blissful years together, we parted.
How long have you lived in Italy?
I moved here in October 2010, so nearly 8.5 years.
How did you find the house buying process? Were people helpful?
Yes, and surprisingly, after the worry about the Italian bureaucracy, the process was extremely easy and painless, we didn't have any problems at all. In fact, the owner and builder were extremely helpful and considerate. They held the property on a goodwill gesture of just €1000 deposit until I was able to complete the sale and move to Italy.
What type of property do you live in and what is its location?
After researching on the Internet and looking at lots of houses during my visit, I finally found my dream house. I knew straight away that this was the one, even before I entered the gate threshold. I had already made my mind up. There was something about it that said, this is home! But I played it cool and tried not to look too excited. My dream home turned out to be a newly constructed villa, in the countryside, in the virtually unknown town of San Vito dei Normanni.
Is this a location you would recommend for a single person?
Being in the countryside, isn't for everyone, especially a single female, but I love it! I love tending to the 6000sqm of land (although I'm not an avid gardener). The thing I find most satisfying is the overwhelming pride in thinking, I did that… trimming, strimming and harvesting of the olives to produce my very own extra virgin olive oil. Nothing compares to the self-satisfaction and pride of doing it yourself!
Do you feel safe at home, and walking in town on your own?
Absolutely! Many of the locals think I'm crazy living in the countryside on my own, but I feel completely safe and most relaxed in my little piece of paradise. When I'm out and about, I never feel scared or threatened, not even late at night when I'm walking back to my car alone. Life is relatively tranquilla!
What is your experience of the local community?
They have been brilliant! Especially at the beginning when my knowledge of the Italian language was just a handful of words and my dictionary was my ally. Some took me under their wings and invited me to their family gatherings. Which is when I learnt just how much a small, Italian woman can consume…. Antipasti, pasta, meat, salad, veg, dessert, biscotti…. You get the picture…. I was full after the antipasti…. I'm still struggling to keep up with the locals!
My neighbours have been brilliant. They took me under their wings and invited me to their family gatherings, and I learn how a much a small, Italian woman can consume…antipasti, pasta, meat, salad, veg, dessert, biscotti…you get the picture!
Have you learnt Italian?
My Italian was next to zero when I arrived, and as English isn't widely spoken here, I had to learn it. I enrolled on a course with an English/Italian lady whose family were from Lecce but who lived and worked in the UK for many years. Then I attended a course in a local town and since then have learnt by using Duolingo. But most of my real Italian has come from chatting with Italian friends.
How do you find the locals react when they discover you are single?
People are very surprised that I have the courage to live in the countryside alone and many people offer to help (mainly guys, but there's usually an ulterior motive!).
How did you go about meeting people?
A great way to meet local people is by going for a coffee in the local cafè or around the local markets. After a while people start to recognise you (especially if you're blonde!) and offer to buy you a coffee and have a chat. Usually, they want to know why you choose to move to Southern Italy rather than somewhere more popular like Tuscany.
What advice would you give to a British woman hoping to meet an Italian man?
Ha – be careful! They are all very charming…. think about the great Venetian, Casanova!
Do you know if there are any popular internet dating websites in Italy?
Oh my God, I tried some of these. Let's just say you're better off going to the local coffee bars. It's easier to judge someone in the flesh, rather than in the virtual world online.
In general, it seems that many British people find Italians attractive. What do you think it is about Italians?
Yes I'd agree. Before I moved to Puglia, I had a preconception that all Italians were tall, dark and handsome (obviously I'm generalising about the men), this isn't the case down here. Many are shorter than the average brit but in the main better looking. I think mainly it's their attitude, the air of self-importance that they seems to emit unwittingly, it's the way they strut and the clothes they wear. It's all about the' bella figura'. You have to be seen to be looking and acting cool, calm and sexy at all times!
Have you noticed any differences between the way Italian men behave towards women, compared to UK men?
There is a big cultural difference between the two. Italian men are not subtle, if a beautiful girl catches their eye, they don't just glance sideways, they rotate their entire head to follow the beauty. Often they will say what they're thinking aloud…. Usually bella. I haven't come across many romantic guys yet but they do retain the old values of gallantry and insist on paying for drinks or dinner.
Have you been on a date with an Italian man? If so, did you notice any cultural differences?
Yes…. There are many cultural differences, although one you learn very quickly is just how much food they eat… Mangia, mangia (eat, eat) is one of their favourite words and eating is not just a necessity in order to exist but a way of life. It binds the whole family together, therefore being invited to have lunch with the family is a huge honour and a sign of their love.
What do you love about living in Apulia?
I fell in love with Puglia on my first visit. There's not just one thing that I can say that is more outstanding than the other, it's a combination of everything. The slow pace of life here, the Italians relaxed attitude towards many things. Their deep-rooted pride, culture and tradition. The fabulous, simple and delicious food and outstanding wine. Then there are the numerous beaches with crystal clear waters on two oceans; Adriatic and Ionian. And the fabulous weather of course.
All of this prompted me to share my love of this area with the world. I started writing a blog, Puglian Pleasures, in 2014 to highlight some of the interesting, intriguing and or unusual aspects of Puglia. This developed into organising food and wine events and this year I intend to expand my tours to include olive oil tasting, cheese making demos, cultural tours of the castle in San Vito dei Normanni and a cooking experience with 'Mamma'.
What has helped you to settle in and meet people?
Learning the language is key, through attending courses you can meet like-minded people. But this also gives you an opportunity to communicate with the locals. I also joined a local dance school to learn the traditional Pugliese dance, la Pizzica, and then another school of dance to learn how to salsa and do the baciata.
Feel inspired? Get ready to buy in Italy with your free Italian Viewing Trip Guide
 today.
I also love organising events and showing people why this is such a fabulous place to visit or even live. So, hosting wine, food and cultural tours and being a tour guide also offers me the opportunity to meet lots of interesting people.
Is Italy a good choice of country for a single person?
It might be good for someone younger, who can find work in a hotel or at the beach. The night life here in the summer is incredible. Things don't get going until late and finish as the sun is coming up! In the summer you're spoilt for choice, so many festivals, sagre, live concerts, plays and outside discos, it's difficult to know which event to go to.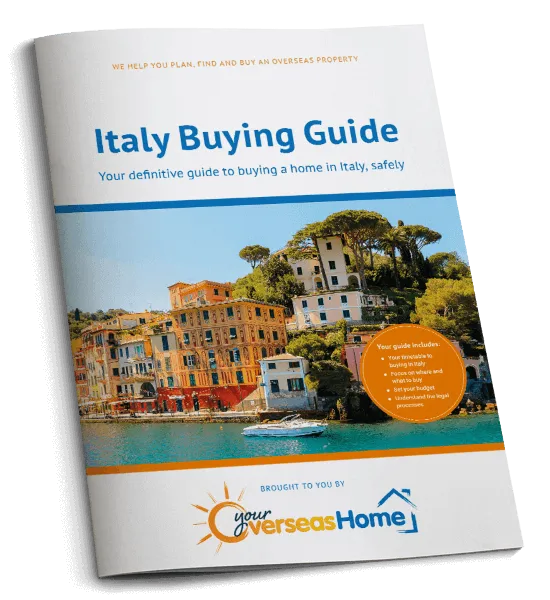 The process of buying property in Italy is significantly different from here in the UK. This is why we've created our completely free Italy Buying Guide, to provide those dreaming of a new life in Italy with all of the practical, legal, and financial information needed to help them realise that dream.
✔

  Ask the right questions
✔

  Avoid the legal pitfalls
Download your free guide to buying in Italy