In just a few months, Sally and Jeremy, from Bath, have gone from dreaming of a holiday home in Italy to having the keys to their own apartment in beautiful Liguria in hand. They told us about their property search, their plans for the future and how an introduction to the right estate agent helped smooth the path immensely. 
You have just bought a holiday home in gorgeous Liguria, on the north-western coast of Italy. Tell us a little bit about the dream behind the purchase? What was it that drew you to Italy?
I've always loved everything Italian, even simple things like a fantastic pizza! The language is beautiful – it always makes me happy. We've bought a little holiday home to try life in Italy, with the long-term plan to retire fully there with a proper house sometime in the future.
I'm one of the world's biggest planners and I always like to have a plan for the future! We just thought, Britain's been brilliant but there's another life out there potentially for us. We started thinking about what we wanted to do later in life that will take us closer to our goals. What we decided was that we both – and particularly me! – don't really do well in this country in the autumn and winter.
Britain's been brilliant but there's another life out there potentially for us.
When I leave Monday morning, I hate being cold and I hate the rain. So, the plan was to find somewhere that has a better autumn and winter. We wanted a very different way of life. Because we work very hard, we don't see home much unless it's the weekend.
You're spoilt for choice in Italy with beautiful towns, villages, countryside – how did you narrow down where you wanted to look?
Where we live in Bath, we live in the countryside and it's absolutely beautiful. We love it; we have a big house and land, but we have to drive everywhere. Every single place, we have to drive, even if it's a pint of milk. Wouldn't it be lovely if we weren't in the countryside, but maybe closer to the sea and didn't have to drive? So, it would be a very different way of life for us. That said, it did also need to be easily accessible for us. Bristol Airport is 24 miles away, and we didn't want to spend days travelling with long trips at the other end, when, in reality, we still have seven years of working left. There'll be a lot of quick trips of just a few days and occasionally, at some points in the year, a week or so.
If you're going to buy property in Italy, register for your free tickets for Your Overseas Home. It's a special kind of show, specifically designed for serious buyers to meet experts from all aspects of the purchase process under one roof. Don't miss out!
After Christmas, we started by looking up Italy Property Guides. We signed up over the weekend and then we had a call from Diana. I missed it but rang her back, thinking there'd be no harm in a short call, and she was lovely! I thought it'd be a short conversation, but she just wasn't like that. She really listens to what you're thinking about and I did say that we were in no rush whatsoever and it doesn't matter if it doesn't happen for a couple of years. She told us about the contacts Italy Property Guides has and talked about Anastasiya from Wharf Invest. She said we could have a look without obligation, and it's your choice as to what you do. I felt good about that conversation, nothing pushy, just information I could use if I wanted.
And from what we hear, Anastasiya was definitely the right choice!
Yes, we both emailed her and set up a WhatsApp group between the three of us. What I really appreciated about her from the start was that, if you say you're going to call someone at a particularly time, you do it. You know where you stand when someone makes an effort. We had a conversation, said this is what we're thinking about, although we're moving faster than we expected! She listened really intently to all of the questions we had and gave us sensible answers. She confirmed it would not cost anything to be doing this sort of stuff and advised it can take a long time to find the right property – and that's fine.
Anastasiya was totally brilliant at navigating us through everything we needed to do
We had already looked at all the property sites, but what Anastasiya was totally brilliant at was navigating us through everything we needed to do in setting up and doing business with agents. Plus, she understood our criteria so well.
It wasn't a 100% list of 'musts', but we had some things that we really wanted to achieve. I live in a beautiful home with four acres of land and every day that I am there, I wake up and love looking outside. I said that one of the things I really didn't want was to have a nice apartment but a view of a big 70's crumbling building in my face. She took on board all of that and found about four properties that we might be interested in viewing. When we met her in person, it was great. She was everything she sounded on the phone, absolutely someone you can work with.
How was the process of actually finding the home?
One of the things we really wanted was a two-bedroom, because we wanted to invite family and friends. We weren't getting what we wanted in the area, so we took the price up by another €100,000 and took the criteria down by one bedroom. We saw a couple with one bedroom, but we thought, God, if only they had two bedrooms, as they were in areas we know and love.
And then we found this one, which was the one we ended up buying. We looked at it, with windows to the roof, very green. However, it wasn't in great shape and there was no way to add a second bedroom. So, when we came back to Bath for the weekend, we said to ourselves to just think about this generally. We spoke to Anastasiya and said that it's a long shot, but we would like to look at this one place. We couldn't go out to see just the one, so Anastasiya said, 'I'll go and have a look for you; I'll take a video and we'll see what you think.'
Straight away, she took a worry away, because there was no chance we could go again and look quickly. She went up within a couple of days, took videos of the property, the outside, everything. It was absolutely wonderful. And it confirmed that it was a lovely place, beautiful. The building wasn't in good condition, but there was nothing we couldn't do. And then…she walked onto the balcony. And that was just fantastic!
Dreaming of a holiday home but not sure how to finance it? Discover your options in the free How To Pay For It Guide.
So, we said to Anastasiya that we loved it, but it only had one bedroom and we hadn't seen it. She said to just have a think and so, during the week, I spoke to my husband and said, 'I'm going to say something to you and you're going to think I'm mad.' And he said, 'I'm going to say something back – I think we're on the same page.' And that was to put an offer in without seeing it in person.
So, we were both thinking the same. We had a chat, and we contacted Anastasiya and we said we need to see everything. You need to go under the sink, check the water pressure, and look for cracks, look at the quality of the walls – everything. It was a lovely conversation, very easy to have with her. She said she'd go the very next day. We got it through straight away, extremely detailed.
We felt confident with that, so we talked to Anastasiya that night, and the offer for the seller was made on Thursday. By Friday morning, at ten o'clock, it was accepted. It was such a straightforward process.
Then, we had to move quickly. I said to Anastasiya that it'd either have to be done within a week, or we'd have to push it for a couple of months. So, she found us a notary, arranged a meeting in the tax office, took us there, through all of the processes. We'd intended to learn the language before moving, but we hadn't had time to do anything – so she really did everything for us. She navigated us through the system and it couldn't have been easier. She knew the bank manager, the notary…
So how was it when you finally saw your new home?
The three of us went to lunch and then went to see it. It was fabulous. She had already arranged to go earlier and put the glasses out on the table and everything was bright and gorgeous.
She really pays attention to everything she does and has this amazing understanding of humanity and what makes people's lives easier. She does a hundred times more than I would ever expect anyone to do.
Obviously, these are quite volatile political times. Were you concerned in any way about Brexit?
In my line of business, healthcare, it's really big guns because we rely on doctors and nurses coming from other countries. So, we are dealing with that every day, and I did say to Jeremy, 'This can't be a good time do it.' He just said, 'Sally, this is going to go on for a long time. This is our life and we have to take control of it. We have a place we want to be. Let's live our life and just do it.' I have to admit, though, we didn't think we were going to do it near as quickly as we did!
Brexit is going to go on for a long time. This is our life and we have to take control of it. We have a place we want to be. Let's live our life and just do it
And I believe you also used Smart Currency Exchange for your transfer?
Yes, when we were put in touch with them, I said to my husband and he was of the opinion that we should just leave it. I said, 'Are you sure we know what we are doing with this currency, because I'm not?' I thought there might be something in it. I said we have nothing to lose by giving them a ring, and we might be able to do something here. So Jeremy rang them and apparently they were absolutely brilliant, very slick, and could work with our timeline which was very, very short indeed for all this to happen. We ended up saving a couple of thousand pounds after a couple of conversations, which will help out with a bit of decoration.
Find out more from Smart about how you can control the risk of sending money abroad in the Property Buyers' Guide to Currency. 
That's great that it went so well for you! You're using your flat in Sanremo at the moment as a holiday home – how are you organising things in terms of maintenance and so on when you're not there?
It was part of our criteria that the building itself had to be in very, very good condition. We did major refurbishing on our house in Bath and I will never do it again. Not a chance in hell! This is somewhere we were popping out every now and then, so I said the fabric of the building has to be in good condition and we have to live in a place where they pay a proper fee towards the maintenance and we want to live with people who care about it being maintained. We pay about €300 per month, which is a lot of money, but I don't want to be dealing with ceilings falling in and all kinds of stuff.
And what are your plans for the future?
Our family plan is, if everything goes well, to retire to Italy, perhaps in five to seven years. We have absolutely, not a shadow of a doubt that if we do sell this home and move on to a new one in Italy, Anastasiya will be the person to call. And when we come to look for our proper home, that will 100% be Anastasiya if it's in her area. It's not an investment you will make loads of money out of it. We might not sell it – I've got nieces that can go there for a month here and there, so we don't have to worry about it
What tips would you give to anyone thinking of following in your footsteps and buying a home out in Italy?
Firstly, have a really good think about what you might want before. I don't understand people who want something in a country they've never looked before.! Go and visit a few times and make sure it hits the basic criteria. In fact, you lose a lot of time if you don't know the basic criteria at the starting point, so make sure you decide on that and know it well.
To have somebody that could just get us through the Italian system, like it was a breeze and we were having a lovely couple of hours, was just great.
Secondly, remember that you're not buying in the UK. I think, culturally and everywhere you go around the world, people do things differently. I don't think Italy is complicated, it's just different the way they do everything. The whole process is different. We didn't realize it was going to be different as it was. We could never have navigated through the tax situation. To have somebody that could just get us through it, like it was a breeze and we were having a lovely couple of hours, was just great. We couldn't have done that on our own. To be honest, if we started it on our own and hadn't put an offer, we would have given up and left it for a few years because we didn't speak the language, it was too hard. We didn't need to because you did it for us. It was just a dream, it was lovely. We're very grateful to Anastasiya and Diana – you have all been absolutely amazing and we love our little jewel!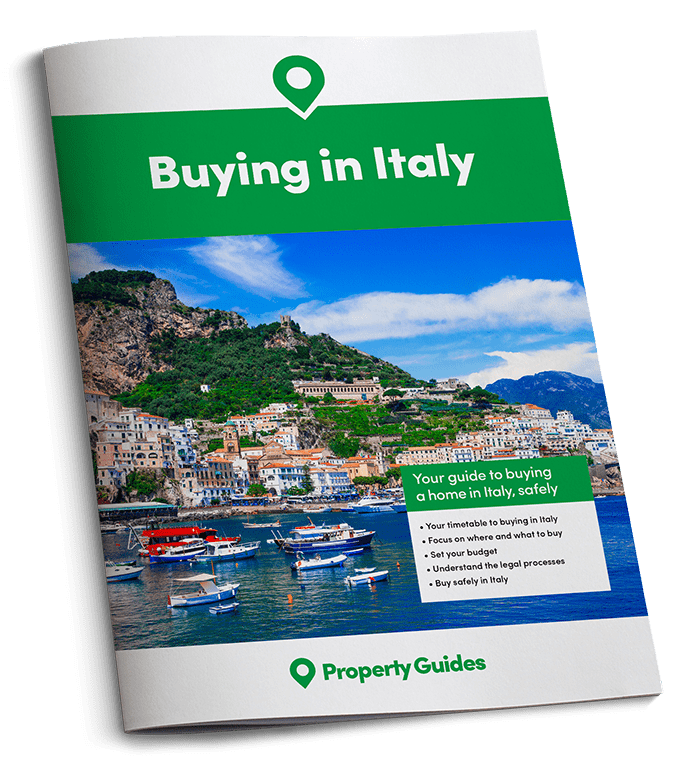 The Italy Buying Guide walks you through each stage involved in buying property in Italy, and offers invaluable insights from expats and experts who understand the process. The guide will help you to:
✔

  Ask the right questions
✔

  Avoid the legal pitfalls
Download your free guide to buying in Italy