Which sports will you watch when you move to Italy? From football to cycling, sport is ingrained Italian life.
Sport has always been very popular in Italy and the national public broadcasting company, RAI, have a designated sports channel "RAI Sport" that shows a large selection of sporting events. Football is the most popular sport, followed by basketball, volleyball and cycling, with Italy having a rich tradition in all three. Rugby union is also popular in the north of the country, with the Italian team taking part in the Six Nations Championship and World Cup. Other popular spectator sports include Formula One, tennis, swimming, water polo, athletics, fencing, and winter sports. Italy has some of the best ski resorts in Europe and each year hosts the middle stages of the World Ski Cup. At this time of year though, it is the football and cycling that are dominating people's TV sports viewing.
Cycling (Ciclismo)
The Italian equivalent of the Tour de France is the Giro d'Italia, which will take place between the 5th and 28th May. This year promises to be extra special, as it marks the 100th anniversary of the event. If you watch on TV you can expect to see spectacular Italian scenery filmed from the air, which should whet your appetite for buying a home there even further. If you have planned a property viewing trip in May, you might even get the opportunity to see the cyclists as they pass through one of the charming villages.
Where to watch the Giro d'Italia?
Imagine warm relaxing afternoons watching the cycling on TV (RAI Sport or Eurosport) in the comfort of your own home in Italy. Or, set off into the countryside to cheer them on from the roadside. Look out for Nairo Quintana, Vincenzo Nibali and Michele Scarponi, as well as Team Sky from Great Britain, led by Geraint Thomas.
To see them on the road this year, you first need to head to Sardinia, where three stages will take place before moving across to Sicily, Calabria, Basilicata and arriving in Alberobello (Puglia) – the town famous for its Trulli houses.
The next few stages are split as they move up country. Routes include Molfetta (Puglia) to Peschici (Puglia), Montenero di Bisaccia (Molise) to Blockhaus (Abruzzo), Foligno (Umbria) to Montefalco (Umbria).
Football is the most popular spectator sport in Italy and ingrained in the national psyche.
Further north, they race from Florence (Tuscany) across to Bagno di Romagna (Emilia-Romagno) – an area known for its natural springs and national parks. Later stages cross the northern regions of Lombardia, Trentino Alto Adige, Friuli Venezia Giulia and Veneto, through villages dominated by breathtaking mountain backdrops and green meadows filled with wild flowers.
The final stage begins the Autodromo Nazionale Monza, which hosts the Formula One Italian Grand Prix at the beginning of September.
The Giro d'Italia time trial will take place at the auto drome before the heading to Milan, where the cyclists will sprint down the Piazza Duomo.
The organisers have published an official stage-by-stage breakdown of the route with information about the location of each start and finish, including food, wine and places of interest. You can access it here.
Football (Calcio)
Football is the most popular spectator sport in Italy and ingrained in the national psyche. The country itself is even shaped like a boot kicking a ball! The successes of the national team in the FIFA World Cup and Serie A clubs in the Champions League have given supporters plenty to cheer about over the years. Italy won the FIFA World Cup in 1934, 1938, 1982 and most recently in 2006 putting them in joint second place behind Brazil in terms of most titles won. Series A Clubs have won the Champions League twelve times – seven of those lifted by AC Milan – leaving them in joint second place with English clubs in the all-time list.
Where to watch Italian football
You can often find a bar, café or restaurant with either a big TV or large projector screen, where friends meet up to enjoy watching a match together. Most towns in Italy have a local team and football stadium (stadio), but if you want to support one of the top teams on a regular basis you will find most Serie A clubs in the north. The Piedmont Region boasts five top clubs, including Italy's current football champions Juventus, who have won a record 32 titles and have supporters' clubs across Italy. Most recently all eyes have been on their position in the UEFA Champions League, having recently reached the semi-finals by beating the mighty Barcelona 3-0. Will 39-year-old goalkeeping legend Gianluigi Buffon finally get his hands on club football's most illustrious prize? In Lombardy, you can choose to support either Milan or Inter and in Liguria you'll find Genoa and Sampdoria. Other top clubs include Bologna (Emilia-Romagna), Roma and Lazio (Lazio), Napoli (Campania), Fiorentina (Tuscany), Cagliari (Sardinia) and Verona (Veneto).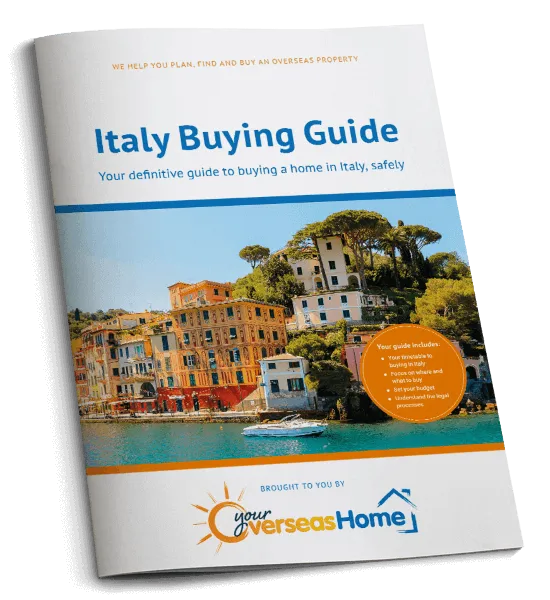 The process of buying property in Italy is significantly different from here in the UK. This is why we've created our completely free Italy Buying Guide, to provide those dreaming of a new life in Italy with all of the practical, legal, and financial information needed to help them realise that dream.
✔

  Ask the right questions
✔

  Avoid the legal pitfalls
Download your free guide to buying in Italy