A diplomatic incident was avoided this week when the (great) Danes allowed an Italian chef to take his Argentinian mastiff, named Iceberg, back to Italy after more than a third of a million Italians pleaded for his life. Confused? Thankfully the rules about taking your dog to Italy are a little simpler to follow, reports our dog-friendly writer in Italy, Julia.
How easy is it to take your dog (cane, pronounced can-ee) to Italy? For one Italian man in the news this week the answer was a matter of life or death. An Italian chef, Giuseppe, had taken his faithful companion, an Argentinian mastiff called Iceberg, to Denmark. Iceberg had cleared customs, but Giuseppe was unaware that the breed was banned in Denmark. When Iceberg got into a scrap with another dog, the police took his beloved pet and were going to have it put down. Pet-loving Italians were horrified and over 377,000 people put their name to a petition. There were protests outside the Danish embassy in Rome and the president of the Italian Entity for the Protection of Animals (Enpa), bombarded the Danes with emails. Eventually it was agreed that Iceberg wasn't a danger and could come home to Italy.
Most Italian regions have designated beaches where you can take dogs.
Italians love their dogs. You will see them out with their little friends in the towns and at the beach, but in rural areas dog owners have gained a bad reputation for using them purely as guard dogs and abandoning dogs to fend for themselves while they go on holiday. In the towns, you will find a lot of people who treat their dogs as part of the family. Yes, you will see some strays, but they tend to look well fed and are considered part of the community. Volunteers at local rescue centres generally prefer to take food out to the strays rather than put them in a kennel. The very fortunate ones happen upon a house where the owners are willing to give them a new home.
Italy is a great place to bring your pets. Dogs especially love countryside holidays with lots of trees, walks, trips to the beach, and quality time spent with their family. Many hotels, B&Bs and holiday rentals welcome dogs. For example, In Trentino alone there are 1,600 hotels that welcome our four-legged friends and the area is great for walking. You can even hire bikes with a trolley for pets. Many people like to rent a house in the countryside where they can take the whole family, including their dog. On holidaylettings.com there are over 11,000 holiday rental properties in Italy that allow pets. Of course, having your own holiday home in Italy is even better!
Many regional tourist boards are encouraging people to bring their pets on holiday and print brochures listing dog-friendly accommodation, such as this one produced for visitors to the Puglia region.
Most Italian regions have designated beaches where you can take dogs during the summer. The best time to go to other beaches is out of the peak summer season when you can relax knowing that your dog can enjoy having a good run and swim without the risk of shaking water over other beach goers, grabbing their beach balls and digging up sand all over them. The most famous dog beach is Bau Beach near Rome, which is aimed specifically at giving dogs a happy holiday. This dog beach has been so popular other "Bau Beaches" are popping up around Italy, even on Lake Garda.
Often cafes allow well behaved dogs, and in some places, you will even find special doggy gelatos. Most are happy to provide a bowl of water and welcome them the same as they do children. In the summer heat, rather than leaving a dog shut in the house, many people take them everywhere with them. The ideal is to have a safe enclosed outdoor area, like a shaded courtyard and dogs love balconies where they can keep an eye on everyone.
You should speak to your vet about any other vaccinations your dog may need
Bringing your dog to Italy
Probably the cheapest and most popular way to bring your dog from Britain to Europe is to drive in your own car using the Eurotunnel. There's even a dog rest & play area at Eurotunnel in the UK so you can all stretch your legs before the journey. This option means you can keep the dog with you, stop when you like and make a holiday of the journey down. There are plenty of places to stay on route although you should check if they have a maximum dog size limit in rooms. Bringfido.com is a good source of information too.
Alternatively, you can also take dogs on the cross-channel ferries and on flights with certain airlines. British Airways will take pets, but low cost airlines such as Ryanair and easyJet don't. Flights can work out quite expensive as the dog will be carried in a box in the cargo hold, so the size and weight of the dog will contribute to the price calculation. Check with the airline which airports they offer the service to.
Entering the country
Thanks to the Pet Travel Scheme bringing your dog to Italy is very straightforward. Your little friend can flash his passport the same as you. You can bring up to five pets and as long as they meet the following requirements there won't be any quarantine.
1. The dog must have an ISO compliant microchip. The location of the chip should be written in the passport. Make sure it can be read easily.
2. Proof of a current rabies vaccination that was administered after the microchip was implanted. You must wait 21 days after the vaccination before travelling. Check the pet passport to find out when the booster vaccination is due.
3. A pet passport must be obtained from your vet and must be kept up to date with the different treatments your dog has had. The passport will list your pet's vaccination records with full details of the product used, dates and the vet's signature. It should also include the microchip number.
If you plan on returning to the UK with your dog, a vet in Italy must treat your dog for tapeworm. The treatment must have been given no less than 24 hours and no more than five days before you enter the UK. Your dog can be refused entry to the UK or put into quarantine if you don't follow this rule.
You should also speak to your vet about any other vaccinations your dog may need. Particularly ask about vaccinations against Leishmaniasis (also called Mediterranean or sandfly disease.) If you are bringing your dog to live in Italy, also get advice from a local vet (veterinario) as soon as you arrive. I have found them to be less expensive than the UK and when they prescribe medication you just take the prescription to the pharmacy. Which gives you the chance to look it up on the internet before you buy it.
If you have authorised someone else to travel with your pet they must carry a written declaration from yourself. Your pet must arrive in the UK no more than five days before or after you, or different rules may apply. There are companies in the UK that specialise in transporting pets abroad that have fully air-conditioned vehicles designed for the purpose. One of these is Pets2go2 or if you want your dog to fly using an agent there is Jets4pets.
Whichever way your dog travels I'm sure when he arrives in Italy and sees all those trees his tail is sure to start wagging with excitement.
You can see the official UK Government guidelines on their website.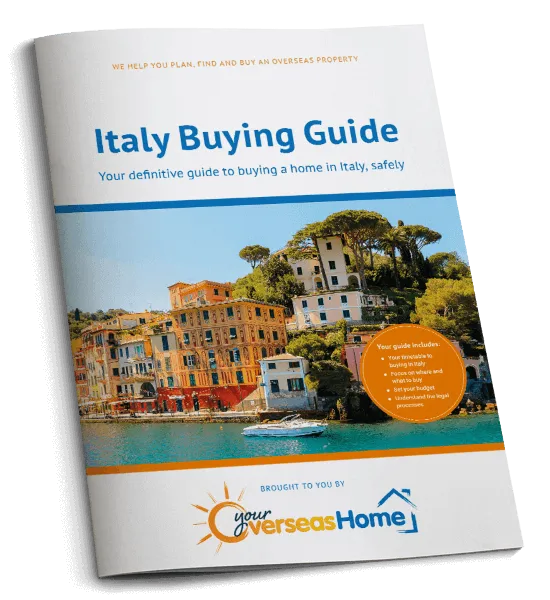 The process of buying property in Italy is significantly different from here in the UK. This is why we've created our completely free Italy Buying Guide, to provide those dreaming of a new life in Italy with all of the practical, legal, and financial information needed to help them realise that dream.
✔

  Ask the right questions
✔

  Avoid the legal pitfalls
Download your free guide to buying in Italy