You will probably enjoy a stroll to the local newspaper kiosk, followed by a cappuccino and a cornetto while you read the paper. But which Italian newspaper will reflect your own world view?
Even though many people now watch the news on TV or on the internet, it is still a pleasant pastime to take a walk to the newsagents (L'Edicola). Like many small businesses in Italy they are often family run and you quickly get to know the owners during your regular chats. Sometimes they are located in small shop units, but more often, they are found in kiosks in the street. Newspapers (giornali) usually have their front pages displayed on a rack, so you will see old men just reading them, without buying the paper. The rest of the kiosk is awash in colourful publications encompassing sport, house design, cars, TV guides, children's comics, plastic toys, women's magazines and periodicals that allow you to build everything from a ship to a dolls house, bit by bit, month by month, which fits in well with the pace of life here. I'm surprised they haven't come up with a monthly kit for renovating your house yet. However, the house magazines were a good source of inspiration during our renovation work. Other things you may be able to buy at the kiosk are pay-as-you-go phone cards, collectable stickers, postcards, DVDs, lottery scratch cards and even bus tickets.
The house magazines were a good source of inspiration during our renovation work
Which will you be reading?
As in the UK, deciding which newspaper to read in Italy is a powerful statement of who you are – your values, opinions and interests. The main national daily newspapers are the Milan-based Corriere della Sera and Rome's La Repubblica. But there are many more to choose from. It depends which region you live in, as sometimes the national papers also have extra local editions in select towns, and there are also smaller regional newspapers across the country. They are all generally pretty serious in tone, and although they can get very expressive with their writing, you won't find any tabloids in Italy.
Whatever political leaning the top Italian newspapers have, they are all keeping a close eye on the situation in Britain. On Sunday 30th April all carried basically the same headline, "Brexit, May rejects the EU guidelines". It is always interesting to see how British news is viewed by other countries and the different view of the same story; the Sunday Times went with "May is living in another galaxy, says Brussels"!
Top 5 national daily newspapers:
Corriere della Sera
Based in Milan, the Corriere della Sera is Italy's best-selling newspaper, with an average daily circulation of over 300,000 through the paper and digital formats. The Corriere della Sera has regional issues in Brescia, Bergamo, Veneto, Trentino, Tyrol, Bologna, Tuscany, Campania and Puglia. As well as sections covering culture and science there are also weekly inserts covering subjects such as economics and style. Their website also has a section in English. Founded in 1876, the Corriere della Sera's slogan is "Freedom of Ideas" (La libertà delle idee)
La Repubblica
Italy's leading centre-left newspaper, La Repubblica, is based in Rome but has a wide spread, with a national edition and nine local editions spanning the country from north to south. You can find all of them on their website covering everything from art and culture to sport and politics, and a "Casa&Design" section which should be of interest to property buyers.
La Stampa
La Stampa (meaning "The Press" in English) is published in Turin. It is distributed in Italy and other European nations. It is one of the oldest newspapers in Italy and is owned by Fiat S.p.a. Their website even has a section in English which can be accessed by clicking the Union Jack flag on the top right of their homepage.
Il Sole 24 Ore, is one of the best-selling finance and business newspapers in Europe
Il Sole 24 Ore
Even though the first part of its name "Il Sole" translates to "The Sun" it is nothing like the English tabloid. Based in Milan "Il Sole 24 Ore" is one of the best-selling finance and business newspapers in Europe. The newspaper reports on business, politics, developments in commercial and labour law and corporate news. Share and financial product listings are provided in its daily supplement, "Finanza e Mercati". It also has weekly supplements which include: art, literature, philosophy, theatre, cinema and book reviews on a Sunday. Family savings, market analysis, real estate market news and other private investment topics are on a Saturday and science and technology on a Thursday.
The newspaper is integrated with a radio channel and has an online news section in English.
Il Messaggero
Il Messaggero gives extensive coverage to affairs in Rome and central Italy, making it very popular in the capital city. In addition to its national edition the paper has 12 local editions, including the regions of Lazio, Umbria, Marche, Abruzzo and Tuscany. The company also owns Corriere Adriatico and Il Mattino.
Sports news
If you only tend to buy a newspaper to check out the sports results, take a look at the La gazzetta della sport and the Corriere dello Sport for all the sports news, fixtures and results.
Local newspapers
There are many local newspapers that reflect Italy's strong regional character and traditions. They are a great way to find out what is going on in your area, including interesting cultural events. Il Gazzettino for example, is a popular newspaper in north-east Italy with local editions in towns such as Venice, Treviso and Padua. Other regional papers with a high circulation include Il Secolo XIX in Liguria and Il Tirreno in Tuscany.
Italian News Agency
The Agenzia Nazionale Stampa Associata (ANSA) is one of the leading news agencies in the world. The ANSA is a cooperative of 36 members of the main Italian newspapers, including those listed above. The agency is designed to collect and distribute, fair and objective information on Italian and world news. To this end, the ANSA has 22 offices in Italy and 81 offices in 78 other countries. You can find concise and up to the minute reporting on their website. There is also an English Edition.
Reading the news will help improve your Italian and may help to break the ice with the locals, as they are often keen to share their views
Where to read your Italian newspaper
Once you have chosen your newspaper, the best place to enjoy reading it, is at your local café. Rather than rushing customers to finish their drinks and go, you will find that Italian cafes encourage you to stay as long as you like, with no pressure to keep buying drinks. Often, they even have newspapers provided for customers. You can enjoy reading your newspaper in pleasant surroundings with a good cup of coffee. Reading the news will help improve your Italian and may help to break the ice with the locals, as they are often keen to share their views on news and sport.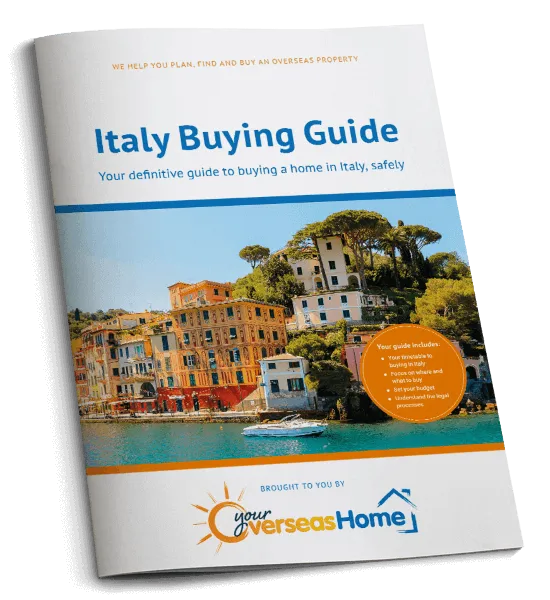 The process of buying property in Italy is significantly different from here in the UK. This is why we've created our completely free Italy Buying Guide, to provide those dreaming of a new life in Italy with all of the practical, legal, and financial information needed to help them realise that dream.
✔

  Ask the right questions
✔

  Avoid the legal pitfalls
Download your free guide to buying in Italy