Due to Brexit, the European Medicine Agency (EMA) is leaving London. Yesterday Milan held its breath as a secret ballot decided if the city would be chosen as its new home.
One Italian newspaper likened the ballot to the Eurovision song contest, the Palio di Siena and a Papal conclave, all rolled into one. Anything could happen. Nineteen European cities had initially put their names forward for the secret ballot. After the first round, it was down to just Milan (25 points), Copenhagen (20) and Amsterdam (20). After the second round it was Milan (12) and Amsterdam (9). Tension grew as the third and final ballot result was released. It was a draw, 13 each. So, after a simple draw of two envelopes… Amsterdam won.
The result is a big disappointment to Milan, which had expected 3,000 new jobs and an economic boost of €1.8billion. Milan had been the bookmakers' favourite, meeting all the criteria required: a building was already available, good accessibility to schools, healthcare, jobs and services for the family of employees, and a great location with over 250 flights per week connecting Milan and London.
Still, this city of over 1.3million people has a lot to offer. Here are seven reasons why Milan is a great city in which to live and work.
Favourable cost of living
According to survey website numbeo.com, Milan has a lower cost of living compared to London. If you make the move to Milan you will notice that public transport costs are comparatively low and you have the choice of using trains, trams, buses and the metro (Underground) for getting about. Insurance on having your own car may be high, but the city has excellent bicycle and car share schemes, which also help cut pollution. Whether renting or buying a property the costs are generally cheaper than London, as are the utility bills. Food shopping prices vary depending on where you shop and if you are buying local produce or imported. By eating like an Italian you'll find fresh Italian produce at good prices and some excellent wines.
Engineering companies employ thousands of people and there are 12,000 companies in Milan involved in the fashion industry.
Good for business
Italy is the second largest manufacturer of medical products, after Germany. One of the biggest European financial markets, Borsa Italiana is in Milan, employing over 10,000 experts. Plus, there are many Italian and foreign banks with branches in the city along with ICT multinationals. Engineering companies employ thousands of people in the industrial districts and there are 12,000 companies in Milan involved in the fashion industry. Fashion and design are a big part of life in Milan, as is green energy, with almost a third of Italy's hydroelectric energy produced in the area. The city's location and excellent transport links make it a great base for any business.
Great Location
High speed rail connections, flights and motorways keep the city well connected with other countries, as well as other major Italian cities. When you live in Milan you are only 45 minutes from Lake Como, Lake Garda and Lake Maggiore. Visiting the beautiful coastline of Liguria or going skiing in the Alps are also possible. The city of Milan itself is a wonderful place to spend time shopping, sightseeing and visiting museums and parks. You can discover things to do during your free time in Milan at turismo.milan.it.
Superb food
Milan is the perfect location to try excellent Italian cuisine at one of over 17,000 restaurants, 17 of which are Michelin-starred. Italians demand quality local food and eating well is a big part of their day. The Milan area also ranks highly in the production of traditional food and drink products with quality certifications demonstrating their local origin.
Education in English
As well as hundreds of private and public schools teaching in Italian, there are eight international schools offering a full curriculum taught in English. There are also a number of international kindergartens for children of preschool age. Older students have the choice of 11 university-level institutions and seven art academies. Among the most well-known are Milan State University, the Milan Polytechnic, the Catholic University, Bocconi University and the Brera Academy. Nearly 100 university degree courses are taught in English.
Good Healthcare
Milan has a network of 30 public and private hospitals offering state-of-the-art healthcare. Twelve of the hospital even have emergency rooms offering dedicated assistance for foreign patients. There are also medical centres dedicated to the large expat community living in the city, such as the American International Medical Centre and the International Health Centre. In order to keep fit and healthy there are plenty of health clubs and beauty centres where you can unwind.
Housing
Milan offers a wide choice of housing at competitive prices, both in the historical centre and in other central locations such as CityLife, Porta Nuova, Garibaldi and Darsena, which have parts that are both commercial and residential.
Two-bedroom apartments can be rented for €2,000-€2,500 a month in these central areas, while less expensive accommodation can be found in the suburbs, that are well connected by public transport. There are also spacious apartments for sale at prices that compare well with London rates.
To see what your typical day could be like if you lived and worked in Milan, see this video from the Comune di Milano.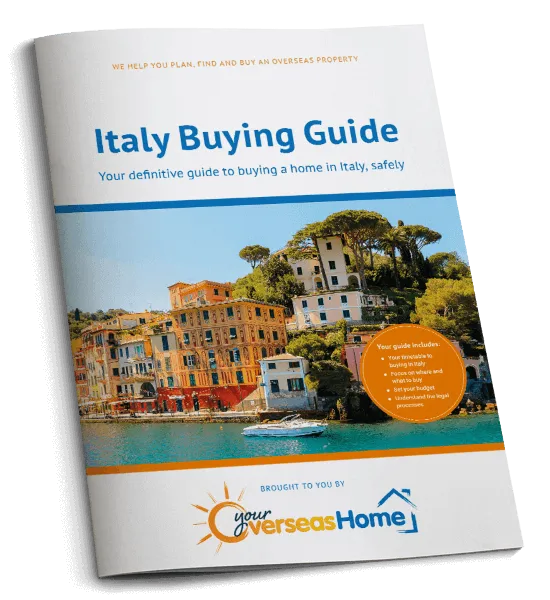 The process of buying property in Italy is significantly different from here in the UK. This is why we've created our completely free Italy Buying Guide, to provide those dreaming of a new life in Italy with all of the practical, legal, and financial information needed to help them realise that dream.
✔

  Ask the right questions
✔

  Avoid the legal pitfalls
Download your free guide to buying in Italy