With Italy's reputation for style, history, art, culture and cuisine, many people assume property prices will be out of their reach. But there are many parts of Italy that are very affordable.
Down through the south-central regions and across the south you can find properties massively cheaper than around the elegant cities of the north. Regions such as Abruzzo, Basilicata, Calabria, Campania and Molise may not be as fashionable as better-known areas such as Tuscany and Umbria, but they do have beautiful scenery and a strong sense of community, with all the traditions and great food that come with it.
No one can tell you what the perfect place is for you, it is just a feeling you get when you find it.
As you explore these regions you will discover a more authentic and rustic Italy where the landscape and people have a natural beauty. It's like travelling back in time to an era when people helped their neighbours, family and friends come before work and everyone gathered around the table to enjoy good company, great wine and fresh local produce. Fortunately, property prices also haven't caught up with the more popular regions either. In the seaside resorts of Calabria for example you can find holiday apartments for as little as €30,000. While in Basilicata you can find countryside houses with views of hills and mountains for well under €100,000.
If you love hilltop villages and farmhouses with views of rolling hills and mountains, then Abruzzo is the place to go for very low-cost properties. There are village houses for sale in Abruzzo for under €20,000. You should, however, be aware of possible reasons why a property is so cheap. Often it is because the property is in need of major restoration, and you should check whether it has been affected by any seismic activity. Sometimes it is purely that the property is some distance from a large town offering work. In general, the further you go inland from the coast and the further you get from major towns and airports the cheaper the properties become. So, hire a car and go and explore. No one can tell you what the perfect place is for you, it is just a feeling you get when you find it.
If easy transport links from the UK are important to you, then you should first find the airport in your preferred region and work from there. In Abruzzo for example, you are likely to fly into Pescara, so you might begin your house search in the province of Chieti. In many regions the land nearest the coast tends to be quite flat, and by just moving 30 minutes inland you can find hillside villages with beautiful views at lower prices. A little known region neighbouring Abruzzo is Molise which also has very cheap properties. A two-bedroom village house can cost under €30,000, and €100,000 can buy you a four-bedroom country house 15 kilometres from the sea. It is a region that's just waiting to be discovered, with plenty of archaeological sites, abbeys, small towns and countless castles to explore, as well as mountains and seaside resorts.
Wherever you wish to live in Italy, knowing how to negotiate for your property should get you a little more house for your money! Download our Negotiation Guide.
Sun worshippers who want a small place in the countryside among olive trees and vineyards, within easy drive of the sea and airports, should look at Puglia, where you can find trulli, lamia and villas needing renovation for under €80,000. If you'd like a village house on an island with plenty of history and sunshine try inland Sicily. The northern coast has many pleasant little hilltop villages and towns, like Termini Imerese, that are within driving distance of more popular beach resorts, such Cefalù, with its winding medieval streets and charming piazzas. The long southern coast has areas that are less touristy and has even lower priced properties, with expats veering towards the provinces of Siracusa and Ragusa, particularly Noto and Ortygia.
Although in general the northern regions tend to have the priciest properties, and the further south you go the lower the prices become, there are many exceptions. In the beautiful countryside of the Veneto region or southern Piedmont, there are some great value properties. Even Tuscany and Umbria have their cheaper areas in the far north and south of the regions.
When viewing low-priced properties always be aware of your maximum budget and take into account taxes and fees for agents, notaries and lawyers. If the property is in need of renovation, get written quotes for the work needed and the cost of drawing up plans and applying for planning permission, before agreeing to buy.
I would recommend buying a property that is the size you want from the start, avoiding the cost and time involved in applying to extend. Many cheap properties don't have the basics you take for granted back in the UK. Often there is no electric, gas, water, heating, phone line, internet, rubbish collection or postal deliveries, especially in remote areas. When you renovate a property in Italy, like we did, you really celebrate the day when you can switch a light on or when water comes out of the tap, and you learn to really appreciate everything you have. You also have the satisfaction of creating a home just the way you want it.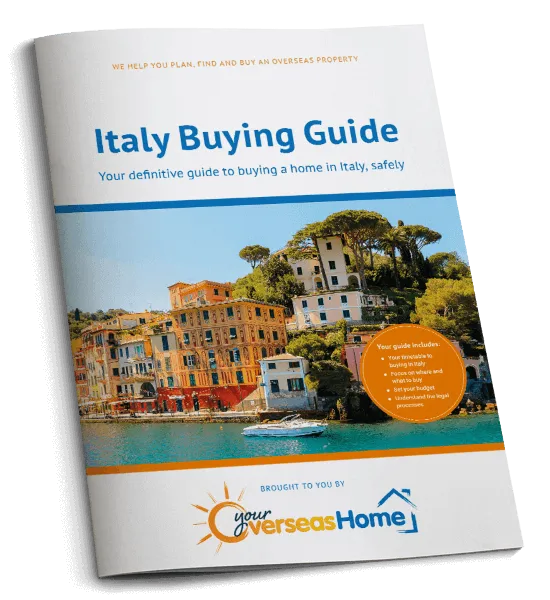 The process of buying property in Italy is significantly different from here in the UK. This is why we've created our completely free Italy Buying Guide, to provide those dreaming of a new life in Italy with all of the practical, legal, and financial information needed to help them realise that dream.
✔

  Ask the right questions
✔

  Avoid the legal pitfalls
Download your free guide to buying in Italy