Earth Day is celebrated on the 22nd of April by over one billion people in nearly 200 countries around the globe, including Italy. And, you don't have to be a Superhero to help save the planet.
Earth Day is a reminder to each of us that the Earth provides us with life and sustenance. Once you have found your beautiful little piece of land in Italy, with those lovely old olive trees and vines, you will suddenly realise that you now have the responsibility and privilege to protect and care for not only your plot, but also the planet and all the life it supports.
There is a good reason why for centuries the Italians have built their homes using the local stone, rather than transporting wood from another country
How Earth Day began
Earth Day was the brainchild of a United States Senator, who organised the first celebration in 1970, attracting more than 20 million participants. In 2009, the United Nations designated April 22nd as International Mother Earth Day. Various events each year help to promote harmony with nature and the Earth to achieve a balance between the economic, social and environmental needs of present and future generations of humanity.
Earth Day events in Italy
Earth Day Italia is the main Italian partner of the Earth Day Network and one of the most active internationally. Every day, they work to promote the formation of a new environmental consciousness, through a dialogue between partner organisations and everyone interested in the preservation of the planet. When you live in Italy you will be able to attend one of the many Earth Day events across the country, such as the Villaggio per la Terra (Earth Village) in the beautiful park of Villa Borghese in Rome. Starting on the 21st of April, the event involves five days of sports, exhibitions, conferences, workshops, games, good food and children's activities, that aim to raise awareness in a fun way. On Saturday 22nd there is even a big concert on the Pincio Terrace, one of the most popular places to get a panoramic view of the capital city.
In towns across Italy, from Sicily to Piedmont, there are all kinds of earth day events including running races, children's workshops, recycling campaigns and beach clean ups. See the Map of all the Italian events here.
Geoparks
UNESCO also encourages combining conservation with sustainable development while involving local communities. They have designated 119 UNESCO Geoparks across 33 countries that have landscapes of special geological significance, which are now managed and protected while inviting visitors and the local community to enjoy and preserve them. Ten of these Geoparks are in Italy. Detailed information about each area can be found on their website.
It is perfectly possible to make that draughty old stone building eco-friendly
How can I be eco-friendly in my Italian home?
When you own a property in Italy there is a lot you can do to make your home eco-friendly. Solar panels are great for heating water, and wind turbines or photovoltaic panels can be viable if you plan to living at the same property well into the future. In recent years, local councils have also been using large wind turbines and photovoltaic farms to serve their community's needs. They also encourage the use of bicycles and electric cars, especially in the large cities, where rubbish is collected separately and recycled as much as possible.
Being environmentally aware doesn't have to cost you much and can actually save you money. Reusing bags and containers, taking your bike rather than the car, restoring old furniture, using energy saving lightbulbs and recycling can all help.
Whether building a new extension or renovating an old property, CO2 emissions and insulation should be considered, and it is perfectly possible to make that draughty old stone building eco-friendly. Try to salvage materials you already have in the building, rather than sending them to the land fill. Old wooden beams and stone can often make lovely features. If you have a lovely old roman tiled roof that's damaged, reuse the complete ones and just use new tiles underneath. Use local tradespeople and locally-sourced building materials whenever possible. There is a good reason why for centuries the Italians have built their homes using the local stone, rather than transporting wood from another country. Often, old buildings require new doors and windows. You only want to buy them once so make sure they are well made with double glazing.
When you are shopping around for new appliances such as refrigerators, air-conditioners, dishwashers and ovens look for those that are the most energy efficient. If you are going to rent out your home to tourists, be prepared for the fact that not every guest will be considerate about saving energy, and may leave on lights and air-conditioning units. It's worth installing a metre and charging extra for over-usage to discourage this behaviour.
If you are fortunate, your Italian home will come with land and trees, with wild flowers and butterflies in the spring and birds and other wildlife with the changing seasons. Their habitat needs to be protected too and every new tree you plant helps to fight climate change. When you have trees to take care of and vegetables and herbs growing in the garden, you develop a greater appreciation for what the earth gives us. All it asks from us in return is to not destroy it.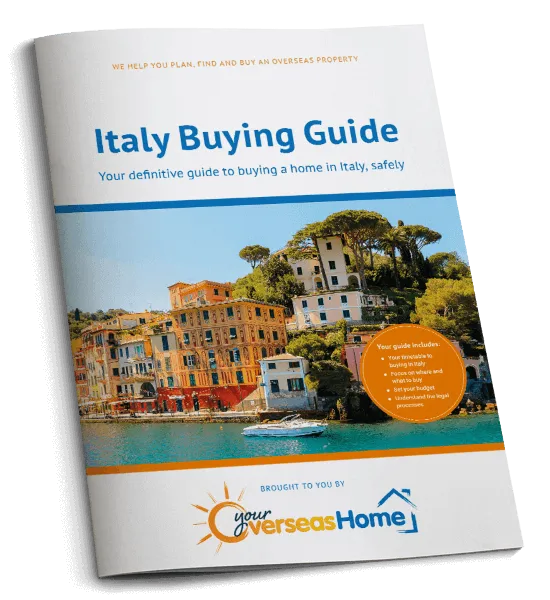 The process of buying property in Italy is significantly different from here in the UK. This is why we've created our completely free Italy Buying Guide, to provide those dreaming of a new life in Italy with all of the practical, legal, and financial information needed to help them realise that dream.
✔

  Ask the right questions
✔

  Avoid the legal pitfalls
Download your free guide to buying in Italy