Hello from Italy, where a healthy tourism industry has boosted the rental market and Cristiano Ronaldo's World Cup exit has given him time to do a spot of house-hunting in Turin.
Tourist rental spending increases
Anyone considering entering the rental market in Italy will be encouraged by the latest figures from the Bank of Italy. According to the central bank, tourists spent €39.2 billion on holidays to Italy in 2017, €7 billion of which went towards renting accommodation. The data reveals that last year tourist spending increased by 7.7% compared to 2016, with two out of ten visitors renting accommodation in Italy.
It appears 2017 was another productive year for the Italian tourism industry, with the United Nations World Tourism Organisation already ranking it fifth in terms of income and visitors received.
Tourists spent €39.2 billion on holidays to Italy in 2017, €7 billion of which went towards renting accommodation
Property price growth on the Italian Riviera
On the whole property price growth has remained flat across Italy. In parts of the Italian Riviera, however, prices have increased by as much as 5% a year since 2016, according to local estate agents. A prime example is the sophisticated fishing village Portofino, with its pastel cottages perched on the rocks. Average asking prices in this chic borgo southeast of Genoa were 11% higher in April compared to 12 months earlier. Estate agents believe the rise in demand for waterfront properties in towns like Portofino has been driven by the growth of the short-term rental market.
Italian government makes electric car pledge
The Italian government has announced plans to address the country's reputation for having Europe's most sluggish electric car market. Under the ambitious proposals, one million battery-powered vehicles will be introduced to Italian roads by 2022, at a cost of around €10 billion in incentives. The scheme has its critics, however, who believe it will be impossible to achieve the target with the proposed level of incentives. If they are proved wrong, Italy will become Europe's leading electric car nation.
easyJet launches new service to Ancona
Low-cost airline easyJet launched a new flight route from London Gatwick to Ancona at the end of June. The service will transport passengers to the picture-perfect port city on Italy's Adriatic coast twice a week throughout the peak holiday season. The summer schedule will run until 1 September.
Cristiano Ronaldo eyes Zinedine Zidane's former home in Turin
With Cristiano Ronaldo on the brink of signing for Italian giants Juventus, reports claim he has already started house-hunting in Turin. It's believed the Real Madrid marksman is even eyeing up his current boss, Zinedine Zidane's, former home – a 200 room mountain mansion with an indoor swimming pool.
Why not split the cost and double the fun of holiday home-ownership in Italy by buying with family members? Read our new guide, Buying Abroad with Family.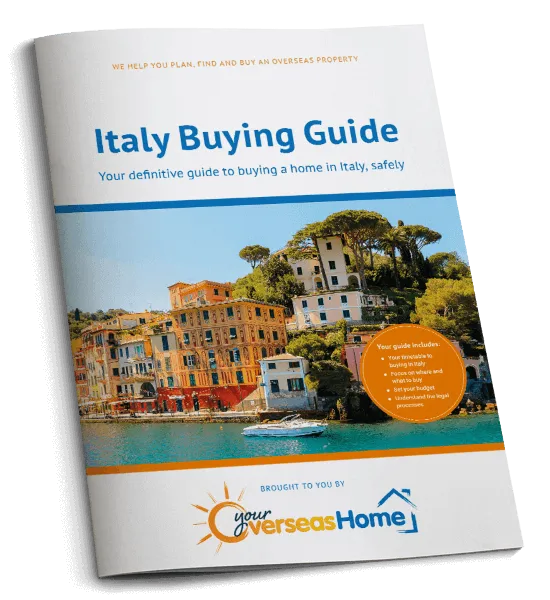 The process of buying property in Italy is significantly different from here in the UK. This is why we've created our completely free Italy Buying Guide, to provide those dreaming of a new life in Italy with all of the practical, legal, and financial information needed to help them realise that dream.
✔

  Ask the right questions
✔

  Avoid the legal pitfalls
Download your free guide to buying in Italy