Imagine building your perfect home from scratch, exactly how you want, from the living space layout, to the number of bedrooms and any extras (Home gym? Art studio? Workshop?). That's exactly what many do, and they all say how rewarding it is. Before you can build, though, you need to find a plot. So how do you find building land in Italy?
What counts as land to build on in Italy?
There is a lot of land in Italy, but to be able to build on this land, it must be considered a potential building area by the local council offices, (Comune) on their general plan (plotopiano regolatore generale). The purchasing of building land (terreno edificabile) is therefore governed by rules laid down by the planning office of the Comune. They regulate where and what can be built, its size and how it's built. Even a swimming pool will need permission, so be clear from the beginning exactly what you want the finished home to look like and be sure the local Comune have the same vision. Some are stricter than others, but in general the rules and limitations are there to ensure any new buildings complement its surroundings.
Where can I build?
In urban areas a building plot is commonly called a "lotti" in Italian. When searching online for building land in Italy, look for the words "terreno edificabile" not "terreno agricolo" which is agricultural land. In order to build on the plot, it must have a building permit (concessione dell'edificabilità). In some cases there may already be a ruin or small building there, but don't assume that it ever had planning permission or was registered as habitable. One of the best pieces of advice I've heard from people who have bought land to build on in Italy is "assume nothing and budget above how much you'd expect to cover anything that crops up".
How big a property can I build?
In most rural areas there will be a ratio, fixed by the provincial government, which establishes how many square metres of land you need in a given area per cubic metres of house you want to build. On the land registry you may find that the land is made up of several smaller plots, some of which are classed as agricultural and some residential, limiting the area you can build on.
If you're considering buying land in Italy, don't miss out on your free tickets to Your Overseas Home, the property show designed especially for serious buyers to connect with estate agents, 
If there is already an existing "rustico" on the land, you will have to include the area already in existence in that calculation, and will therefore only be able to add what ratio remains available. Some areas only allow houses up to a certain size and height, regardless of the amount of land. A geometra will refer to the land constructability index (Indice di fabbricabilità fondiaria – IFF) to calculate what size property may be allowed on the size plot for sale. Density limits may also apply, such as height limits and proximity to other houses.
Seek advice
Before buying the plot seek the advice of a geometra or architect. Choose your geometra carefully, by getting recommendations from other expats and locals who have actually used his/her services. You want one with good connections at the local planning office and is up to date on building regulations. The geometra will make a visit to the local town hall (comune) and Land Registry office (catasto) to inspect all the paperwork. You will also want them to ask about any other plans in the vicinity. You don't want to discover later that a new road, rubbish tip, or noisy disco are planned nearby. A geometra is part surveyor and so will know of any structural problems suffered by other buildings in the area and can instruct you on how to avoid them. For example, there may be seismic activity or land erosion.
Some land to build on in Italy is offered for sale with planning permission already in place. However, if you need to put in for planning permission, this can be quite costly and time consuming, and should be taken into account when calculating your overall budget for the project. For a major house build, you will need an architect, whereas plans for smaller extensions can be done by a geometra. Any property built without permission is considered illegal and the owner may be subject to heavy fines and be forced to knock it down.
Great location
Sometimes you can fall in love with an area but just can't find the house that you want. To really get the home of your dreams in your perfect location, you just might have to either build it from scratch, or build a major extension to a smaller property. I can see it now, that "house on the hill overlooking vineyards", or that villa with the "panoramic sea views".  It can be easy to fall in love with the view from a piece of land and rush into saying "I'll take it!", especially when you are accompanied by an enthusiastic estate agent. However, there is no rush! You are the one holding the money, and you should be 100% clear in your mind, how much the whole project will cost, how long it will take and if planning permission for what you have in mind is even possible.
Sometimes you can fall in love with an area but just can't find the house that you want. To really get the home of your dreams in your perfect location, you just might have to either build it from scratch, or build a major extension to a smaller property.
Ask lots of questions. How accessible is the potential building site, considering wide, heavy, delivery lorries will need to reach it. How far is it to a builder's yard? Can you get a mobile signal or internet in this area? Most importantly, how reliable are the local builders and trades people? Take a look at what is happening on neighbouring plots, and check for noise pollution, by going back at different times of day. On these drive by visits also note the position of the sun. You may find that some hill side plots are in the shade for part of the day.
Is the ground suitable for building?
Italy has a very varied landscape from the low plains up to snow-capped mountains. The ground can vary greatly, and in some cases special measures may be needed to ensure the strength of the building. These can add to the cost of the build, so it's worth discussing them with your geometra or engineer at an early stage. You could even ask neighbouring property owners if they needed to install drainage systems or have experienced any ground related problems, such as subsidence.  Also, consider positioning of existing trees, particularly Italy's much-loved olive trees.
How will you be able to live in Italy Brexit – even if there's a no deal? Discover in our Guide to Italy After Brexit

.
Connection to utilities
One detail often overlooked by buyers is whether the building plot can easily be connected to utilities, such as gas, electricity, water and sewage. Find out what the usual waiting time is for electricity connection in that area and make it clear how many kilowatts you'll need. Many small countryside properties only have 3.5kw. For building works involving power tools, cement mixer etc. and even the finished modern home, will need about 6kw. It can take a year to get connected, so a generator may be needed.  For gas and water solutions in fairly remote areas you might consider storage tanks requiring deliveries or an artesian well. With a new-build property it is the perfect opportunity to introduce greener forms of energy.
How much?
In southern regions, such as Puglia, Molise, Sicily and Abruzzo, it's possible to find a building plot for as little as €55,000, and building costs are generally cheaper than in the north
The value of a piece of building land can be calculated by an engineer (ingegnere) or a geometra. The location, healthiness, noise levels and views can all effect the price, but also the construction methods required for the terrain. They will also refer to an index set by the General Town Plan of the municipality. In southern regions, such as Puglia, Molise, Sicily and Abruzzo, it's possible to find a building plot for as little as €55,000, and building costs are generally cheaper than in the north. There are also plots with small properties on that could be extended, which may work out more economical. However, if a total demolition is needed before building, do consider the time and expense involved in trucking away all that rubble. To get the best idea of building land prices I'd suggest browsing through the Italy Property Guides portal. And, to get the best possible price for your plot, read your free Negotiation Guide, below.
When it comes to the building stage you should be aware now that this is Italy, there will be no "extreme house makeover" done in a week for free. You need to be prepared for the long wait and the unexpected expenses along the way. But, even expats who recount their experiences on internet forums tend to agree, it is all worth it in the end, when you have your dream home in Italy, exactly how you envisioned it!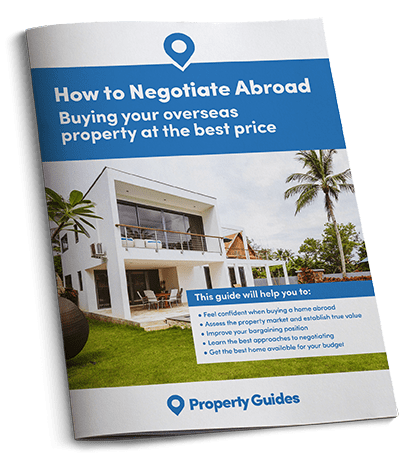 How to negotiate abroad is the guide to put you back in control:
✔

  Feel confident when buying a home abroad
✔

  Assess the local property market
✔

  Improve your bargaining position
✔

  Learn the best negotiating tactics
Download your free Negotiation Guide