Italy's most beautiful beaches (spiaggie) aren't in big resorts. To discover these havens of natural beauty, lapped by a sparkling clear blue sea (mare), explore the coastline by car, on foot or even better, by boat. The good news is, these beaches haven't been overdeveloped like in some nearby countries we could mention!
Italians spend much of July and August at a beach resort. Many flock south to Puglia to enjoy the relaxed atmosphere, great food, stunning coastline and of course the sunshine. They tend to congregate at the popular resorts of Gallipoli, Otranto and Polignano a Mare, which also offer evening entertainment. Those who like big, busy beach resorts, with child-friendly attractions and nightlife, also head to the Adriatic Riviera of the Emilia Romagna region. Beach lovers flock to the islands of Elba, Sardinia and Sicily. Many Italians who live inland also own a small seaside home, while those who live in the south like to take summer holidays in the mountains to escape the heat.
You can still use these as a base to explore beaches and villages during the morning, then return home for lunch and a siesta in the afternoons.
A relaxing holiday home
If you want to buy a holiday home where you can totally relax away from the crowds, it is worth considering countryside properties slightly inland. You can still use these as a base to explore beaches and villages during the morning, then return home for lunch and a siesta in the afternoons. You will also get more house for your money in these quiet rural locations.
On the Puglian peninsula and the Italian islands you are never far from a beach. It's a joy to wander along the coast from the main seaside towns, but you can also take the easy way and look on Google Earth. Just follow the coastline along and you'll be amazed at what you will find, but they are much more beautiful in person. Often, seaside properties that come up for sale don't reach the internet, so look out for For Sale (In vendita) signs on the buildings and hunt out a local estate agent (agente immobiliare).
When to go
As Italians traditionally holiday from the middle of July to the end of August, the best time to visit Italian beaches is April, May, June and September. We went to Torre Colimena, below Manduria, Puglia in May and were the only ones there. The temperature was 27 that day, and it is one of the most beautiful beaches we have ever seen. A long stretch of golden sand, backed by sand dunes and behind that a path through a nature reserve, where we saw flamingos and other migratory birds.
The little summer houses in the village were totally deserted except for some painters preparing a house for the summer and three fishermen cleaning their catch. Little boats bobbed around in the tiny harbour awaiting their owners to arrive for the summer. In August the whole place will be buzzing with people and the fish restaurants will all be open. The next beach down the coast, Punto Prosciutto, was actually named by the Telegraph as one of the best in the world. There are many other beaches like these all around the Salento coast.

Italian beaches
Some people like an organised resort beach where you pay to hire sunbeds and umbrellas and there are bars, toilets and showers. Looking at the Top 25 European beaches in the Traveller's Choice Awards on Trip Advisor, however, the five Italian beaches on the list are those in more natural surroundings. They are a bit more challenging to get to and have a natural backdrop of rocks, sand dunes and vegetation, where you will need to bring your own umbrella and refreshments and can snorkel in the clear water.
In the heat of high summer, going to Italy to look for property can be hot and stressful. Suppose you could get all your questions answered, and see Italian homes, in the heart of Manchester?
As these places have already been discovered they undoubtedly will be busy this summer, but go out of season and venture further and you may find yourself on a deserted beach and feel like you are an adventurer discovering a new land. Let's look at the Top Five most beautiful beaches in Italy to get an idea what you could find. I am certain there are many more just as amazing, it's just the locals are keeping them secret. I recommend asking a local Italian where they go.
Spiaggia dei Conigli (Rabbit beach), Island of Lampedusa
The sand is fine and soft and the sea water is as clear as from a bottle. It's a fantastic place for snorkelling and getting a clear view of the fish, even when paddling. The beach looks towards the rocky little Rabbit Island.
It does take some effort to get to this beach though, as the island is 105 miles away from mainland Italy! Because it comes under the jurisdiction of the province of Agrigento on Sicily you can get a ferry to the island and there are also year-round flights from Palermo and Catania. Arriving at the beach by road you then have a 20-minute walk down to the beach, or you could travel there by boat.
Sicily's beaches
Also among the top five beaches in Italy is Cala Rossa on the Island of Favignana in the Aegadian Islands off of Sicily. If you buy a house on Sicily you will also have a large selection of other beaches to choose from, such as Marinello Beach near the town of Oliveri, and the scenic beach which links Taormina with the Isola Bella. Other beaches of note are Calamosche, Fontane Bianche (Siracusa), Sampieri, Riserva dello Zingaro and San Vito Lo Capo, but there are many more.
Near Castellammare del Golfo you can find a three-bedroom apartment within walking distance of a small cove for just €225,000 on Rightmove Overseas
To start your search for Italian coastal property, visit our Italian listings, with seaside homes from under €50,000.
Sardinia's Beaches
Three Sardinian beaches are among the five most beautiful in Italy. They are Cala Mariolu and Cala Goloritze in Baunei, and La Pelosa in Stintino, Sassari. To reach the eastern beaches in Baunei, you'll need to go by boat from the village of Cala Gonone up north, or Santa Maria Navarrese down south. When you arrive you will be rewarded by a view of a beach made of tiny white pebbles backed by high cliffs and a sea that is perfect for snorkelling or jumping into from the rocks.
La Pelosa Beach in Stintino, is part of the north-western province of Sassari. The shallow turquoise waters glisten above the fine white sand. This 300-metre-long beach can be reached by car and offers plenty of space to try canoeing and diving. To see more Sardinian beaches click here.
To get an idea of the properties available to buy on Sardinia visit Rightmove Overseas.
These are just a few examples of beautiful Italian beaches. Italy has thousands of kilometres of coastline to explore and all the coastal regions will have amazing sea views for you to admire and a blue sea that invites you to take a dip. One of them might just have your name on it! Visit the Italia official tourism website for more suggestions. Happy beach hunting!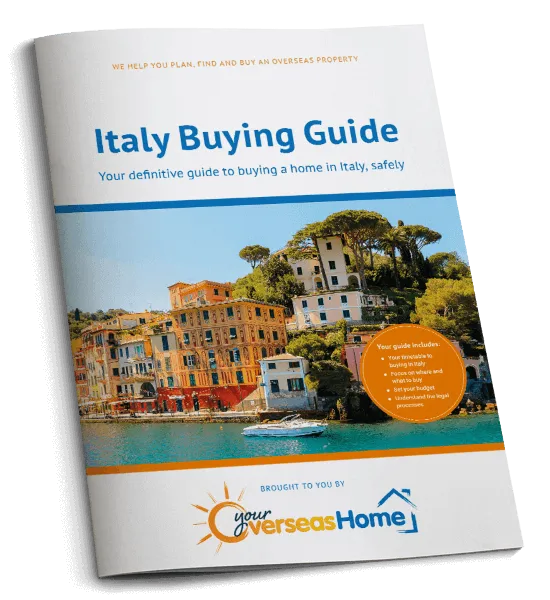 The process of buying property in Italy is significantly different from here in the UK. This is why we've created our completely free Italy Buying Guide, to provide those dreaming of a new life in Italy with all of the practical, legal, and financial information needed to help them realise that dream.
✔

  Ask the right questions
✔

  Avoid the legal pitfalls
Download your free guide to buying in Italy