Italy has been ranked as the healthiest place to live out of 163 countries, in a recent Global Health Index.
Each country was graded based on various criteria including life expectancy, causes of death, health risks, clean air, water etc. The final index was published by media company Bloomberg. Iceland, Switzerland, Singapore and Australia took the other top five places, with the UK down in 23rd place.
Italy is just what the doctor ordered.
The average age expectancy of Italians is 83 and many even reach 100. Experts who have studied these centenarians often find that a natural diet and active lifestyle contribute to their long and healthy lives as well as low stress levels and an optimistic outlook on life. When you come to live in Italy this healthy lifestyle will soon rub off on you. Much of the country is covered by mountains, forests, olive groves, vineyards and farmland, and is surrounded by fresh sea air.
Local produce is readily available at markets, family run stores and farm shops and most properties come with plenty of space to grow your own. The slower pace of life makes for a stress-free retirement and the good weather and rural surroundings make you want to go out and be active. Italians are very keen on sport and dancing, and every region offers plenty of opportunities to keep fit. All good news for your blood pressure, cholesterol levels and mental health. Italy is just what the doctor ordered.
Where to buy
If you want to live a long and healthy life most countryside, lakeside and coastal areas of Italy are a healthy choice. If you buy a property well within your financial means and in a rural area with a low cost of living, you may also be able to remove the stress and burden of high UK taxes and living costs. There are so many areas of Italy to choose from, so let's just concentrate on three regions that are well known for their centenarians.
Salerno province, Campagna
Below Naples and Pompeii, is the glorious Amalfi coast and the breath-taking scenery and countryside of the Salerno province. Further down the coast in the village of Acciaroli, there is a high number of centenarians and a very low rate of heart disease and Alzheimer's. Scientists, attempting to find out why 300 people of a population of just 2,000 have lived to 100, have discovered that the locals eat a healthy Mediterranean diet, high in fish, olive oil and rosemary. They believe this herb has a number of properties which could contribute towards their good health in old age. They also found that local people do a lot of hill walking.
Thanks to a volcanic past the Campagna region has fantastically fertile soil for growing all kinds of crops. The region produces some of the best pasta, tomatoes, mozzarella, pizza and ice cream in the whole of Italy. As far back as the Romans this area has been a popular place to retire to, largely due to its lovely coastline and fresh sea air.
The region contains some of the most expensive and cheapest homes in Italy. Even if you can't afford the Amalfi coast, you can still get a view of the sea from a property back from the coast further south. There are also great investment opportunities in the inland villages. The further you move inland the cheaper the houses become. Take a look on Rightmove Overseas to see what you can buy in Salerno for under €200,000. There are a number of country houses needing some work for around €100,000.
Airports: Naples International, Capodochino and Bari Palese.
Sardinia
Sardinia is a large island inhabited by over one and half million people and an amazing selection of wildlife. The island has an extraordinary number of centenarians living in the inland villages. Maybe it is the wine that is preserving their health, as it is very high in antioxidants, or the diet of whole grain flatbread, fava beans, green vegetables, garlic, tomatoes, fruit, olive oil and pecorino cheese. Like other centenarians they have kept themselves active in their old age, by doing a lot of walking. In such a beautiful place, who wouldn't want to go out for a walk? The island has a varied landscape of open plains and pine forests, sandy beaches and turquoise seas, olive groves and vineyards, enhanced by the scents of rosemary, myrtle, juniper and lavender.
There are laws to protect the island from over-development, which protects its charm and the value of property. The north of the island is most popular with foreign house buyers, especially 'Costa Smeralda' which is a favourite with the rich and famous. For more affordable properties look between the airport and the north coast and further round the west coast and to the south. Across the island, you can find property to suite every budget. It is still possible to buy a lovely detached villa for under €250,000.
Airports: Alghero and Olbia
Piedmont
The world's oldest living person, lives in Pallanza on Lake Maggiore. This amazing lady is Emma Morano, who at the grand old age of 117 is the last verified living person to have been born in the 1800s. Her home town is elegantly situated between the lakes and a National Park, with beautiful gardens to visit close by. By the lake you can find lovely apartments in converted period villas or head north to the mountains for ski chalets and apartments.
It is a wonderful region for those who enjoy the great outdoors and active sports, from skiing to hiking. If you just want to be a spectator there are some top teams to watch like Juventus and Torino in football, as well as volleyball, basketball, ice hockey and roller hockey.
It is a wonderful region for those who enjoy the great outdoors and active sports, from skiing to hiking.
Piedmont's small towns and villages have a healthy slow pace of life and offer superb restaurants. The "Slow Food" movement actually began in this region and the fertile lowlands produce cereals, maize, grapes, fruit and milk. Piedmont is also one of the great winegrowing regions and home to the Ferrero chocolate factory. Even the world's oldest person enjoys a little tipple and a chocolate once in a while, so why not treat yourself?
Southern Piedmont produces superb food and wine and holds regular festivals, which have begun to attract tourists and home buyers. The area is very Italian and property prices are considerably lower than other more touristy regions. On Rightmove Overseas you can still find large country houses for under €250,000. Many of the lowest priced properties are around Asti.
Airports: Turin and Milan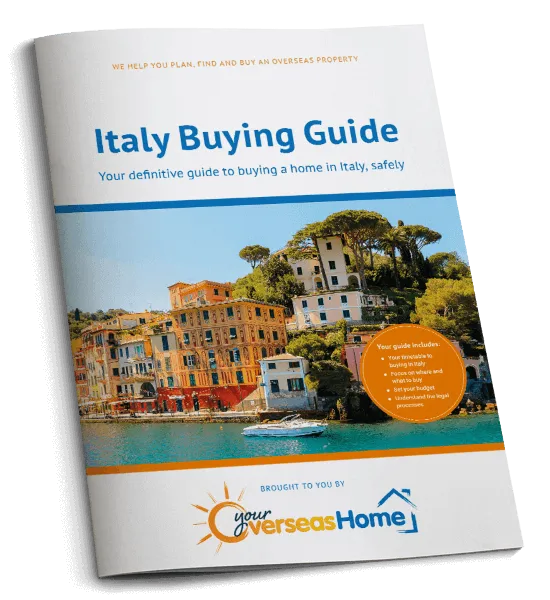 The process of buying property in Italy is significantly different from here in the UK. This is why we've created our completely free Italy Buying Guide, to provide those dreaming of a new life in Italy with all of the practical, legal, and financial information needed to help them realise that dream.
✔

  Ask the right questions
✔

  Avoid the legal pitfalls
Download your free guide to buying in Italy