When we bought a farm house in Italy our main concern was to get the house habitable, not to get chickens or ducks. But, Cosimo was keen to teach us about traditional Italian country life.
Cosimo was the previous owner of our run down masseria in Puglia. He grew up in the house and while his father looked after the sheep, grape vines and olive trees, his mother made cheese in the kitchen from the sheep's milk. The stone star vaulted ceilings had been given layers of paint over the years and still had nails and hooks in it where cherry tomatoes and herbs had been hung to dry. The oldest part of the house was built in around 1700, when people must have been shorter, because the doorways were all very low. During the renovation, we had to raise them and put in supporting lintels.
Farm life must have been very hard, and it was difficult to imagine that anyone had ever lived in these rundown buildings. When we bought the property it had no water, electric or plumbing, the wooden doors were rotting and walls and ceilings were covered in mould. Cosimo had moved to the town many years ago, only using the farm house to store his farming equipment and olive nets. In his parents' time rain water ran off the roofs and down into a cisterna under the cantina (cellar) from which his mother drew water via the well.
When we bought the property it had no water, electric or plumbing, the wooden doors were rotting and walls and ceilings were covered in mould.
Our first priority after he handed us the large old keys, was to apply for electricity to be connected, which took a year to arrive. We planned to get all the structural work, electrics and plumbing in place in the meantime so that our bedroom, bathroom and kitchen at least would be ready to move into as soon as we were connected to mains electric. Weather-wise, you can't get major work done until the heat of the summer has passed.
In September we were getting stuck in to the work on the house when Cosimo popped by. He informed us that the towns Festa was coming up and that it was traditional to eat a cockerel. He said he had a cousin who had loads and that he would get us one. Busy as we were, we just agreed and off he went. A few days later he turned up holding a cockerel upside down, by its feet. Alive! Well we couldn't bring ourselves to kill it, so we named him "Rocky" and put him in the old dog pen. But, that was just the start of the story. I thought he looked a bit lonely, so we decided to get him some hens. Just six. So off we went to a nearby poultry farm and bought six point-of-lay hens. They all settled in really well, and it was quite a distraction from our work watching them, and the way Rocky would march around like a Sergeant Major, rounding up his troops.
We then grew concerned that the pen wasn't really safe enough, should a stray dog or fox come by. So, work on our own home was delayed whilst a hen house and chicken pen was made. This is more work than it looks, when you have to dig the fencing into the ground, to stop foxes digging in and attaching a roof to stop them climbing over. We still let the chickens out during the day, but had to keep an eye on them, and call them into their house in the evening.
As he had made such a fine job of the chicken pen, I knew he could make a splendid duck house.
The hens soon began laying lovely fresh eggs in their new laying boxes and we quickly got used to eating eggs for breakfast every day. We thought maybe we should get another six, so off we went to the poultry farm again. This time we had a good look round and saw the hens, ducks and turkeys. While the young hens were kept in large rooms, I was horrified to see cute little ducklings in cages, stacked on top of each other.  So, I said "Let's get some ducklings", to which Marcus replied "But we don't have anything to keep them in". Well, as far as I could see anything would be better than the cages they were in, and as he had made such a fine job of the chicken pen, I knew he could make a splendid duck house. So, we came home with six hens and six fluffy yellow ducklings.
If we hadn't had so much work to do on the house, we could have sat and watched the ducklings all day. Even on a rainy morning, it really cheered us to see how much they enjoyed splashing about and flapping their wings in the puddles. Even though the cost of sacks of feed for the chickens and ducks cost us more than it would have been to buy eggs, they were still a joy to have around. On one trip to get feed at an agricultural supply shop, the owner had a whole room full of little fluffy yellow chicks. On buying the feed, he insisted on giving us a box of them for free. And so, our chicken numbers grew further and our labrador had more little fluffy friends to watch over. The kitten, puppies, turkeys and horses are another story.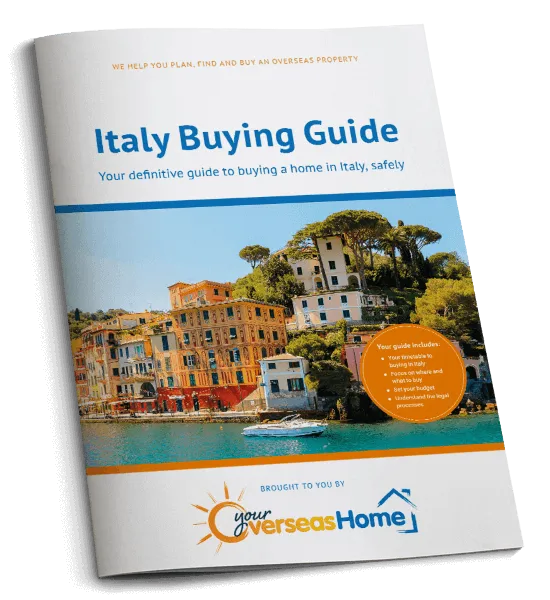 The process of buying property in Italy is significantly different from here in the UK. This is why we've created our completely free Italy Buying Guide, to provide those dreaming of a new life in Italy with all of the practical, legal, and financial information needed to help them realise that dream.
✔

  Ask the right questions
✔

  Avoid the legal pitfalls
Download your free guide to buying in Italy