At a time when the cost of living and household bills are rising across the world, it makes me glad that we made the choices we did when buying and renovating our home in Italy.
We are a couple living in a 208m² stone property in the Puglian countryside. It was in a bad state when we bought it and we did all the renovation work ourselves. This enabled us to keep renovation costs well within our budget and meant we didn't need a mortgage.
IMU (Municipal Tax)
The way the taxes are labelled keeps changing, TASI (Tax on indivisible services) has now been merged in with IMU. Also, due to the pandemic and the economic crisis the government have put measures in place that have reduced the prices.
However, even before the pandemic, and the exemptions for properties registered as a primary residence, our tax bills for property, land, services and rubbish collection have never exceeded €280 per year.
At the moment the municipal tax in Italy is called IMU, (known in the UK as council tax). Because our property is registered as our primary residence, we don't have to pay this. However, if your property is a second home or a luxury property (category A1, A8 and A9) you do pay. The rate is calculated from the cadastral value of the property, not the sales value.
TASI (Tax on indivisible services) – €10.66 per month
TASI has been merged in with IMU. Once again, we don't pay this on our main residence but we do pay it in relation to our land, and for services provided by the Municipality that are generally used by all citizens, such as public lighting, park maintenance, roads etc.
Taxes are usually due for payment between 1st May and 16th of June, and between the 1st and 16th of December. Or, you can pay for the entire year. We have just paid €128 for the year.
TARI (Tax on waste)
Introduced in 2014, the TARI is a tax that finances the cost of waste collection and disposal. As we live in the countryside we don't get our rubbish collected from our door, and we don't have to sort it into different bins for recycling, as they do in town. We must take our rubbish to a large roadside bin that's just a 2 minute drive away.
There is a recycling centre 3 minutes away, so we take anything that can be recycled there. As we don't get the same service as households in town, we pay less TARI. Bills for TARI greatly varies depending on which region and municipality you live in. They tend to be higher in the south and on the Islands and cheaper in the north east. Due to an overcharge last year, we haven't been charged this year.
Heating – €2.50 per month
With the set up we have, our heating costs are almost nothing. We have 400 olive trees and 50 almond and pine trees. From windfall and pruning we have plenty of wood for our heating needs. My husband does the tree work and chops the wood himself, so the only cost is his time and approximately €30 a year for chainsaw fuel.
We have two wood-burning stoves. The large one in the kitchen has two water tanks attached, so it heats hot water for six radiators, showers and taps. The medium size one in the living room throws out a lot of heat, when we don't feel the need for radiators.
You can find second hand wood-burners from €50 to €6,000. The medium size stove we have in the living room costs about €500 new, fluing about €150. The large wood-burner in the kitchen costs around €2,000. On top of that will be the plumbing costs and radiators.
Most people pay at least €500 for a wood-burner with a good heat output. Small cheap burners need constant replenishing of little pieces of wood. It's better to get a burner that can take bigger logs so you can stoke it and let it burn longer before having to put more wood on.
If we didn't have our own supply of logs
If we were to use the equivalent of 8 large olive logs per evening (5pm-11pm) for 150 nights over the winter and had to pay €9.50 per quintali (100kg) for olive wood, it would cost us in the region of €456 euros to heat 6 radiators and hot water for 150 evenings. If you spread the cost over a year that would equate to €38 per month.
For a mix of wood it would be cheaper, approximately €8 per quintali. We live in the south so winters are mild. Most days we use hot water from the solar panels and only light the smaller stove in the living room for a while in the evening to take the chill off. Obviously, people living on higher ground, in the north or in poorly insulate homes will need more.
Electric – €45 per month
We receive an electric bill by email every two months and pay by Direct Debit. For 2022 so far, it's worked out about €45 per month.
We'd like to have photovoltaic solar panels, but at the moment we can't justify the initial outlay. Even with government bonuses the prices haven't really come down. However, if you are about to buy a property and know you are going to use a lot of electricity for air- conditioning etc. and plan on staying there for several years, it could be cost effective to have them installed at the start.
Keeping down electric bills
We have always been careful with our use of electricity. We don't have air-conditioning, a tumble dryer, or a microwave, which all use a lot of electric. I use the washing machine on Sundays when it's cheapest, and fill the water tank using the electric pump either late at night or early morning. We are always unplugging things when not using them, partly because of electricity fluctuations when there is a storm. However, we do turn the courtyard lights on just for the geckos, as the light attracts the insects for their dinner.
Gas – €5.83 per month
We only use gas for the hob on our cooker, but we use the hobs for cooking twice a day ,all year round. We use about 2.5 gas bottles per year. We have two cookers, one in the kitchen and one outside under the veranda for cooking in the summer. By using the outside one in the summer it keeps the heat out of the house. A bottle currently (Sept 2022) costs €28 euros, which we buy from our local Ferramenta (hardware store). This works out at about €5.83 per month.
Water – Free
When we bought our property it had no water supply. Years ago, the water used to run off the roofs and down into a cisterna (underground tank). The family who lived here then had to draw the water up with a bucket. Fortunately, our house is built on bedrock, under which there are underground rivers and caves. We had an artesian well drilled, with a pump to bring the water up to a water tank. It cost us €4,500 which included drilling down 150 metres, the pump and pipes. If you spread that cost over the 14 years we have lived here it's cost us about €26 a month. Some countryside residents pay for water to be delivered and pumped into their tank. But we would rather not be reliant on them delivering on time or the price changing.
Although, artesian well water is clean, if you take it to a test centre they will say, it is safe today but no one can be sure what someone may put on the land tomorrow, so they can't recommend drinking it. We could buy bottled water, but that would be using a lot of plastic bottles. Instead, we have two large containers which we fill at one of many drinking water taps in our local town.
Hot water – Free
During the renovation we bought a solar panel that just heats water. As we get a lot of sun in Puglia it provides hot water to taps and showers for most of the year. On a cloudy winters day, we light the fire in the kitchen, which heats a tank of water for taps and showers. The only downside is you don't get instant hot water from the tap, it has to travel along the pipe from the solar panel or fire water tank.
Internet – €24.90 per month
As we are in the countryside we don't have a phone line. Therefore, our internet is provided by a wireless internet provider via a small box on our roof. The service is unlimited and costs us €24.90 per month. The company we use do an introductory price of €19.90 per month for the first 12 months.
Mobile phones – €8.49 per month
We each have a smart phone, which we mainly use at home and in areas with free wifi. Our local town received funding from the European community project to put free wifi hotspots in the piazza, park, library, museum and health centres. Most people here communicate using whatsapp. I never use the actual phone or text. We use our phones very little, preferring to enjoy our surroundings when we are out and to reply to messages when we get home.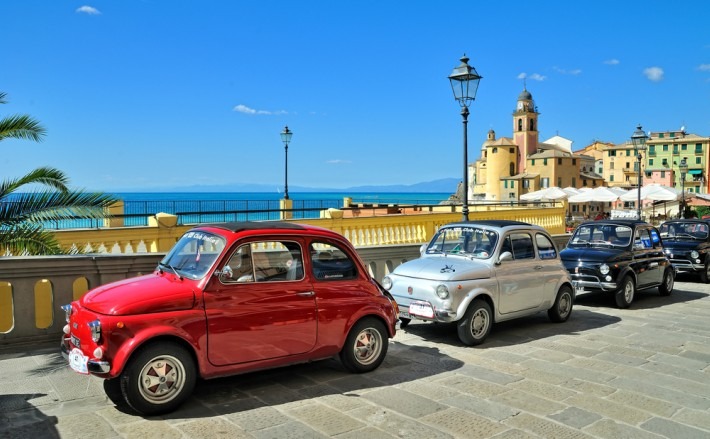 Car expenses
Fuel – €60 per month
Today, diesel is €1.72 per litre (petrol €1.69), but it changes daily.
Car parking – €1.00 per month
We know all the roads in town where we can park free, and there are also some free car parks. Even the hospital car park is free. If we go to another town we don't know, we might use a blue marked parking bays, which usually cost about €1 per hour.
Vehicle Tax (bollo auto) – €25 per month
We are currently paying €300 per year in Puglia. The payment was made in January. The rates are set locally, therefore they will be different in other regions.
MOT (revisione) –  €3.13 per month
This is a vehicle test to check that a car is road worthy and also checks the emissions. Ours costs €75 every two years.
Car insurance – €22.66 per month
Every year we go on to a comparison website like facile.it, who give us quotes from many companies. We have found that the same company used previously will not give you a favourable price for renewal, therefore we get new quotes each year. For example, the company we were with last year charged us €274, but this year quoted €302 for renewal. So, we found another company for €272.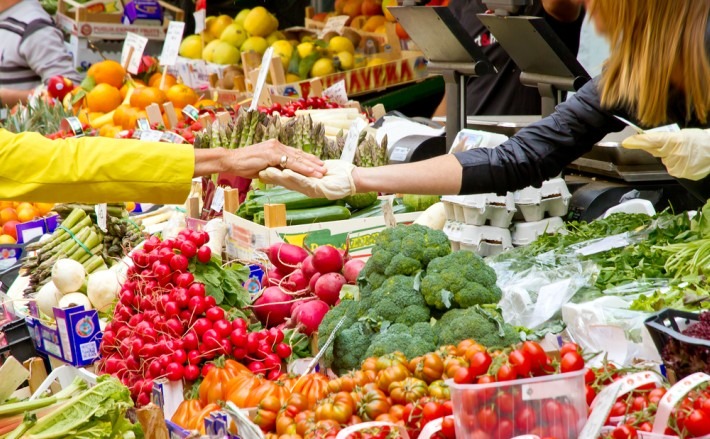 Food shopping – €260 per month
We have found the cheapest places to shop are at Eurospin supermarket and the weekly fruit and vegetable market. Eurospin is like the Italian version of Lidl, and is great for buying the basics like mayonnaise €1.85, tin of tuna €1.09, big cartoon of fruit juice €1.09, cheese €1.79, broccoli €1.39.
It's difficult to calculate our monthly spend because we don't shop at regular intervals, and sometimes we'll get a big shop and other days we'll just pick up a few things. If there is a good offer on something we usually buy, we will stock up on it. It seems really strange when I visit England that everyone pays with a card.
In Italy I generally use cash. Only this morning we were scrapping together enough coins to buy one tray of eggs from the local egg farm. Which incidentally cost €5.50 for 30 eggs. She usually puts a few extra on top too. Just as the market sellers will include a free bunch of parsley in with our vegetables as a thank you.
Drinks out – €9.60 per month
If we buy a coffee in town it costs us €1.20. We usually carry a bottle of water with us in the summer. Our local town has 24 hour inside vending machines, where you can buy a small bottle of cold water for 50 cents, a can of fanta for €1, and a small bottle of lager for €1. A glass of fizzy drink in a bar costs about €2.50. We don't buy alcohol, which has been a big saving as well as having health benefits.
Food out – €25 per month
We sometimes have a meal at a restaurant, which on our last visit cost €22 for the two of us. Our neighbour has a low-cost takeaway pizzeria in town. We can get a big tray of kebab and chips for two and sit at the tables outside for just €8.
When we go to town, in the evening or morning, we are more likely to eat before we go and just go for a walk. This is called a "passeggiata" in Italian, and you will see many Italians just walking up and down the main street or promenade, stopping to chat with people they may, or may not know. Or sitting in the Piazza or park passing the time with friends.
Summer concerts and events in town are always free, and we always buy a gelato. They cost €1.50 for a small and €2.50 for large, and you can sit at the tables. In winter we would be more likely to have a cornetto (croissant) in the morning for €1.20.
TV licence
The TV licence charge is incorporated into the electric bill to ensure everyone pays it. Therefore, the amount I have given for electricity actually includes €9.58 p/m for the TV licence.
Unexpected outgoings – €14 per month
Each year you will get something that typically decides to stop working. When we have needed something fixing, a recommendation from friends and neighbours has saved us hundreds. One of the biggest lessons we've learnt while living in Italy, is to know who to trust. After 14 years we now have a list of people we trust to give us a fair price. We also have a list of people who are known to overcharge. You can come across mostly bad ones in the early days when you are renovating, as they search out newcomers. But there are now more on the good list, and they are all extremely nice people.
Only this week, we had a problem with our tractor. We called a mechanic, who took it away to look at. We made it clear if it was going to cost hundreds we didn't want it done. When he brought it back he said it would need a new clutch, which he could do for €800. He also said it needed a clutch pedal pump, which he had taken on himself to do without our authorisation, and gave us a bill for €170.
After speaking to our Italian neighbour, who was horrified with the prices, he proceeded to call a mechanic he uses for his tractor. He promptly popped round to have a look. He told us we'd been over charged on the clutch pump by about €100. He also said there was nothing wrong with the clutch, and that it was just the pedal needed adjusting. Which he did, for free, and now it all works fine. If and when the clutch does need replacing he would charge €400.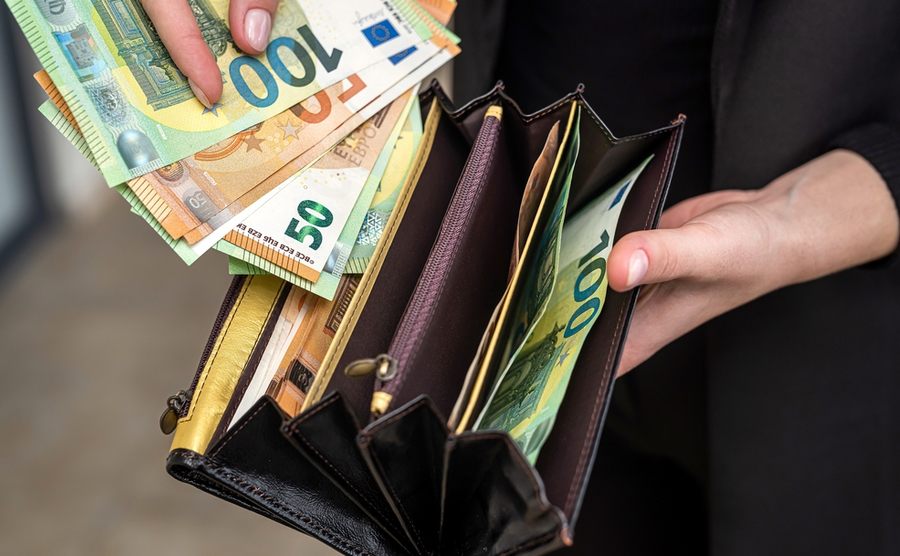 The Grand Total
The total of all these basic living costs per month come to €517.77. I haven't included clothes or items bought relating to hobbies or other interests. Everyone needs to treat themselves now and again. But when you love your surroundings, have good weather, and beautiful places to visit, you don't need to spend much. In the autumn we will be taking picnics to the beach and visiting nearby villages.