We bought a rural home with 8 acres of land in Apulia 12 years ago and we still love it. We have olive and fruit trees and so much space and privacy. Thinking back to our tiny old garden in the UK, we are so lucky!
Rural living in Italy
I've been living in the Italian countryside for twelve years now and still love it. The wreck of a house we fell in love with, came with eight acres of land in the Apulian countryside. When you buy a property with even a small piece of land in Italy, it will generally have trees producing olives, nuts or fruit. It may even have a vegetable patch or grape vines.
Our plot has mainly olive trees, but also some almond, fig, lemon and pear trees. We hadn't planned on having this much land, but we are now so glad that we do. When I think back to the tiny back garden we had in England and how close the neighbouring houses were, I realise how fortunate we are to have all this space and privacy.
Olive-picking
At first, we had so much work to do on the house it was difficult to find the time to learn how to maintain the land. Our olive trees have a bumper crop about every five years and the year we moved in was extra productive. We had to learn fast, but fortunately, the previous owner was keen to show us what to do.
Olive picking is a really hands on way of enjoying the countryside, and it's very exciting to see your first crop being transformed into olive oil at the press. It is hard work, but if you can get a group of friends to help pick the olives and you reward them with a delicious al fresco lunch, it will be an authentic countryside experience you'll never forget. If you don't have friends rushing to volunteer you could also consider inviting "workaways" into your home. Offering to help your neighbours with their grape harvest is another great way to learn and experience country life, and become part of the community. Elderly Italians are always full of interesting stories about the local area and love the opportunity to pass on their knowledge of working the land.
Making tracks
We had a rough track running the length of the plot, which we built up a bit higher, to stop it getting so muddy. We can now walk or drive the tractor down there at any time of the year. At least twice a day, we'll stop whatever we are doing and take a break for a walk down the land. The lane leading to our house was almost as bad, so we put down two lines of gravel. Once rolled flat it just made the track a bit higher than the soil either side and it drains well. We left the centre strip grass, which in spring is full of wild flowers. It's such a lovely drive up to our house when you see all the butterflies fluttering around the flowers.
Touring the farms and vineyards
When you are exploring the countryside in Italy, look out for working farms and wineries. Sometimes they will have a farm shop selling their own produce. In some cases, they may also offer tours of their farm or vineyard. The best Italian cooking is done using fresh local ingredients, and it's good to support local farmers. It can become a pleasant countryside drive to visit one place for your eggs, another for cheese, and then pop into the winery to fill your plastic bottle with wine.
Many farms are too busy to have people wandering around, but they might have an open day once a year, when you can see the animals, taste the produce and enjoy traditional folk music. Ones we have attended in Puglia have been enchanting evenings with three or four generations of local families coming together to sit on straw bales, dance to the local folk band and eat plates of food produced on the farm. When visiting an area on a viewing trip it's a good idea to stay at an agriturismo, which is a farm that also receive guests. They can be a good source of information on country life and will recommend places to go.
Our newly updated Viewing Trip Guide
 covers everything you need to know and look out for when viewing properties. 
Walking in the Italian countryside
In some agricultural areas you might not find the rights of way and footpaths that you see back in the UK. However, there are some lovely hiking trails across the country, nature reserves and guided walks into privately owned land, that may have special features such as caves or waterfalls. The most popular walks tend to be in the mountains, along the coasts, around the Italian lakes and in the National parks. Some of the most amazing walks are in the Dolomites where you'll see mountains, lakes, limestone peaks and forests.
The Sentiero Azzurro hiking trail in the Cinque Terre, Liguria, takes you through countryside and villages with the addition of amazing sea views.  Along the Amalfi coast you'll find the Path of the Gods, which runs from Positano to Praiano and winds through terraced hillsides of rosemary and lemon groves. One of the prettiest trails in Sicily is the Vendicari Nature reserve along the south-eastern coast. While in Tuscany popular routes include the Renaissance Ring Trail that circles the city of Florence, the Chianti Trail which takes a route between vineyards and medieval villages, and the hiking trails of Val d'Orcia.
Cycling through the Italian countryside
Most regions have suggested cycle routes suitable for families, tourists and serious cyclists. Across the country you will find clubs racing through the countryside and groups on hired tour bicycles, stopping off at farms and cafes for a drink. The national cycle network of Bicitalia has some beautiful routes in many regions, particularly across the north, and down the east coast to Puglia. There are even themed routes for those who want to ride through beautiful countryside scenery and visit places of interest along the way. These routes can incorporate visits to the art cities of the Po Valley, cycle ways on former railways and a route from Florence to Ravenna with views of the Apennine mountains, plains, rivers, pine trees and sparkling blue sea. You can even visit castles, museums, vineyards and Roman sites.
Natural wonders of Italy
The countryside of Italy is very varied even within a region. There can be flat plains near the coast and then as you move inland it becomes hilly, before reaching the green valleys and mountains. The Tuscan hills with their cypress trees and patchwork of vineyards are enchanting. A drive along the Strada di Valoresi is a must, to see the regimental cypress, and the rolling hillsides of the valley. Covered with vineyards and olive groves, this scenic view has remained unchanged for centuries and will continue to be protected as it is now a UNESCO World Heritage Site.
But in Italy, wonders of nature are at every turn. Like the thermal baths and hot springs, such as those at Cascate del Mulino in the Tuscan town of Saturnia. Or the stunning sight of the Italian Lakes, the Dolomites and Italy's most famous volcanoes, Mount Etna and Vesuvius. It's wonderful to see the Italian countryside in all its seasons. You'll love the beautiful spring flowers, such as those seen in Castellucio, Umbria, where poppies, violets, narcissus, daisies and clovers make a patchwork pattern on the plateau. In Mid-June to early August you'll be looking out for the sunflower fields in Tuscany, Umbria and Le Marche. Then there are the seasons when people go hunting for mushrooms and truffles. In October, the forest changes its colour palette to the most beautiful autumnal hues and in winter the mountains are covered in gleaming white snow. When you live in the countryside and hear the silence and see how bright the stars are at night, that is a wonder in itself.
Animals and wildlife
To fully appreciate the countryside you just have to imagine seeing it through the eyes of a dog. Our Labrador was so excited when he first saw all the trees. Countryside walks are so much fun with a dog, and if you don't already have one there are plenty of them in Italy waiting to be adopted. Horse riding along the country lanes is another way of seeing the natural beauty of the Italian countryside at a slower pace. Our neighbour breeds horses and his family regularly go out riding at the weekend or they take the donkey and cart. While I don't ride myself, I still love seeing the horses in the meadow and photographing the new foals each year. We did get some chickens and ducks, which were so adorable to watch, especially when they were young. But you do have to make sure they have a very secure house, as foxes and stray dogs also roam the countryside. It's preferable to have a secure boundary to your land to deter wild animals and hunters from coming in. In some regions you may even see wild boar or bears.
Still have questions? Give our Resource Centre a call on +44(0)20 7898 0549 or send us an email at 

[email protected]

.
National parks
The Italian national parks cover about five per cent of the country's land. In the Gran Paradiso National Park between Valle d'Aosta and Piedmont, ibex run free among the glaciers, larch forests and rocks. In Abruzzo the Majella National Park is a magical place with forests and caves, and in the heart of the central Apennines, the National Park of Abruzzo, Lazio and Molise is home to the Marsicano bear. One of the largest forest areas in Europe, with a hiking network of 650 km is the Foreste Casentinesi National Park, where you can go walking in snowshoes in the winter. There are villages within the park, where you can buy property. For example, in Poppi, a three-bedroom stone house with panoramic views over the Casentino countryside can cost as little as €165,000.
Buying a country home of your own
You can find countryside houses needing restoration for as little as €50,000. In some parts of Abruzzo and Molise this will get you a good sized farm house, but in Tuscany or Apulia it is more likely to be a small farm building. €150,000 could buy you a two-bedroom house in the countryside near Siena or Pescara or even in the Emilia Romagno, Piemonte or Marche regions. But, the value of a property depends largely on how remote the location and the condition of the building. Estate agents rarely give the exact location or offer pictures of cracks in walls, so a viewing trip is essential in order to fully appreciate the drive time to the nearest town and how much work might be needed on the property and land. For further suggestions on where to buy see Buying a home in the Italian Countryside.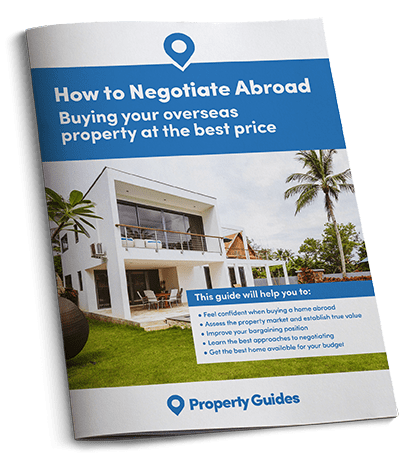 How to negotiate abroad is the guide to put you back in control:
✔

  Feel confident when buying a home abroad
✔

  Assess the local property market
✔

  Improve your bargaining position
✔

  Learn the best negotiating tactics
Download your free Negotiation Guide