Campania and Basilicata are two of Italy's southern regions. With Naples, the Amalfi Coast and the Gulf of Taranto, the coastline is breath-taking. There are also historic sites and hill top villages with affordable homes. There is also an interesting Christmas connection.
Campania has attracted visitors for millennia. The ancient Romans called it "the Happy Land" (campania felix) and had holiday and retirement villas here. Today it is still a region of stunning landscapes and delicious food. Pizza, gelato and mozzarella (made with the milk of the Italian water buffalo) all have their origins in this region.
Via San Gregorio Armeno in Naples is famous for its Neapolitan nativity scenes
Where else can you find anything like the glorious Amalfi Coast and Palace of Caserta, the intriguing history of Pompeii, Herculaneum and Vesuvius, the colourful city of Naples and the fashionable islands of Capri and Ischia.
If you can make a quick property viewing trip before Christmas, try and find the time to visit Via San Gregorio Armeno in Naples. This alley is famous for its Neapolitan nativity scenes (Presepe di Natale). You can see the master artisans making every character you could imagine, creating scenes more like a model village. Every Italian home displays one at Christmas. To discover more about what Campania has to offer, visit incampania.com.
Property in Campania
Campania has both some of Italy's most expensive and cheapest homes. Villas on the Amalfi Coast or the island of Capri rarely come up for sale and cost over a million, but what price can you put on those dramatic coastal views? If you go along the Cilento coast (south of Amalfi) you can find sea views at more affordable prices and pretty little towns and beaches, backed by national parkland. By buying a property slightly inland you may get a more expansive view to the coast and cheaper prices, although property here will be a lot less glitzy. There are also numerous half-deserted villages in Campania's interior offering cheap village houses and you can still find detached countryside houses to renovate.
Basilicata
The small region of Basilicata has two provinces; Potenza and Matera. Woods and forests cover the mountains which are dotted with villages. The Ionic coast has two famous seaside resorts Metaponto and Policoro with wide beaches backed by pine woods and rows of eucalyptus. The Gulf of Policastro, on the Tyrrhenian side, has a more mountainous and indented coastline, where steep promontories alternate with small beaches. The most famous town is Matera, as it has been used in many films and looks like a village straight out of a nativity scene. Its "Sassi" cave dwellings are thought to date back as far as the Palaeolithic times and are a UNESCO World Heritage site. In 2019 it will also be European Capital of Culture. There is potential for renovation projects that will provide tourist accommodation and already stylish hotels are beginning to open. To find out more about Basilicata visit discoverbasilicata.com.
Basilicata property
Basilicata may still be rough round the edges but the tourist infrastructure is developing. Low-priced and unspoilt, now could be a good time to buy. Basilicata is one of Italy's most thinly populated regions, with lots of wild open spaces and small villages living a quiet, traditional lifestyle. The unique city of Matera, which had suffered poverty in the past, is now attracting interest from tourists with the knock-on effect of increased potential for property buyers, even in the surrounding countryside. Nearer to the coast, new holiday accommodation is also popping up.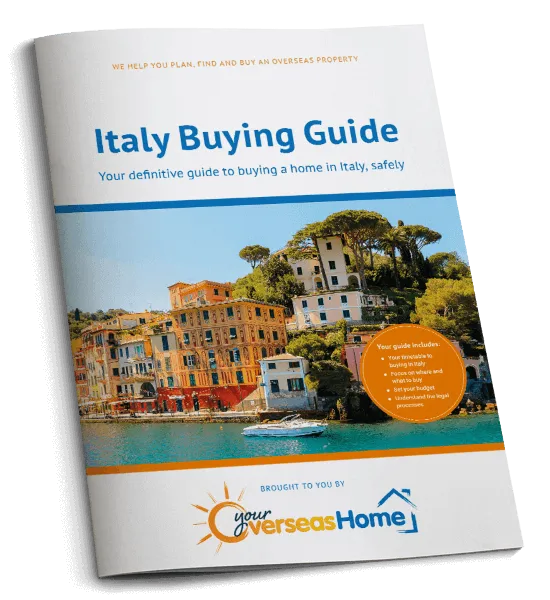 The process of buying property in Italy is significantly different from here in the UK. This is why we've created our completely free Italy Buying Guide, to provide those dreaming of a new life in Italy with all of the practical, legal, and financial information needed to help them realise that dream.
✔

  Ask the right questions
✔

  Avoid the legal pitfalls
Download your free guide to buying in Italy