Planning to buy a holiday home in Italy that you can rent out to tourists? Here are some things to consider.
Many people who buy a holiday home in Italy find it financially beneficial to rent out the property when they aren't using it themselves. Even if you only make it available for a few peak weeks in the summer, the income can be very useful in paying bills and maintaining the building. For a well-presented villa that sleeps four and has a pool you could earn £2,000 a week in August. Countryside properties in regions with low property purchase prices can earn as much as those in Tuscany. Italy's sophisticated reputation often means that you can ask more for a stay in your Italian villa than a similar property in other Mediterranean countries. It is even quite possible to make more profit on a beautifully renovated trullo in Puglia than an apartment in Florence, although a city apartment in Florence, Rome, Venice or Milan will attract tourists for more months of the year. So do take into account how long the rental season is in your chosen area.
Buying your furniture at Ikea might be cheap, but poor online reviews can cost you in the long run
What tourists want
When viewing properties that you intend to rent out you should keep in mind not only what you like, but also what will attract potential holiday guests. Your main clientele are likely to be affluent and educated British couples and families, but don't forget Americans, Germans and Scandinavians too. Many will have high expectations of what an Italian villa will provide and will expect all the luxuries they have at home including dish washer, internet, air con and nice furnishings, all within a property with Italian character and with a sparkling pool outside. Buying your furniture at Ikea might be cheap, but poor reviews can cost you in the long term. A peaceful location within walking distance of a village or town with restaurants and cafes are always popular, and a straightforward drive from the airport should encourage repeat business. Sea and countryside views are also good selling points as well as proximity to historic cities.
Viewing trip questions
When looking at countryside properties, ask if water, gas or diesel need to be delivered, how often that needs to be done and what it will cost. You can end up paying a premium in the summer months and will need someone you trust to be on call to deal with any problems. Pools continuously need topping up, chlorinating, cleaning and pumps maintained and in rural areas internet and phone signals can often be unreliable at times, so ask a local what service they use.
Appliances such as air-conditioning, power showers and washing machines really add to your electricity bill, especially when guests leave them on for long periods. Ask to see the current owner's summer bill. It's amazing how much water four people can go through in a week! It may be worth having a well bored to supply your water needs if possible.
Tax on rentals
Each local authority has its own regulations concerning the processing of holiday rentals. In some regions local authorities have to be informed of the arrival of guests and a monthly list of all guests sent to them including payment of a visitor's tax, collected from each guest. Always check the rules with your local authority or tourism office.
A new law comes into effect today, 1st June, whereby agencies and online websites such as Airbnb must automatically pay 21% of the rental fee in tax
The profit earned on a holiday rental business is subject to income tax, which must be declared on your personal income tax return. Previously, this rarely happened. Spot checks by the Italian tax authorities discovered that income tax was only being paid on about 25% of all private holiday lettings. To tackle this the government has introduced a new law which comes into effect today, 1st June, whereby intermediaries such as agencies and online websites such as Airbnb and Owners Direct will be required to automatically pay 21% of the rental fee in tax to the authorities on the property owner's behalf. This will bring some extra money in for the government, but it is unlikely to deter those who make low-cost rental arrangements in cash with personal contacts.
To discuss the legal aspects of renting in Italy, and to see some very rentable homes, join us at Your Overseas Home, Manchester, Saturday 24th June. Further details here.
Managing your property
The ideal situation is to be living in Italy, and renting out part of your house, or even a second property nearby. You will then be able to take care of the buildings and guests yourself. It is important that guests have someone they can call with any problems, from power cuts to blocked drains. You will also be able to do meet and greets on changeover day and make sure the place is thoroughly cleaned and bedding changed. This can drastically add to your profits.
If you are still living in the UK, you will need to use either a local property management company or find a responsible local person that you trust. In popular tourist areas and cities, both of these are easier to find than in rural areas where some people won't want the responsibility or the hassle of being called out. You also need to make sure your property is fully insured and doesn't have anything left in it that is of special value to you. I recommend preparing a folder full of maps, leaflets and information about the local area, as well as books, DVDs and board games. A welcome basket of some of the essentials such as water, wine, bread, eggs etc. are always greatly appreciated by guests, especially when it includes some typical local products. You may also want to prepare a salad for their arrival or lend bikes, baby cots and high chairs. It is the little extra touches that make a holiday special.
Security
It is important to take a security deposit and go through terms and conditions and house rules with guests and get them to sign it. This might include setting a limit to the number of people you allow in the property, not allowing sun oil or glasses in the pool, and not flushing anything inappropriate down the toilet! Most importantly, they must lock the house when going out. Even the cleverest of people can become so relaxed that all common sense goes out the window.
Where to get bookings
The easiest way to get bookings is to advertise on websites such as Owners Direct, Home Away and Airbnb. These types of websites usually allow you to display photos, information and an availability calendar. They also will take payments on your behalf, which are then sent to you by bank transfer. Once a number of guests have left good reviews and given a star rating, you will greatly increase your chances of getting a full calendar of bookings. It is also important to have photos that show your properties best features and make it stand out from the rest.
Once a number of guests have left good reviews and given a star rating, you will greatly increase your chances of getting a full calendar of bookings
If you work for a large company, a hospital or local authority, or have friends who do, put up a notice on the staff notice board or website. You could even try postcards in your local church, sports club or newsagents window. I recommend also creating a Facebook page and blog, so that you can refer enquirers to more photos and information about the property and local area. Keep it updated with information on places to visit and local events.
Italy has so many wonderful holiday home possibilities from country houses to city apartments, Alpine chalets to seaside villas. With the increase in flight options across the country and good road links the potential is huge. Snap up your dream holiday home now and enjoy sharing it with your guests.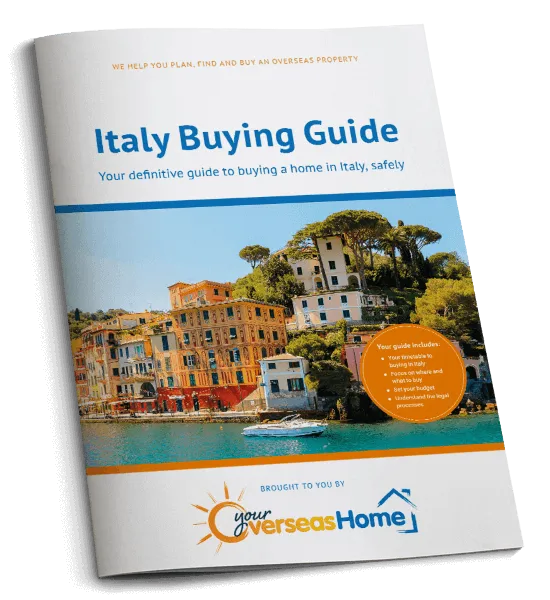 The process of buying property in Italy is significantly different from here in the UK. This is why we've created our completely free Italy Buying Guide, to provide those dreaming of a new life in Italy with all of the practical, legal, and financial information needed to help them realise that dream.
✔

  Ask the right questions
✔

  Avoid the legal pitfalls
Download your free guide to buying in Italy