We look at five locations in five of Italy's most popular northern regions, each surrounded by stunning scenery. Northern Italy is so accessible, and always rates highly for quality of life. Whether you enjoy the buzz of a city or relaxing by a lake, there is something for everyone. I have taken another look at the route of next year's famous cycle race, the Giro d'Italia, and picked one place in each of the five northern regions that it passes through. One or two you may have heard of, but the great thing about Italy is discovering those amazing places that are less well known to tourists.
Como in the Lombardy region
Como has got to be in one of the most panoramic city locations in Italy. Overlooking the southwest end of Lake Como and surrounded by green hills and outstanding natural scenery, anyone would be proud to live here or in any location around the lake. Some of Como's highlights include the Cathedral, the Church of San Fedele, the "Porta Torre", and the church of Saint'Abbondio. Along the medieval walls near Piazza Vittoria a market is held on Tuesdays, Thursdays and Saturdays where you can find crafts and vintage clothing.
Make sure to download your free Viewing Trip Guide
 today for advice from industry insiders on what to look out for when buying a home.
In the historic centre there are many cafes and shops in the maze of little streets and on Saturdays you can peruse the antiques and crafts in Piazza San Fedele near the Romanesque church. Other beautiful buildings worthy of a mention are the Volta Museum and Villa Olma. Five minutes from the railway station is Piazza Cavour where you can catch a boat to picturesque Lakeside towns, such as Bellagio, Menaggio and Tremezzina. For the best views of the city and lake, take the cable car up to Brunate. If you'd like to live in the historic centre of Como, it's possible to buy an  apartment in a good location in the historic centre of Como, from €250,000. Lower prices can be found out of the city and in nearby villages. Como is about an hour's drive from Milan airport and an hour by train into the city.
Udine in the Friuli-Venezia Giulia region
Udine is a city in the centre of the Friuli-Venezia Giulia region, between the Adriatic Sea and the Alps (Alpi Carniche). It has a population of over a hundred thousand, many of whom are employed in commercial, mechanical and iron manufacturing industries. In the 2019 rankings for the Italian cities with the best quality of life, Udine was awarded ninth place. At the heart of the housing districts there is a grand medieval centre with Greek statues, Venetian arches and roman columns.
If you have queries about buying in Italy, give our Resource Centre a call on 020 7898 0549 or send us an email at 

[email protected]

.
There are elegant piazzas, such as Piazza Matteoti and Piazza Liberta, and beautiful parks and botanical gardens. Udine has a wide range of interesting historical sights such as the cathedral, Loggia del Lionello, a clock tower, fountains, and a castle that houses an art and history museum. You can find one-bedroom flats in the centre for around €100,000 and 2 bedrooms from €150,000.
The surrounding countryside is dotted with many villas, towers, abbeys and castles. When you want to escape the city, you can be on the beach at Lignano Sabbiadoro in less than an hour. Heading into the mountain villages towards Slovenia, you can find three-storey houses starting at less than €150,000. There are good train services to many other cities and about 30 minutes' drive away is Trieste – Friuli Venezia Giulia airport.
Bassano del Grappa in the Veneto region
Bassano del Grappa is in the Vicenza province, at the point where the plains meet the hills that then lead to the alps. It is a prosperous town with a population of nearly 44,000, but if you include the other nearby communes the area is home to some 70,000 people. A castle complex looks down towards the famous covered wooden pontoon bridge, designed in 1569.  The towns architecture is in the elegant Veneto-style with arcaded streets and piazzas but with some wooden alpine style balconies. A semi-detached house in the area is priced at €420,000.
There is a vibrant nightlife in Bassano, with many restaurants and bars, from trendy to traditional. Bassano's famous alcoholic drink is grappa, which takes its name, from the nearby mountains. To try it, why not join the locals for happy hour in the original laboratory of Italy's oldest distillery, which dates back to 1779. Throughout the year there are various events such as concerts and an opera festival. The town has all the shops you'll need for all year round living, as well as an out of town shopping centre. You can reach Bassano del Grappa from Venice, Padua and Trento by train and the nearest airport is at Treviso (1hr20mins).
Calliano in Trentino-Alto Adige region
Located between the cities of Trento and Rovereto, the village of Calliano has a fantastic view of the imposing Beseno Castle. If you love castles, this is the place for you, because not only is Beseno castle a great place to visit, also nearby are Castello del Buonconsiglio and Castel Pietro, which has guided tours and themed dinners. Although on flat ground surrounded by vineyards, all around are lush green hills, mountains, a river and a beautiful waterfall. This pretty little village has a main square, noble palaces with frescoed facades and a charming church with bell tower. There are a handful of small shops, bars and pizza restaurants and the city of Trento is only 15 minutes' drive. Trento is a very popular place to live and has just received first position in Italy's quality of life rankings. You would think a property in this idyllic location would come at a premium, but you can find modern apartments for sale from €75,000 and 4-bedroom houses from €469,000.
For many Italians the region of Trentino-Alto Adige is a dream location. It is so picturesque that it just invites you to explore the countryside and villages. Road links are good with just a 20-minute drive to the Folgaria ski slopes and 55 minutes to the airport at Verona. The route to the airport runs parallel to Lake Garda which at its northern end is only 25km away.
Sestriere in the Piedmont region
Sestriere is a skiing paradise located within the municipality of Turin and just a 1hr 20min drive from Turin airport. This alpine village is 11 miles from the French border on the pass that links Val Chisone and Val Susa, at 2,035 metres (6,677 feet) above sea level. Sestriere is divided into several small hamlets which are completely surrounded by mountains, making this is one of the biggest ski resorts in Italy. Sestriere is part of the Via Lattea (Milky Way) skiing area, which means it's connected to 146 skiable pistes and up to 400 km (249 mi) of trails. It's even possible to ski at night on a floodlit run.
Hone your negotiating skills and get the best price for your money with our free Negotiation Guide
.
The snow has actually arrived early this year, so it's possible to take full advantage of low season ski passes and special offers. A two-day ski pass costs €59 in low season and €74 in high season. With cheap Ryanair flights from London Stansted only taking two hours, you could easily take regular short breaks over the winter. If you just want a place to lay your head after a day's skiing, there are many cosy properties for sale from €40,000. Two bed apartments with a view of the slopes start around €140.000. For part of the year the population is less than a thousand, but in ski season it can rise to 20,000. Even out of season there is much to enjoy such as hiking, mountain biking, climbing or how about a round of golf on Europe's highest 18-hole course. Sestriere was a main venue during the 2006 Winter Olympic Games and was also an Olympic village, which can be seen today as two hotel towers. There are also all the shops, restaurants and bars you'll need for fun holidays. As a region, Piedmont has mountain village houses and large country farmhouses for sale at very good prices.
Finding your perfect place to move to in northern Italy
Each of these northern regions are worth investigating beyond the main tourist towns. There are so many beautiful villages and towns, yet to be discovered by foreign house buyers. Google Earth is one way to research an area, and the helicopter shots on the TV coverage of Giro d'Italia will give you a bird's-eye view, but to really get a feel for a place, you need to hit the road and go explore.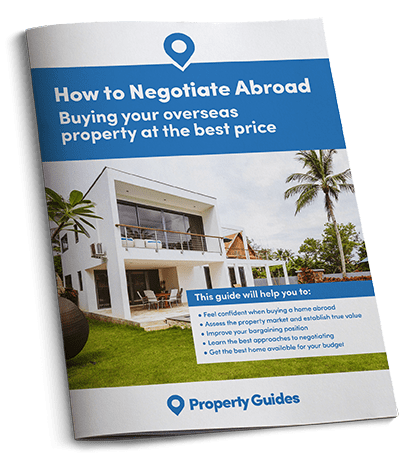 How to negotiate abroad is the guide to put you back in control:
✔

  Feel confident when buying a home abroad
✔

  Assess the local property market
✔

  Improve your bargaining position
✔

  Learn the best negotiating tactics
Download your free Negotiation Guide