When Colin Firth fell in love with Italian filmmaker Livia Giuggioli, he also fell in love with Italy. He has already demonstrated his love by learning Italian fluently and giving their two sons Italian names, Luca and Matteo. Now, the Italian interior ministry have announced his application for Italian Citizenship had been approved.
Colin Firth is well known for his very British roles, in Pride and Prejudice, Shakespeare in Love, Bridget Jones Diary, Mamma Mia, Love Actually and his role of George VI in The Kings Speech, for which he won an Oscar. Although, on screen he rarely gets the girl; of screen, he has been married to the beautiful Livia Giuggioli Firth for twenty years. The couple were on the green carpet at Teatro alla Scala in Milan this weekend, as part of an event dedicated to the values of sustainability and ethical fashion. Livia presented awards to designers of Sustainable Fashion, in her role as founder and Creative Director of London based, Eco-age.
Increase in British nationals seeking dual Citizenship in the wake of the Brexit vote.
Italy is one of many EU countries that allow dual citizenship, meaning that Colin Firth will also be able to keep his British passport. Like many Italy loving Brits these days, they own property in both countries. The Firth family have homes in both Chiswick, London and Umbria, Italy. Colin's Press Office have said that he "Asked for dual citizenship (British and Italian) to have the same passport as his wife and children." The British press reported that he made the application after Britain voted to leave the European Union.
A number of EU countries, including Germany, France and Ireland, reported an increase in British nationals seeking dual Citizenship in the wake of the Brexit vote. With the uncertainty surrounding Brexit, those that qualify to apply have considered it a way of securing their freedom of movement in the future. Citizenship legislation applies to people born Italian who have lost their citizenship and wish to reinstate it; descendants of Italian citizens; and foreigners applying for Italian citizenship.
If you are ready to buy a home in Italy, Property Guides will be at Your Overseas Home. It's a new style of overseas property show, where those serious about buying can get detailed information and introductions to trusted lawyers, agents and currency providers. Click here to apply for FREE tickets. 
Can I apply for Italian Citizenship?
Italian citizenship is granted automatically if you have Italian parents/ancestors ("iure sanguinis"), Citizenship is passed on from parent to child without limitation of generation, on the condition that none of the ancestors has ever renounced their citizenship. Children born on Italian soil, but of foreign parents can request Citizenship within one year of reaching 18. If you marry an Italian you can apply after being legally resident in Italy for two years after your marriage. If applying from the UK, you have to wait three years. This time frame is reduced by half in the presence of children born or adopted by you and your spouse.
Those legally resident in Italy for four years can apply for Italian Citizenship.
Citizens of a European Union country that have been legally resident in Italy for four years can apply for Italian Citizenship. An interesting note here is that that non-EU citizens have to be resident ten years before they can apply.
For more information on applying for citizenship see the Italian Ministry of Foreign Affairs website.
Colin Firth's home in Italy
The Italian press report that the Firth family residence is just outside the Città della Pieve, in the province of Perugia, Umbria, close to the border with Tuscany. The Città della Pieve has less than 8,000 inhabitants and is situated on a hill that dominates the Val di Chiana. The Medieval town itself is mostly built from red brick and even in the surrounding countryside you will find brick farm houses as well as stone. The beautiful Lake Trasimeno is not far away and the whole area offers a relaxed lifestyle, where celebrities can escape from the limelight.
Currently on rightmove you can buy a restored three-bedroom town house in Città della Pieve from €190,000 and a three-bedroom farm house needing some renovation from € 175,000.
The area is central to both Florence and Rome, and Siena is even closer. Currently Ryanair are avertsing flights to Perugia from Stansted for under £10. So, it's got to be an area worth checking out soon.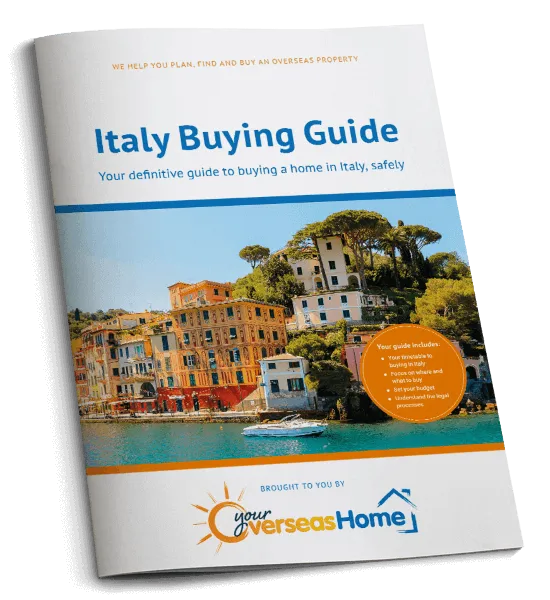 The process of buying property in Italy is significantly different from here in the UK. This is why we've created our completely free Italy Buying Guide, to provide those dreaming of a new life in Italy with all of the practical, legal, and financial information needed to help them realise that dream.
✔

  Ask the right questions
✔

  Avoid the legal pitfalls
Download your free guide to buying in Italy