A group representing Brits in Italy, turned up in Florence on Friday hoping Theresa May's speech would offer more concrete reassurances about their position in Italy after Brexit. Did she deliver?
Theresa May's speech was expected to set out the "principles" of the future relationship with the EU, but immigration arrangements for EU citizens during a transition period are still being worked out in negotiations. The speech was of little interest to EU leaders, what they want is clarity and a resolution at the negotiating table in Brussels. Clarity is also something Brits living in Italy are asking for, saying that they currently feel in limbo. The EU flags and Placards of the protesters outside the Basilica in Piazza Santa Maria Novella in Florence, also indicated their unhappiness towards the Brexit vote itself, reading "Europe is my country" and "Denied a vote, denied a voice".
May said that she wants the UK to be given a two-year "period of implementation" after it leaves the EU on the 29th March 2019.
The location of May's speech was in the former school of the carabinieri (Scuola Marescialli e Brigadieri dei Carabinieri) at Santa Maria Novella. Located within the Caserma barracks, opposite the train station, it has now been given back to the city and has been going through a process of renovation. Boasting the city's largest cloister and beautiful frescos, it will be a great addition to the Dominican museum complex which you can visit. Sadly, none of this could be seen in the broadcast of the speech, due to a large white backdrop placed behind the Prime Minister.
You can read the full transcript of her speech on the Government website, but funnily enough you won't find the quote that I saw on an Italian News website that said Britain accepts that they "can't have a full barrel, and a drunk wife", which is Italy's version of "Can't have your cake and eat it", but I couldn't find that mentioned either. So, let's look at what Theresa May actually said that is of interest to us UK citizens who choose to live in Italy.
May said that she wants the UK to be given a two-year "period of implementation" after it leaves the EU on the 29th March 2019. So, don't expect major changes anytime soon, this is going to be a slow and gradual process. So, what of those EU citizens wanting to come and live in the UK during this implementation period? May proposes that they "will continue to be able to come and live and work in the UK; but there will be a registration system, an essential preparation for the new regime."
May also spoke about how the UK, namely Britain's Royal Navy, National Crime Agency and Border Force, are working alongside their Italian partners in the challenges of mass migration and terrorism. Issues "that we can only solve in partnership."
In a very long speech, eventually British citizens abroad got a mention, when May stated that: "We have made significant progress on how we look after European nationals living in the UK and British nationals living in the 27 Member States of the EU." She then added, "I know this whole process has been a cause of great worry and anxiety for them and their loved ones. But I want to repeat to the 600,000 Italians in the UK, and indeed to all EU citizens who have made their lives in our country, that we want you to stay; we value you; and we thank you for your contribution to our national life, and it has been, and remains, one of my first goals in this negotiation to ensure that you can carry on living your lives as before."
As the British Prime minister I want UK nationals living here in Italy and elsewhere in the European Union to be able to maintain their rights too.
Because the speech was being made in Italy, a journalist from Italian TV channel RAI Uno was allowed to ask the first question. She asked "What is going to change for the 600,000 Italians in the UK?" The reply from Theresa May, although directed at EU citizens currently in the UK, should also give an indication of the reciprocal arrangement that UK citizens in Italy could expect. Here is Theresa May's reply:
"EU citizens currently living in the UK, that have made the UK their home, including those 600,000 Italians who are in the United Kingdom, we want them to be able to stay and to have the same rights as they have at the moment. And we have been negotiating this with the Eurpoean Union, because of course as the British Prime minister I want UK nationals living here in Italy and elsewhere in the European Union to be able to maintain their rights too. We are very close to ensuring that we have that agreement and I have set out today what I hope will be a reassurance that those Italian citizens living in the UK, as we move ahead, will know that it is our legal system that will guarantee those rights into the future. I think that is what people want to know. From my point of view, I value the contribution Italian citizens have made in the United Kingdom. I have quite a few Italian citizens living in my own constituency, and playing a real part in our social and economic life there. I want to ensure that those Italian citizens in the UK at the moment know that we want you to stay, we value your contribution and what I am setting forward today is a guarantee for your rights for the future."
It is clear from Theresa May and the European Union that they both want a smooth transition and to have a good relationship. As it has been repeatedly said "The UK is leaving the European Union, not Europe". Italy and the UK have a bond through it's people; their families, their friends and business associates. The closing part of May's speech reads : "A partnership of interests, a partnership of values; a partnership of ambition for a shared future: the UK and the EU side by side delivering prosperity and opportunity for all our people. This is the future within our grasp – so, together, let us seize it."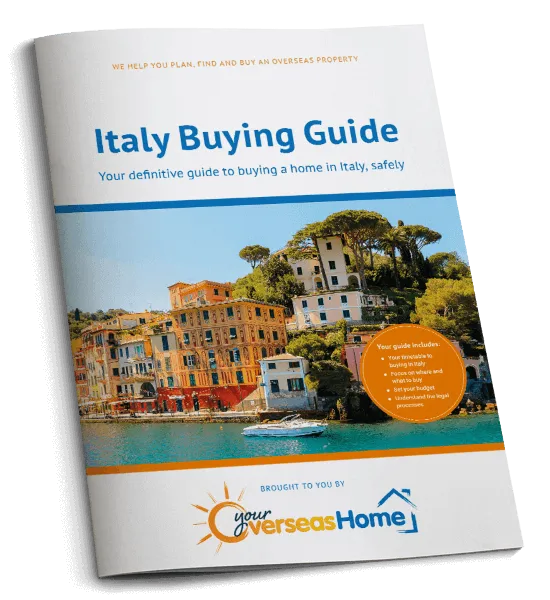 The process of buying property in Italy is significantly different from here in the UK. This is why we've created our completely free Italy Buying Guide, to provide those dreaming of a new life in Italy with all of the practical, legal, and financial information needed to help them realise that dream.
✔

  Ask the right questions
✔

  Avoid the legal pitfalls
Download your free guide to buying in Italy