If you're dreaming of life in Greece, but don't want to leave the UK full-time, a winter holiday home could be just the ticket. You could spend winter soaking up the Greek sun, then make a tidy profit letting it to holiday-makers in summer. Plus, you could even get EU residency by buying a Greek holiday home above €250,000 – so what are you waiting for?
Banish the winter blues
How many times have you looked out at another grey, dull winter's day and wished you were somewhere sunnier? Well, Greece's winter hardly feels like winter by our standards. Heraklion in Crete enjoys a comfortable 12ºC in January, with highs of 16ºC or more. It does get cooler as you head north, but even in Halkidiki, you're looking at around 8ºC.
It's not just the heat, either – you can count on longer days and fewer overcast skies. In Crete, January sees an average of 22 dry days, with 117 hours of sunshine. By comparison, London in the same month gets 61 sunshine hours and Edinburgh, just 53.
Autumn comes later to Greece than the UK, and, if you're here from September, you'll find you can still swim in the sea – while everyone in the UK's getting out their thick winter coats.
You can find out more about the Greek property market, and where the top spots to look at are, in our 2019 market update.
Make your home pay for itself
You could well find your Greek holiday home pays for itself over the summer. Greek tourism is booming, with a record 33 million visitors in 2018. In some of the most popular areas, rental increases year-on-year are huge – €1,000 a week more in Mykonos in 2018 compared to 2017.
According to Algean, high-end properties in Messenia have an average rental rate per week of €2,500, in Zante of €3,250, in Chania of €4,000 and in Zante and Corfu of €4,5000. This gives a respectable rental yield of between 3.2-4.8%.
Arranging the rentals is relatively simple, once you've decided how to advertise your property. We've previously run through the options on either contracting your property out to a tour operator, finding a local agent or doing the marketing yourself on sites like Tripadvisor, Homeaway and Airbnb.
Find out more about letting out and managing your Greek holiday home with advice from our columnist Diana.
Get yourself a 'golden visa'
They say good things come in threes, and a Greek holiday home could be your ticket to continued EU residency after Brexit. The current so-called 'Golden Visa' programme offers five-year Greek residency to anyone who makes a real estate investment of just €250,000. (We looked last week at what you can buy with this sum here in Greece – have a read if you haven't already). With this residency in hand, you'll have visa-free travel to all countries in the Schengen visa zone. Plus, it includes any dependent children and your parents.
You can renew the permit each five years, but, after seven years, you may also be eligible to apply for Greek citizenship. In this case, however, you need to have been officially living in the country full-time for those years. Nonetheless, even if not, you can retain your Greek residency.
Staying less than six months
Although we don't yet know exactly how Brexit will work out, we do know that other non-EU nationals such as from the USA or Australia can normally stay for up to six months without needing a visa. So even under no deal, limiting your time in Greece to the winter months should leave you in the clear. Read more about that here.
The other benefit of staying in your UK home for at least six months is that you could be able to release some of the value of it to buy in Greece. Discover more about equity release here.
Buying a Greek holiday home
So, if spending the winter in sunny Greece sounds like the perfect solution to you, how do you go about finding your dream home? Start by downloading your free Guide to Buying in Greece below, and don't miss your free Viewing Trip Guide, either. Your Greece Property Specialists in the Resource Centre can provide you with introductions to carefully selected estate agents to get your property hunt underway. Simply give them a ring on +44(0)20 7898 0549 or email [email protected].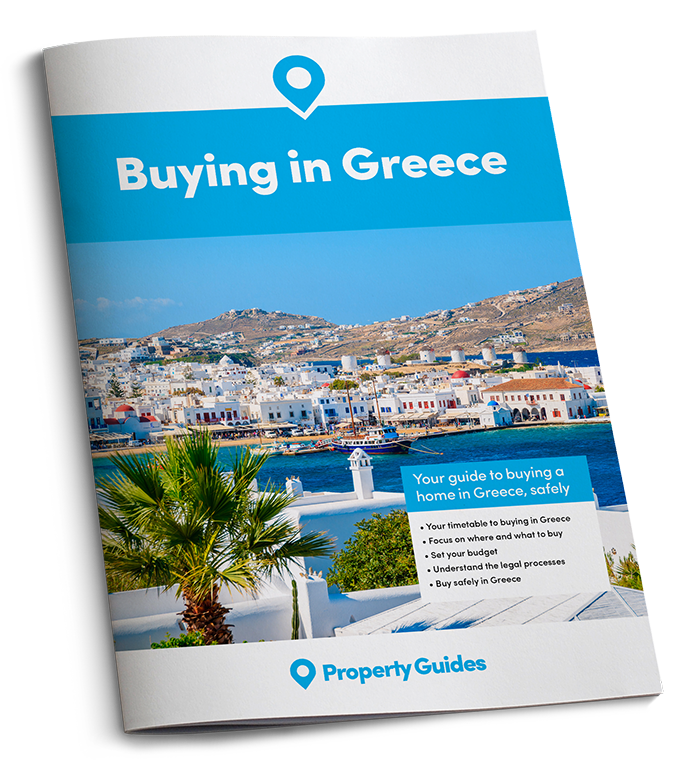 The Greece Buying Guide takes you through each stage of the property buying process.The guide will help you to:
✔

  Ask the right questions
✔

  Avoid the legal pitfalls