We're full of good news from Greece this month, as the property market shows its biggest surge in 12 years, the government cuts property taxes and capital controls are lifted. And if that's not enough to tempt you, temperatures here are set to stay in the 30s for much of this month and Greece officially has some of the best beaches in Europe.
Best house price growth in 12 years
It's a great time to be investing in the Greek property market (and perhaps even more so if you'd bought last year) – the upward trend in house prices has reached 7.7% compared to this time last year for both new and older resale properties. The Bank of Greece highlighted growing interest from overseas and the expanding Greek economy, bolstered by new Prime Minister Kyriakos Mitsotakis' pro-business policies. With Greece's golden visa offering permanent residency for just €250,000 of investment in real estate, there's also increasing demand from non-EU buyers, especially from China and Turkey.
In Athens, prices rose by a whopping 11.1% and 7% in Thessaloniki, driven by a surge in Airbnb-type private lettings. Greece's tourism market is going from strength to strength, breaking records last year with 33.3 million visitors, who spent more than €16 billion collectively in the country. In further good news for those looking to rent out their properties, observers have also noticed a trend for a longer tourist season, now extending to November in places such as Athens.
In Athens, prices rose by 11.1% and 7% in Thessaloniki, driven by a surge in Airbnb-type private lettings.
However, although prices are going up, they're still very affordable. In popular Crete, for instance, you can buy a detached home with a pool for as little as €180,000, such as this villa in Rethmynon.
Property taxes cut and capital controls end
Greece has long been known for its high property taxes, coming just behind the UK in European rankings. However, Mitsotakis was elected on an agenda for lower taxes, among other things. As of July, the bill to cut the 'ENFIA' Single Property Tax by up to 30% over the next two years was passed, expected to benefit four million Greeks. In practice, it means that owners of large properties who currently pay €2,500 a year will pay €2,000, and then likely €1,800 in 2021. For anyone with a smaller property, currently paying €500, will pay €400, and €350 by 2021.
Download your Negotiation Guide for insider tips on getting the best out of the market and the most for your euros.
The country is also turning a new corner financially, with strong growth outperforming forecasts. Capital controls on Greeks moving money abroad have been lifted, and the Prime Minister is also expected to announce lower taxes on tourism at a speech in Thessaloniki. Efforts are also underway to help further protect consumers, including property buyers, with the creation of a new anti-corruption Transparency Agency, headed up by a former OECD analyst, Angelos Binis.
Investors reap the benefits of rental boom
If you're looking to purchase an investment property in Greece, you're in luck. Airbnb has taken the property market by storm and rising tourist arrivals are helping to propel rentals onwards and upwards. According to data aggregator Airdna, Airbnb rentals have grown by over 40% in the last quarter alone.
With per-night rates of €224, Santorini is a popular area for buy-to-let investors.
The income is generally better than long-term rentals. At the moment, the average daily rate in Crete, for instance, is around €90. In tourism hotspots like Santorini, however, you can expect much more – it's currently around €224 a night. It's no wonder that almost 45% of Santorini investors own two more holiday properties on the island. There are also differences between different platforms – properties on Mykonos, for instance, performed three times as well as on HomeAway than on Airbnb in 2018.
Luxury developments add luster to Greek property market
All over Greece, from the capital to the islands, you'll find new luxury developments springing up, in another sign of the healthiness of Greece's property and tourism markets. In Kourouta, in the Peloponnese, an abandoned, 19th-century winery is being turned into a luxury hotel, by architects Dimitris and Konstantinou Karabatakis of K-Studio. With an industrial aesthetic and prominent use of steel and concrete, the hotel is luxurious while still recalling its industrial past.
Off to see homes in Greece soon? Don't miss your free Viewing Trip Guide so you know exactly how to make the most of your time.
Meanwhile, two hours drive from Athens, further development at Amanzoe, a luxury development of two-bedroom villas, is taking shape. Owners Dolphin Capital expected buyers to be largely second home owners – which, as we explain our Brexit FAQs, will no be impacted by even a no-deal – looking for a yield of around 5%.
In Athens itself, last year saw two more five-star hotels open – the Athens Marriott and Grand Hyatt, The old Hellinikon Airport is to be turned into a new mixed-use centre, with six skyscrapers, cultural venues, museums, theatres, conference facilities and an urban park.
Greek islands enjoy some of Europe's best beaches
Greece has again triumphed in the Blue Flag awards for 2019, coming second in Europe for its 3,797 commended beaches. Of these, the islands and northern mainland do particularly well, with 115 in Crete, 89 in Halkidiki and 39 in Rhodes. In Athens itself, the beaches of Glyfada have also again been awarded a Blue Flag. The flags are given based on the cleanliness of the beaches and the availability of amenities like toilets, disabled access and safety services like first aid.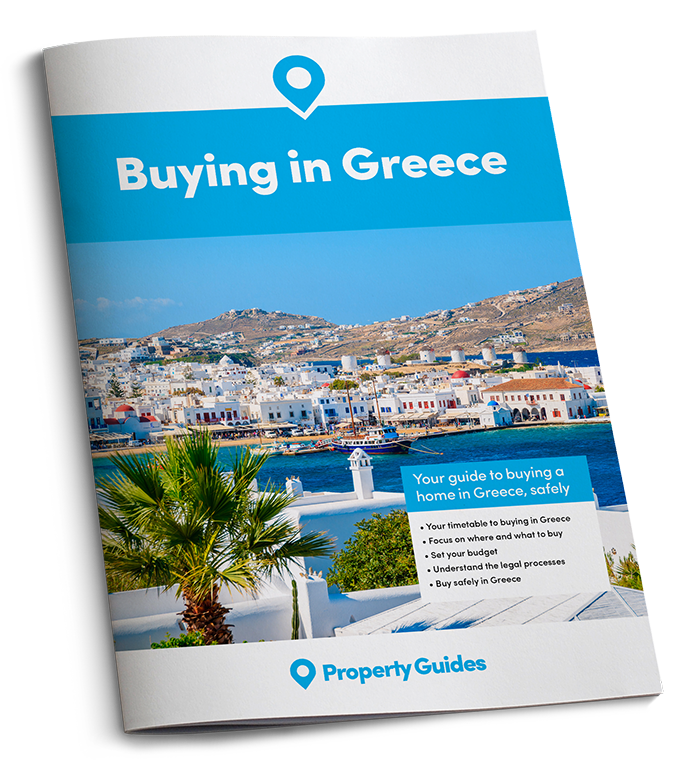 The Greece Buying Guide takes you through each stage of the property buying process.The guide will help you to:
✔

  Ask the right questions
✔

  Avoid the legal pitfalls