May 2019 Update:
We first wrote this article two years ago, but as the fourth and last series of The Durrells finished last weekend on ITV, we thought we would bring it to you again. As filming finished in Corfu in October – one that was gloriously sunny, compared to some filming schedules where the rain was torrential – I was able to go on set and meet the cast. What shone through was their genuine love for Corfu (although Keeley Hawes admitted a preference for Paxos, the next island south).
Fans of the show may just have to console themselves with buying their own home in Corfu (or any of the hundeds of wonderful Greek islands). But more than any other, Corfu has always had a special place in the heart of the British, and the feeling is mutual. 
The Durrells is based on the true story of a family who leave England in the 1930s for a wild, natural, sundrenched life in Greece. A widow with four children, Louisa Durrell, played by Keeley Hawes, escapes her life of genteel poverty in Bournemouth to live in Corfu. One son, Lawrence, became a famous writer. Another, Gerald, became a zoologist and founded Jersey Zoo. The show has been a big hit for ITV since it first began in 2016, with viewing figures averaging out at around 7 million.  It's no surprise then, that interest in moving to the island from the UK has also risen in the last few years.
A widow with four children, Louisa Durrell escapes her life of genteel poverty in Bournemouth to live in Corfu.
Why live in Corfu?
Writer of the TV series Simon Nye, pointed out that it is rare to be able to film a period drama in the place it is set, 80 years later. But most of the filming has been on Corfu. Does that mean it's unspoilt? "There's great swathes of greenery as it's one of the more northern Greek islands," says Simon Nye. "The house is one of the big stars of the show and we all want to buy it. But it's expensive, I'm afraid!"
To provide those dreaming of a new life overseas with all the practical, legal, and financial information needed to realise that dream, we've created our free Greece Buying Guide. Download it today!
The second largest of Greek's Ionian islands, Corfu is known for its coastline. The combination of rocky headlands, forests and small sandy beaches can be simply breathtaking. It's not a place where you just sunbathe though. There is plenty to keep you busy, especially in the crystal clear water, including scuba diving, snorkelling and sailing. The climate of the island is perfect for this, with mild winters and long hot summers. Frankly, you'll struggle to stay out of the water! Yet being the Mediterranean, the waters here are relatively calm and safe for children to run wild, like Gerald Durrell was wont to.
Corfu is steeped in culture and history. The old town of Corfu has been a UNESCO World Heritage site since 2007. Its forts defended the city for centuries. The Italians made a big impression too, being just 75 miles away across the Adriatic. You can see it in the gorgeous neoclassical housing, including Venetian villas and the Italianate harbour front.
Culturally, there is plenty to do here. If you can tear yourself away from the seaside there are ancient Greek temples, Roman baths, medieval monastries, museums and art galleries. You can follow in the footsteps of young Gerald and explore the fawna and flora. The island is nearly twice the size of the Isle of Wight yet has just 60% of its population, just 97,000, so you'll have no trouble finding a corner to yourself. Visit the villages of Pelekas and Vatos among the pine and olive trees.
Why not split the cost and double the fun of owning a holiday home in Portugal by buying with family or friends? Read our guide to Buying Abroad with Family. 
The British connection
Corfu has long been popular with British visitors. Hardly surprising, when the Queen's husband was born there, 15 years before the Durrells arrived. You can still vist his birthplace, Mon Repos. Many people speak English in Corfu, although it's helpful to have some familiarity with the Greek language if you live in Corfu. In many ways the island is the most British of all the Greek islands. It was a British protectorate during the 19th century. More importantly, the British helped kick the Nazis out in 1944 and then protected the island from Albianian aggression in 1946. Corfu is just a mile or two from the Albanian coastline.
These days the island is an international community and perfect for overseas buyers. There is a thriving expat community with newspapers and websites. Just as in Louisa Durrell's day, the "foreigners" tend to support each other, if only via Facebook! Of course there is plenty of integration between Corfiots and expats, with very little of the Little England mentality you get in some Mediterranean locations. But regular groups meet up to socialise, and there is a Corfu cricket team.
There is also support for expats looking to work together – or you could try and sell English cakes and hooch in the market like the Durrells. However much you want a Greek lifestyle (as Mrs Durrell says, "We are not here on holiday!") it can be reassuring to know that you can meet someone in the same position as you if you feel homesick.
Getting there
Corfu is reasonably accessible. A flight from London to Corfu Airport takes less than three hours. Winter is more problematic (as it is for most Mediterranean islands) but you can always get there via Athens. Once in a while, try the Durrells' route: train via Paris, the Alps and Milan to southern Italy, then ferry overnight.
Once you have arrived in the country, it is easy to get around. There is a good road network available and even the most distant villages are only an hour's drive from capital city Corfu Town.
Corfu property
Like much of the rest of Greece, the cost of living in Corfu is must cheaper than what you may be used to in the UK. That extends to rent, according to cost of living aggregator Numbeo. You'll pay less than €300 per month for a small apartment in the centre of the town, and little over €400 for a villa. Of course that is for long-term rentals. Holiday rentals will be much, much higher, especially in high summer.
To buy, there is a vast range of prices. Rightmove has property from nearly €9 million to just €20,000 (all with the same gorgeous beaches within reach). Villas are the most popular type of property in Corfu. The more luxurious, pricier properties are on the north-east coast of the island. Seaside properties start at around €800,000 but you can find just as nice a home further inland for less than €300,000. You could consider buying land to build your own property here too.
What to buy
In addition to villas, there are many more traditional family homes for sale across the island, in villages, towns or even modern developments. Village homes will usually be cheaper as they have less amenities, such as parking. On the other hand, they will often be within proximity of the local shops and tavernas, so do you need a car? The properties on modern developments will usually be more expensive. However, you will often have access to a shared pool – if not your own pool – and more modern amenities.
Apartments are also popular with overseas buyers. Unlike in other Mediterranean countries, Corfu is not home to many large apartment developments. The strict planning laws mean that you are unlikely to come across more than two storey buildings with four or six apartments. These will usually be well placed for the tourist amenities.
This fully renovated property is on the market for €990,000. It is in the fashionable north-east corner of the island, but less than 10 miles from the airport. It was built in 1880 and is now part of a small estate, the Rou Estate, with a 20 metre communal pool.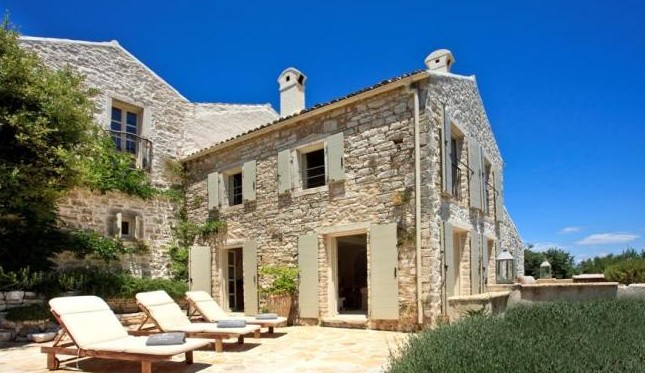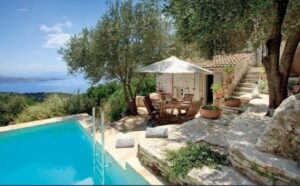 Old and beautiful
As with many mediterranean countries, you are likely to find renovation projects in all different types of dishevelment. These include everything from properties that need minimal work to complete re-builds. Many of these project properties will require a significant amount of assistance. Budget for at least €1,000 for each square metre. Beware Greek bureaucracy and strict planning rules too, but don't be put off if this is your dream. Why not? You might get a bestselling book and TV series out of it, although maybe not for 80 years!
If you're making the move, you should speak to a currency and payments specialist about how to get money sent to you in Greece. We recommend Smart, ranked as "Excellent" Trustpilot for money transfer and currency exchange.
Or your own design?
Another benefit of renovations is that you can spend money in stages rather than in a lump sum. In addition to renovation projects, you will also find plots of land for sale in a variety of sizes and locations. Plots range in price from €20,000 to €3,000,000 and everything in between. Could you build your own grand design? Again, you will need to navigate through the complex and bureaucratic Greek planning laws in order to build on your chosen plot. And not necessarily with your path smoothed by a handsome Greek taxi driver, as in the TV version of your life. But people do: remember the astounding journey that Mrs Durrell took her children on and be inspired! Read our guide to the Greek property buying process.
The property market here has been affected by the global financial crisis. Perhaps less, though, than most of Greece and indeed southern Europe as a whole. Many properties are at barely half their pre-crisis level. Prices are now stating to move upwards, very slowly, but undoubtedly led by hotspots like Corfu, Mykonos and Rhodes. Now could be your ideal chance to pick up your dream home.
Brexit and The Durrells
We don't hear much in The Durrells about visa and work permits. Yet presumably they existed and there were obstacles to simply moving from Bournemouth to live in Corfu and scratch a living from making cakes, writing and picking peaches! Greece has faced a migrant crisis, and even today with the UK in the EU you need to show a bank balance of €4,000 per person to get your residence certificate. If you are going to "do a Durrell", it might be adviseable to do so before the UK officially leaves the EU in March 2019.