Active expats with a competitive edge won't be disappointed when they move to this sports mad island – you can even go skiing, honest! (And you thought your retirement was going to be restful…)
Cyprus offers sports enthusiasts plenty of opportunity to get their fix of physical activities throughout the year, thanks to the warm climate – bar the odd winter storm. Whether it's tennis, golf, football or a visit to the gym, something leisurely or fast-paced, there's plenty to pick and choose from on the island.
If you are considering moving to Cyprus and want to know how to get stuck in to the island's sports scene, we've taken a quick look at some of your favourite pastimes.
Whether it's tennis, golf, football or a visit to the gym, something leisurely or fast-paced, there's plenty to pick and choose from on the island.
Golf
In a bid to get its share of the lucrative golf tourism market, courses have been springing up all over the island in recent years. The Paphos area is home to the majority of them, including a course designed by Sir Nick Faldo at Elea Estates.
For details on where you can tee off, go to the golf section of the Cyprus Tourism Organisation website.
Swimming
There are indoor and outdoor swimming pools in all of the main towns. Some are attached to hotels, while others are stand-alone sports centres. Entrance can be gained on a monthly or seasonal pass, or pay-as-you-go, depending on how frequently you want to don your speedos.
Nicosia, has a great outdoor leisure pool that operates from May to September and an Olympic pool that runs all year round. To find out more go to: http://www.nicosia.org.cy/en-GB/municipality/services/municipal-swimming-pool/
Of course, the sun-drenched shores permit sea swimming throughout the year. For safety reasons, it's not sensible to swim at a beach that isn't an official swimming area.
Scuba Diving
The coast of Cyprus is consistently awarded the coveted Blue Flag status thanks to its crystal clear waters. So, it's no surprise that scuba diving is very popular here. From simple sandy-bottom dives for beginners, to more advanced dives on the Zenobia, one of the region's most famous wrecks, the island's diving offers something for everyone. What's more, the islands dive season is one of the longest in the Mediterranean, running from March to November.
If you are a novice diver, there are several good PADI schools on the island offering courses from beginner levels to certification. For more information visit the PADI website.
Rugby Union
There is a strong rugby presence on the island, mostly thanks to expats from Britain and South Africa. The Paphos Tigers are always looking for new members and coaches.
Cyprus even has its own national team, although they recently lost 47-15 to the mighty Lithuania. For a full overview of rugby on the island visit the Cyprus Rugby Federation website.
Walking
Owing to the good climate in Cyprus, walking groups are numerous all over the island. They tend to organise walks of varying degrees of difficulty in stunning nature areas that take two or three hours. And they normally arrange a well earned bite to eat and drink. There are too many to detail here but to whet your appetite see what The Cyprus Strollers get up to. I've been on some of their walks and can vouch for their quality, plus they attract a very pleasant and diverse bunch of people.
Tennis
Because of the success of Cypriot player Marcos Baghdatis on the biggest stage – he made the Wimbledon semis in 2006 – tennis has risen in popularity on the island and several schools have opened in the last decade as a result. Whether you're a beginner or a seasoned pro, have a look around for clubs and public courts in your area. Try tennispaphos.com and sachatennisacademy.com.
Football
As with many other countries football is the most popular sport in Cyprus, and the island has a professional league structure – which has recently faced some scandal but that's another story. If you intend on picking a local side so you can spend your Saturdays on the terraces, then be a glory hunter and choose the island's most successful club, APOEL of Nicosia. They even qualified for the group stages of the 2011–12 UEFA Champions League.
If you'd rather lace up your boots and get involved yourself, the league has strong links to the expat community
If you'd rather lace up your boots and get involved yourself, scour the expat forums or visit the KOPA website. This league has strong links to the expat community.
Other sports
This is by no means an exhaustive list of sports in Cyprus. You'll also find badminton, table tennis, basketball, volley ball, beach volley, martial arts and water sports. There's even a ski centre at the top of the Troodos Mountains.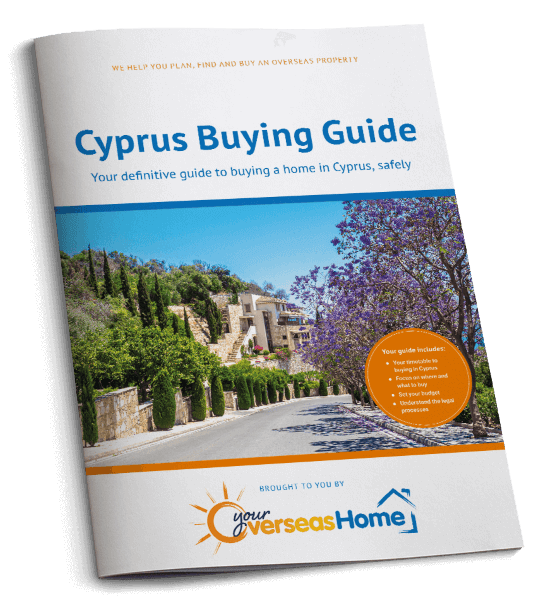 You can get all the advice you need to buy a house in Cyprus from our online guide, but you can also download it in PDF format — ideal for printing or reading offline. Simply complete the form on the right to access your copy.
✔

  Ask the right questions
✔

  Avoid the legal pitfalls
Download your free guide to buying in Cyprus