When you buy a property in Cyprus you want to know that you're legally protected. Yet recent events much-discussed in the press may make you doubt you'll be treated fairly by the courts. Our writer in Cyprus investigates.
The conviction of a young Englishwoman for "public mischief" – widely seen as unfair, especially in Cyprus itself – has turned the spotlight on Cyprus's system of justice. When I first came to Cyprus one of my first thoughts was about the legal system here. Here's a quick run through of the Cyprus legal services that you will find offered here.
British-trained lawyers
From my own personal experience, I would say that most Cypriot lawyers are trained and qualified in the UK. They tend to follow the same law degrees as British trainee lawyers and are well-versed in English law. The good thing about this is that while they have a good understanding of legal problems encountered by the British over here, and how the Cypriot authorities like the police will react, the fact that Cyprus justice has been based on British law since 1960 when it was a British colony (and later it included EU law when Cyprus joined the EU in 2004), means that Cypriot lawyers have no problems interpreting the law fairly here.
Of course, Cypriot lawyers are involved in litigating in criminal cases that involve the British, but to be really honest, criminality is very rare here – a feature that attracted me to Cyprus in the first place. Lawyers' fees may seem expensive, and you need lawyers for various legal services here – but rest assured you will be given excellent services provided in a fair and honest manner. You usually find a lawyer through recommendations, but you can also find one from the internet.
For the first time, Cyprus will be at the

Your Overseas Home show

 in London on 7th March.
The main legal services you'll be looking for include:
Legal help in your relocation to Cyprus. Cypriot lawyers will help you make your move here as stress-free as possible. This is probably the main reason you will use the lawyers here.
Help in starting new companies in Cyprus. I know many British who have come to Cyprus to start their own company here. From what they tell me, Cypriot lawyers are very knowledgeable in this area.
Help with tax matters, particularly tax advice – currently very important with Brexit
Getting the necessary company permits or licenses like a Cyprus driving license or EU international license
Help to buy your new home here – another very important service. They will help you with all the Cyprus laws involving home buying and in building your own home from scratch.
Immigration law and marriage and divorce matters.
Employment law, helping with work contracts, tribunals etc.
You can see an individual lawyer on a one-to-one basis, but I've noticed recently that two or more lawyers working together as a legal firm have become more common. In this case, you will find different lawyers with different areas of expertise, and you can choose a specialist.
The law in action
Now, what about if you or someone you know gets into trouble with the law? What are the police like?
Well, first you need to know that there are two kinds of police here. The first is the local Cypriot police who operate within the main towns and villages, and then there are the military base police (called the SBA police) who operate exclusively in the base areas, and are concerned only with enforcing the law regarding military personnel. They liaise very well and fairly with the Cypriot police on legal matters concerning military personnel and local Cypriots.
There are two types of police in Cyprus; the local police and SBA police.
So what are the Cypriot police actually like? On the whole they're very helpful and fair. Over the years, I've noticed many young Cypriot people joining the police force here, and some are my personal friends. They tell me that when dealing with the British or any other foreigner here, their gold standard is to be fair and honest.
I really do trust them to be as fair as any British police officer when it comes to taking fair statements etc. But the main thing is that they listen to you. They don't just dismiss you. They will hear you out. The Cypriot police will mix with locals and foreigners alike in night clubs, restaurants and bars. You can often see them bringing their families out for lunch as well. When it comes to enforcing the law though, you will find them strict, fair, and honest.
Read our Healthcare Guide to accessing medical attention in 11 countries.
And of course, you also have the village Bobby still! At one time, these police used to use bicycles in the villages, but now they have proper patrol cars like those you find in the towns. The village bobby is your friendly bobby, just like the local police in the U.K. They mainly deal with the initial steps of legal matters like compensation, land boundaries etc. within their assigned villages.
When you live in a village here or even if you just visit one, you will often find a village policeman socialising in the local taverna with local Cypriots and foreigners alike. Along with the local mayor (or 'mukta'), they are the initial go-to people when you have any concerns over property matters or land difficulties. This is great because they help you with general knowledge on the issue and then you can take this forward with the Cypriot police down in the towns.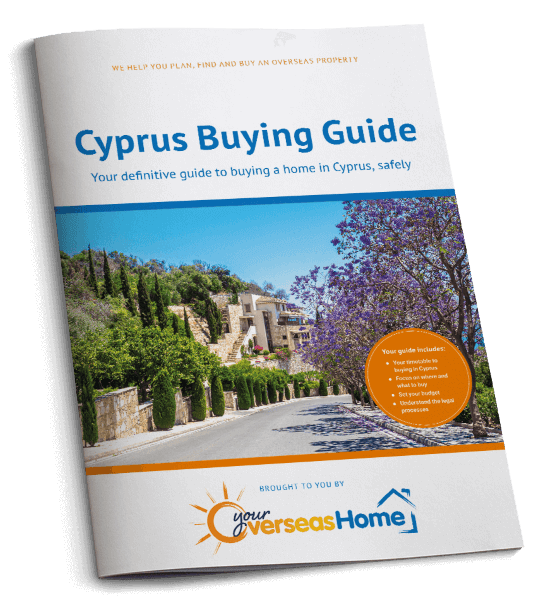 The Cyprus Buying Guide takes you through each stage of the property buying process, with practical recommendations from our experts who have been through the process themselves. The guide will help you to:
✔

  Ask the right questions
✔

  Avoid the legal pitfalls
Download your free guide to buying in Cyprus