Unless you intend starting from scratch, you will need to employ the services of an international removal company to ship your worldly possessions to Cyprus. We assess your options and take a look at how much it might cost.
You might think all the hard work is over once you have the keys to your ideal home in the Cypriot sun. After all, you've successfully negotiated the overseas property buying process, avoiding any potential pitfalls that could have derailed your plans along the way. But it's not time to pat yourself on the back just yet. There's still plenty of planning to be done before you can call it "home sweet home".  Forget learning the lingo for now, first you'll need to ship your possessions 2,200 miles to your new home. That may sound like a daunting prospect but it needn't be. Let's take a look at your options for making this happen as smoothly as possible.
Shipping your items by sea will take between 6-9 days, depending on the amount you are sending over.
Shipping options to Cyprus
Whether you're moving to Nicosia, Paphos or somewhere more remote you can arrange for your possessions to be packed, shipped, delivered to your new home and unloaded into your property. But how do you go about getting them from the UK to Cyprus?
Air
Because Cyprus is a Mediterranean island you have two options for shipping your possessions there: by air or by sea. Air freight is the quickest option – taking between 1-3 days – but this convenience comes at a cost and may not be suitable if you are moving a large amount – unless you have the necessary funds at your disposal.
If you are ready to buy in Cyprus in the next three months, call our friendly Cyprus Resource Team on 020 7898 0549 or email

[email protected]

. We can put you in touch with a currency specialist.
Sea
Shipping your items by sea on the other hand will take between 6-9 days, depending on the amount you are sending over – anyone moving over permanently will probably have more possessions that need shipping than someone who has purchased a holiday home. Arranging for your belongings to be shipped before you depart will ensure they are ready and waiting for you. All you need to do is pack the essentials you'll need before being reunited with your worldly possessions.
Shipping costs
Below are estimated shipping costs to Cyprus that you'll need to factor into your budget. These have been calculated by obtaining quotes for shipping the contents of properties of different sizes:
• Small flat by sea: £900 – £1,000
• Small flat by air: £3,500 – £4,000
• Three-bed house by sea: around- £1,500 – this is roughly the price of a 20 foot shipping container (33 Cubic Meters | 6.04m x 2.35m x 2.39m)
• Five-bed house by sea: £2,000 – £2,500 (N/A by air)
If you're planning on packing everything but the kitchen sink, then you might need to splash out on a 40 foot shipping container (67 Cubic Meters | 12.04m x 2.35m x 2.39m), which will cost between £2,500 – £3,000 and could have room for a small car as well.
A car will generally fit into a 20 foot container, but you will need to budget for the quarantine and tax charges levied on importing vehicles – these will usually set you back £1,000 – £2,500.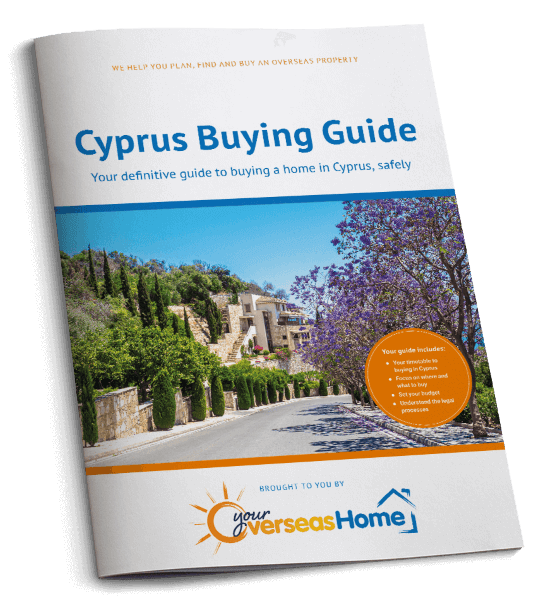 The Cyprus Buying Guide takes you through each stage of the property buying process, with practical recommendations from our experts who have been through the process themselves. The guide will help you to:
✔

  Ask the right questions
✔

  Avoid the legal pitfalls
Download your free guide to buying in Cyprus